There are a multitude of in-water animal encounters to be had in Australia, of varying quality – some take place in aquariums, some in cages (that's sharks), others in knee-deep water just offshore and usually with dolphins. But there's nothing quite like meeting a wild and curious creature, especially one as playful as a sea lion, on its own terms.

"THIS IS NO THEME PARK SPLASH-ABOUT WITH HIGHLY TRAINED, ANIMALS. IT REALLY IS ONE OF THOSE EXPERIENCES WITH ANIMALS THAT WILL CHANGE YOUR LIFE!" – Lee Atkinson
Completely non-manipulated, the experience of paddling around with a frolicking sea lion in Baird Bay on the west coast of SA's Eyre Peninsula is one of the few places in the world where it's just you and them in shallow, sheltered waters. The sea lions here, and around the small collection of islands nearby, are totally unfed, untrained and in naturally wild conditions. For that reason, it's entirely up to them as to the level of interaction they choose to bestow on you. And it really feels like that: as though they're bestowing on you the gift of their lively interest, then gradually welcoming you as one of their own. If they're in a playful mood, they'll frolic with you, swim loop-de-loops around you, mimic your movements – try cocking your head to one side and seeing the action shyly mirrored – and play idle games of tag or hide and seek.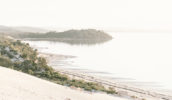 A truly awesome experience for anyone wanting more than just a giggle from a well-trained dolphin, or the practice of simply spotting fins from the deck of an observer launch.
WHERE // Baird Bay is about 40km southeast of the main town of Streaky Bay, which is 727km northwest of Adelaide. (08) 8626 5017 and www.bairdbay.com for more info.
DID YOU KNOW? // Sea lions have truly excellent lungs. An Australian male adult was once recorded as achieving a depth of 245m, and in fact California Seals have been trained to help recover lost objects and even detain divers by attaching a cuff linked to a long rope.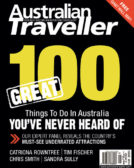 Enjoy this article?
You can find it in Issue 14 along with
loads of other great stories and tips.