Watch spawning cuttlefish off Whyalla
Chicken is tasty but boring. Crocodile is quirky but not that tasty. The humble cuttlefish, poor little fella, is both quirky and tasty. They're the poor cousins of the seafood chain; ever had your fishmonger tell you about the great deal he has on cuttlefish?
Ever seen a convoy of Japanese factory ships heading south in search of cuttlefish? No, probably not. But every year between May and September our little friends do something truly amazing in the waters off Whyalla in South Australia. The adult cuttlefish spawn, with mature females laying eggs close to the shoreline.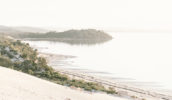 The really incredible thing is that you can get up close to them and watch these remarkable creatures – weighing up to 5kg each – change colour before your eyes. They truly are the chameleons of the sea. But, sadly, they die shortly after breeding. Even worse, they end up in budgerigar cages all over the country. Having sex, then dying, only to be fed to a budgerigar is a raw deal. Do yourself a favour and check them out while you're in Whyalla.
WHERE // Throughout the waters between Fitzgerald and False Bays, just off Whyalla, SA. Contact Whyalla Visitors Centre for more info on (08) 8645 7900.
DID YOU KNOW? // The common cuttlefish has actually got blue blood and three hearts.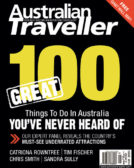 Enjoy this article?
You can find it in Issue 14 along with
loads of other great stories and tips.