SA's Seafood and Aquaculture Trail, winding across the stunning Eyre Peninsula, is dotted with all manner of fascinating diversions. Like swimming with a school of tuna, cavorting with a family of sea lions and even, if you dare, diving with a pack of sharks . . . by Sol Walkling.
My friends warn me about the Eyre Peninsula before I even set out: "It's like the Wild West down there. Cashed-up tuna fishermen everywhere," says one. "Why travel down there in winter?" asks another. When I explain that I'll be swimming with all kinds of sea creatures, I'm met with disbelief. "You do know the water's really cold, right?" Others have never even heard of the place.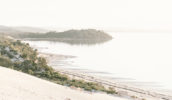 Perhaps that's a blessing in disguise for this tucked-away little travel gem. Just a plane hop from Adelaide, the Aquaculture Trail that wraps around the Eyre Peninsula is like a big outdoor aquarium. After an extended weekend away, spent pretty much entirely in wetsuits, I feel like that enigmatic French explorer and father of all fish, Jacques Cousteau. Minus the accent and bushy eyebrows.
If pigs had fins
At the very tip of the Peninsula, Port Lincoln is indeed infamous for its CUFs (cashed-up fishermen), along with the swimming equivalent to Wagyu beef: Southern Bluefin Tuna. And there's no better way to get an up-close look at both the fish and the men that drive the town's multimillion-dollar industry than to take a tour out to the ocean farms. These resemble nothing so much as oversized floating fishnet stockings filled with thousands of fattened-up underwater pigs with colourful fins.
Skipper Peter Dennis from Triple Bay Charters sure knows his tuna. In fact, his knowledge of Boston Bay's swimming gold may surpass Jacques' enthusiasm for all things aquatic. An impressive three hours of tuna talk is interspersed with stops at farms, Donington Rock (the smelly home of sea lions and gulls), and a sandy bay for a sashimi tasting.
To fatten little tuna into adults, around 9kg of pilchard is used to produce every 1kg of weight gain in Tuna, with the Tuna fishery using about 50,000 tonnes of pilchard per season. Peter explains: "It's like sitting me in front of the TV and feeding me fast-food and beer." Well, pilchards and herring is generally what a tuna opts for, but the effect is similar. Within half a year the fish are significantly bigger than their counterparts in the wild, and worth more than $70 per kilo.
Later, onboard a Close Up Tuna Tour with Adventure Bay Charters, we're shown a film of a harvest entitled Tuna Warriors. Divers swim up behind an unsuspecting fish, grab its fin and, when the shocked tuna opens its gills to swim away, plunge their hands right in there to force the hapless couch potatoes onto a ramp. Removal of guts and spine takes seconds and follows strict guidelines set by the demanding Japanese market.
Luckily for me I don't mind watching a bit of blood and gore before breakfast. Nor do I mind jumping into icy water protected only by a 3mm wetsuit, minus hood, gloves or booties. Well, I do – but sometimes sacrifices must be made in the name of research. Plus, the skipper promises me a warm shower after my early morning dip with the friendly sea lions famous to the area.
If cold, swim like a sea lion
Once I overcome the initial shock, swimming around with the circling, jumping, playful and curious sea lions is the best fun I've had in years. Cute and comical on land, they're absurdly fast underwater. Surrounded by more than 20 of them, I watch big ones hover and float lazily below, while smaller ones stare back at me with big eyes and try to mimic my every move. After half an hour in the freezing water, I'm swimming around like a hyperactive sea lion myself, even trying to imitate their little jumps, and only stop when the cold-induced pounding headache becomes unbearable.
Back on deck, I peel off my sorry excuse for a wetsuit and hit the shower – which turns out to be about as warm as your average iceberg. When I emerge sporting the blue tinge and accusing stare of a farm-bred tuna, the skipper just laughs. "You wouldn't have gone in if you'd known."
A homemade chocolate muffin silences any further grumbling and shivering, and we make our way to the cruise owner's tuna farm. As I'll encounter time and again on my trip, the small-town folk don't just know an incredible amount about the region's main industry, they're also not afraid to unleash the whole lot upon anyone naïve enough to ask a single innocent question. By the time we arrive at the tuna farm, knowledgeable 18-year-old Stacey has filled me so full of facts my head is, appropriately, swimming. She sometimes sleeps out on the tuna farm at night to prevent would-be pirates (owner Matt Waller doesn't trust security cameras any more after losing his whole swarm several years back), and my friends the sea lions have to be stopped from snacking next to the electric fences they now have installed. Which makes me even less keen to tug on a still-wet rubber suit and go swimming with a herd of crazed blue sea-pigs on speed.
No way out but down
Attracted by the herrings lobbed into the water by my fellow travellers, the juvenile tuna are working themselves into a frenzy, spraying everyone with water as they leap to snatch fish from hands. Entering their underwater domain is daunting. But with the skipper, crew and other passengers looking on, there's no way out but down.
I'm almost instantly at ease; the shimmering tuna manoeuvre elegantly and swiftly underwater, and seeing them approach through rays of sunlight helps. The skipper joins me so I can try for a shot of a tuna grabbing fish from his hand. None bite at first; the idea of swimming between what looks like two oversized seals in order to catch a single herring can't be too appealing, given that bucketfuls are still being freely fed hand over fist from the jetty. But the farm's single blind tuna – easily recognisable by its milky eyes and its later near collision with a sluggish travel writer – has no fear and I get several decent shots right into its gills.
Back on the boat and in more comfortable and warm attire, we barely avoid a collision with a small vessel steered angrily at us by a territorial fisherman from an age before outboard motors. In good old seafaring tradition, he flicks V-signs at us before changing direction to take on one of the powerful tuna boats behind us.
Lincoln's chequered past
At Lincoln Cove, and because this is what travel writers do, I board a Marina Boat Cruise to dutifully discover Port Lincoln's colourful past. And what a past it turns out to be. Graham Daniels picks up passengers at the jetty in his little electric runabout – perfect for ducking in and out between large prawn fishing vessels, CUF powerboats and kayaking children. He's lived in the area his whole life and regales all onboard with tales from a time long since gone, when Port Lincoln more closely resembled a bunch of washed-up pirates working a few boats. "They used to take the law into their own hands," he laughs, recalling drawn guns, sea artillery fired at competitors, boats stolen in the dead of night and others rammed in broad daylight in the race for Port Lincoln's swimming gold.
Following a picture-book sunset, night finally falls in the harbour. After all these fishy goings-on, a Nature in the Dark trip gets me closer to all nocturnal creatures great and small. Steve Pocock from Great Australian Bight Safaris prides himself on running his eco tours since 1986 to some of the peninsula's most stunning pockets. His knowledge of the birds and the bees – oh yes, he talks about them extensively – and genuine concern for the preservation of Australia's wilderness is evident as he drives me through Lincoln National Park in his massive 4WD, shining a red light on 'roos, rabbits, birds, possums and anything else that comes our way. Unfortunately, by this time of night, I've had my fill of fascinating information, and listening to night owls on Steve's iPod very nearly sends me to sleep. Not even a coffee-and-cookie break can keep me from dreaming of my warm bed.
Feeding and resting yourself
Finding somewhere to rest your weary head and dream of tuna is easy, with plenty of accommodation available. My pick of the crop are: the Port Lincoln Hotel – the sea views, location and subdued style of the town's oldest hotel make it a perennial favourite with all visitors; and Abeona Cottage, for a local take on the classic B&B category – charming, historic, big enough to sleep a family of four and with an amazing rustic fireplace.
As you'd expect from a seaside town that boasts Australia's largest commercial fishing fleet, there's plenty of seafood to be had in Port Lincoln. But since the Japanese will pay a whole lot for fish, it's not necessarily cheap. In fact, I'm told locals normally prefer preparing homemade dishes from their neighbour's catch rather than venturing out to restaurants. If the 14,000-strong town's array of Chinese, Indian and takeaway joints is anything to go by, the standards aren't particularly high.
I have a disappointing experience at local Italian favourite Cafe Del Giorno, where the service fails me and my takeaway pizza's lonely prawns swim in several blocks of cheese on a doughy base, before trying the Port Lincoln Hotel's Sarin's restaurant. Owned by Sam Sarin, one of Australia's richest men – yes, another CUF – the restaurant fills me up with outstanding food in a family friendly atmosphere, before I retire to my room to watch a shark movie on the massive plasma TV. Speaking of which, if you think you'd enjoy a tuna or sea lion swim, you might want to try out a shark dive while you're in town. Port Lincoln is one of the few places in the world that offers cage diving with great whites (more on this in a later issue of AT).
But if you'd rather not encounter the predator at the top of the underwater food chain, and would rather please your own tastebuds instead, get yourself to Fresh Fish Place, the town's fish processing factory. Smoked fish, marinated calamari and pickled scallops are all on the mouth menu, while your brain's fed more information than you can handle on how to fillet the famous King George whiting.
Elsewhere on the trail
If you've got more time, a loop south from Whyalla to Port Lincoln then north again to Ceduna on the eastern side of the peninsula is worthwhile. (Just make sure you get a rental car in Adelaide; hiring a car in Whyalla and dropping it off elsewhere is near impossible. Only Budget Whyalla offered drop-offs at the time of my trip and the additional charges pretty much doubled the price.)
If you're driving from Adelaide or Port Augusta, Whyalla will be your first encounter with the sleepy peninsula's pace of life and underwater action. Although its more than twice the size of Port Lincoln, the mining city's biggest attraction is the thousands of merrily mating giant Australian cuttlefish which migrate here in winter. Swimming amid the floating fluorescent cuttlefish is fascinating, I hear, but, if you're unlucky enough to get to Whyalla on one of its windier (or rainier) days, the rainbow-coloured tourist attractions won't be getting jiggy. And floating amid timidly hiding cuttlefish is one of the most underwhelming experiences I've ever ticked off my to do list.
Even the local high school's aquaculture project beats the cuttlefish snorkel hands down. Two giggling teenage girls and gentle fishkeeper Dave don't exactly have me at "hello", but holding the yabby, touching the barramundi and hearing the reverence in Dave's voice when he talks about his "beautiful fish" transform this dark, hangar-like outbuilding and its many aquariums into an interesting educational experience.
If the weather fails you, the HMAS Whyalla, one of only two remaining Corvette's on Australian soil and witness to the town's proud wartime shipbuilding history, is also worth a visit. Arno and Tumby Bay might be worth a pit stop on your 2.5hr drive to Port Lincoln. Pack a picnic or savour some fresh oysters bought at Cowell's Aqua Oysters fish factory.
Although the peninsula is said to have near-perfect Mediterranean climate, you'll see a lot of drizzle in winter, which means two things: Winter Hill Lookout in Port Lincoln will not only provide you with panoramic views, but also rainbows at all hours of the day. And you'd better plan some back-up options, since most of the tours won't operate in bad weather. The Axel Stenross Maritime Museum could well be one of them; a great spot for anyone with a fascination for boats and sailing – on display are knots and splices and various boat-making tools. The Koppio Smithy Museum, showcasing memorabilia from the region's rural history, also comes highly recommended.
To conclude your loop, you'll drive along the rugged coastline of the Great Australian Bight and through the raw national parks on the Peninsula's western side. It might be worth giving Steve Pocock a ring to take (and talk) you through the wonderland of the stunning dunes. Streaky and Greenly Bay are great for a spot of surfing or fishing and before you finish up your journey at Ceduna, make sure you stay overnight in one of the national parks. Campgrounds and historic solitary cottages will make your experience of the aquatic Wild West's wonderland complete.
Details // Aquaculture Vulture
SA Aquaculture Trail: (www.seafoodtrail.com)
Triple Bay Charters: (pbay@bigpond.net.au, 08 8682 4119)
Close Up Tuna Tours: (www.adventurebaycharters.com.au, 04 8842 8862)
Marina Boat Cruises: (grahamd@sa.chariot.net.au, 0402 155 763)
Great Australian Bight Safaris: (www.greatsafaris.com.au, 1800 352 750)
Port Lincoln Hotel: (www.portlincolnhotel.com.au, 1300 766 100)
Abeona Cottage: (www.abeonacottage.com.au, 08 8682 2811)
Cafe Del Giorno: (80 Tasman Tce, 08 8683 0577)
Fresh Fish Place: (www.portlincolnseafood.com.au, 1300 788 378)
Whyalla Diving Services: (08 8645 8050)
Murray Cod Tours: (Whyalla Visitor Centre on 1800 088 589)
Aqua Oysters: (08 8629 2373)
Koppio Smithy Museum: (08 8684 4243)
Axel Stenross Maritime Museum: (08 8682 3908)
For help with bookings contact: Whyalla Visitor Centre (www.whyalla.com, 1800 088 589) and Port Lincoln Visitor Centre (www.visitportlincoln.net, 1800 629 911).
Accommodation bookings made through: www.takeabreak.com.au.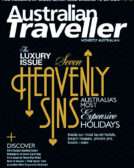 Enjoy this article?
You can find it in Issue 22 along with
loads of other great stories and tips.