Local oyster farmers offer samples of Coffin Bay's specialty by selling fresh dozens direct from the ocean in this charming small town on SA's Eyre Peninsula.
Limestone cliffs jut from Coffin Bay National Park's coastline, displaying millions of year's worth of gradual obliteration, while sand dunes open onto long stretches of soft, white sand. Full of sheltered beaches and remarkable stretches of coast, Coffin Bay feels more like an isolated and forgotten island than a seaside town.
"Like the Great Ocean Road but without the tourists. It's rugged, remote and an oyster lover's Mecca. Plus the seas are swarming with salmon. Just throw in a line." – Fleur Bainger
The area didn't get its name from burial caskets – rather, it was explorer Matthew Flinders who sighted the spot in 1802 and named it after his friend, Sir Isaac Coffin. In the 1840s the area was appropriately known as Oyster Town, due to the large volume of the slippery bi-valve molluscs being harvested. Eventually, though, the area was all but farmed out. The populace largely moved on and Oyster Town became just a town. In time, the oysters (and people) were again introduced into Coffin Bay, and now the residents live among some of the most pristine waters in SA, thanks to the two national and conservative parks that surround and protect its coastline.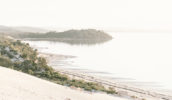 Where? // 700km (8hrs) west of Adelaide.
Did you know? // Parts of Gallipoli were shot at Coffin Bay, with invasion scenes filmed at local Farm Beach.
Return to: the 100 Best Towns in Australia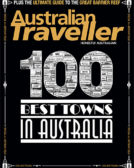 Enjoy this article?
You can find it in Issue 26 along with
loads of other great stories and tips.