You can swim in the pens of Tuna being farmed off Port Linoln in South Australia.
On the way back from long-haul fishing trips, Matt Waller used to jump into his boat's tow-cage and float about with the tuna. He remembers thinking what an amazingly different experience that was. Now he's a partner in an extraordinary venture that brings that experience to the public. Since Boxing Day 2006, perhaps 1000 people have hopped aboard Calypso Star Charters in Port Lincoln SA for a unique Sea Farm Tour and the chance to swim with schools of Southern Bluefin Tuna – some weighing 23kg and measuring 89cm from nose to tail.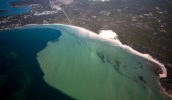 "BRILLIANT! THESE BOYS (THE SAILORS, THAT IS) SHOULD BE STARRING IN THEIR OWN SPIELBERG THRILLER. MAKE SURE THEY TELL YOU THEIR GREAT WHITE STORIES." – Catriona Rowntree
Each two-hour tour to the 40m commercial-sized floating ring brings you into direct snorkelling contact with hundreds of tuna, as they swarm and flash past you. "They're so fast and graceful," says Matt. "They'll come straight at you, then flick away at the last second, missing you by millimetres, until you begin to feel like a part of the school itself."
Plans are in place to add smaller populations of King Fish and Australian Salmon, which you'll be able to catch and release, or keep for a fee. "The most romantic part of tuna fishing was definitely the old poling days," says Matt. "No reels; just a pole, a line and a hook. That's the feeling we're trying to recreate."
WHERE // Tours depart daily from the Marina Hotel in Port Lincoln, SA. Cost $45 adult, $35 conc, $25 student, $120 family of 4, under threes free. Check out www.calypsostarcharter.com.au or call 0418 817 404.
DID YOU KNOW? // Almost all of the Australian farmed Southern Bluefin Tuna is exported to Japan, and fetches the highest price of any tuna on the Sashimi market. "So if you've got $600," says Matt, "you're welcome to pole-fish one of ours if you like . . ."