The Piccaninnie Ponds on the Limestone Coast have the purest cleanest waters in the world – dive right in.
South Australia's Limestone Coast is home to more than 140 caverns, caves and sinkholes that are attracting considerable attention from the world's diving community. Visibility in these waters can often extend for more than 40m – extremely unusual for underground cave systems and chasms – making this one of the most spectacular sites in the country, if not the world. And it's that clarity of water that draws divers from all over the planet.
According to the UK's best cave diving explorer Martyn Farr: "The exceptional visibility in the Mount Gambier region comes about because the waters that emerge at Piccaninnie and Ewens Ponds, close to the coast, are drawn from a vast area of limestone which is very sparsely populated. This 14°C water is almost certainly the purest, clearest water on Earth."
And Piccaninnie and Ewens are just two of the prime attractions. There's also Tank Cave, Australia's longest submerged cave system at more than 7km, the famous Shaft, a monster cave lurking beneath a nondescript 1m hole in a grassy field in the middle of nowhere (like descending through a shoulder-width hole into a below-ground airplane hangar), and the far more dangerous and intricate passageways of Engelbrecht Cave beneath the very town of Mount Gambier itself.
But it's Piccaninnie that's perhaps the surprise experience of the region: a small, purpose-built pontoon hovers over a fairly calm pond-like area, which then leads to a natural drop-off to nowhere – a sheer Chasm in which other divers can clearly be seen 36m below at the safety point, bubbles winding their urgent, erratic way to the surface, before the trench disappears for a further bone-chilling 85m.This is not a dive for the faint-hearted, and permits and guides are required for all dives in the area.
"YOU'D HAVE TO BE BRAVE BUT IF YOU HAVE THE COURAGE AND ARE WILD ABOUT ADVENTURE, THIS SOUNDS FANTASTIC." – Sandra Sully
WHERE // Mount Gambier is in SA's far southeast, near the Victorian border. The entrance to The Shaft is in a field around 3km west of Allendale East, while Piccaninnie Ponds is 30km further southeast near Port MacDonnell.
DID YOU KNOW? // SCUBA diving aside, it's possible to snorkel (with a permit) at Piccaninnie Ponds – and other spots on the Limestone Coast – which means even the casual swimmer can float above The Chasm and peer into her eerie depths .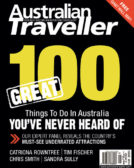 Enjoy this article?
You can find it in Issue 14 along with
loads of other great stories and tips.