Changing colours of Blue Lake, Mt Gambier
If ever you needed evidence that spring's arrival is celebrated by the living and the – well, the inanimate, then Mt Gambier has it. Every year as spring arrives, the town's moody body of water – the Blue Lake – celebrates with a brilliant change of colour. To see the lake in its two stages is something else, as though you're at two very different places on Earth. The summer version sparkles like Lake Como, only more Australian. The winter version is a depressed former Soviet state.
During hibernation it's the Grey/blue Lake. Then, in November, it changes to a brilliant sparkling blue. Only recently have the lab coats revealed why: organic material clouds the water in winter, then as the water warms, it precipitates a greater amount of calcite, which changes the water pH and organic material levels. (This is AT's unscientific attempt at explaining something highly technical. See www.mountgambiertourism.com.au.) It's also the main source of water for the town of Mt Gambier, so don't pack your bathers expecting to have a dip.
"SOUNDS WONDERFUL. AND I THINK YOU'D NEED TO GO TWICE TO SEE THE DIFFERENT COLOURS TO APPRECIATE IT FULLY." – Chris Smith
WHERE // 450km southeast of Adelaide and 426km west of Melbourne. The Blue Lake is on the southern outskirts of the town.
DID YOU KNOW? // If you needed any further evidence of traditional owners' length of tenure, the Boadnik people's oral history of the area alludes to ancestors witnessing the volcanic activity that created the many lakes in the area more than 4000 years ago.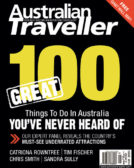 Enjoy this article?
You can find it in Issue 14 along with
loads of other great stories and tips.