Dalhousie springs – largest complex of artesian springs in Australia
Imagine: a hot afternoon in the outback, dry desert and red earth as far as the eye can see – and you're bathing off the dust in water millions of years old. Welcome to Dalhousie Springs in the Simpson Desert.
The largest complex of artesian springs in Australia, Dalhousie's 70 or so active thermal springs are fed by water that comes all the way from the Great Dividing Range, hundreds of kilometers to the east and through immense layers of subterranean strata.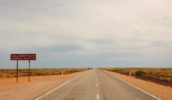 When the precious liquid finally gushes from the ground, it varies from scalding to warm (depending on the spring). You're welcome to take a dip in the main spring, which is about bathwater temperature, and also home to a number of fish species found nowhere else in the world: the Dalhousie catfish, hardyhead, mogurnda, and gobi. Besides breathtaking scenery, the park has an extensive European history and is of considerable Aboriginal importance.
The spring area used to be a refuge and base camp for desert crossings by early explorers and is a sacred place of many Aboriginal Dreamtime stories and songs.
WHERE // Inside Witjira National Park on the western edge of the Simpson Desert in SA's far north, 180km northeast of Oodnadatta.
DID YOU KNOW? // Dalhousie is what's known as a "spring supergroup", but the largest supergroup in Australia is actually SA's Lake Eyre, which is dry most of the time. In fact it only floods once every few years (and is doing so right now!) and fills completely about two or three times a century.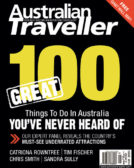 Enjoy this article?
You can find it in Issue 14 along with
loads of other great stories and tips.