The painted hills in the rugged Breakaways in SA is a recently discovered phenomenen in the SA outback.
"We get people through here who've seen the Grand Canyon, who've been to Uluru and the Bungle Bungles, and they reckon this is better than the whole lot."
That's the word from Wrightsair's Trevor Wright, who conducts flying tours to SA's newest – and by the sounds of it most spectacular – natural attraction: the Painted Hills. They're part of a recently discovered 30km by 10km section of the extraordinary Breakaways country in SA's far north, and take the form of brilliantly coloured rocky outcrops of large and small hills rising suddenly from the flat surrounding desert. And while interest is skyrocketing, locals remain firm about preserving this treasure. Channel Seven wanted to shoot a Great Outdoors segment from the ground around the hills and were told to "pack their bags and go home," according to Wright.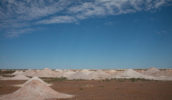 "Only 400-500 people have even seen them so far," he adds. "You've got to fly over three deserts just to get there, the land's about 50 million years old, there are no roads, no walkways, no camping areas – and that's the way it's going to stay. That's why it's in such amazing condition, because it hasn't been ruined yet. And hopefully it never will." 
WHERE // Accessed by air only, via Wrightsair, departing from William Creek 168km east of Coober Pedy. More info on (08) 8670 7962 or at www.wrightsair.com.au  
DID YOU KNOW? // While pastoralists in the area have no doubt known of their existence for some time, the Painted Hills were brought to light only in 2006, by a local pilot on an inspection run. Their exact location remains a tightly guarded secret.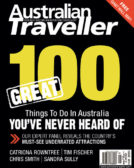 Enjoy this article?
You can find it in Issue 14 along with
loads of other great stories and tips.