Peter Rowe has one of the world's biggest mail runs, and you are welcome along for the ride.
"EVERY TRUE BLUE AUSSIE SHOULD DO THIS TO APPRECIATE HOW VAST OUR COUNTRY REALLY IS." – Chris Smith
Peter Rowe delivers the mail in outback SA with nary a dog in sight – a 620km round trip in all. And you're welcome to come along for the ride.
"The business people keep telling me to get a bigger bus," says the sardonic Rowe, who commences his run twice weekly from Coober Pedy. "But I don't want that. I want to share the history of this place with my passengers. Plus it's just such a big responsibility." Rowe and his son Dave do the run in air-conditioned 4WD buses that hold a maximum of 13 people. And it's often full because it's just so different to any other sort of bus tour. The tour follows the footsteps (in many places) of John McDouall Stuart, the man who did what Burke and Wills couldn't. (No members of his expedition died in their conquest of the interior.) And Peter is keen to share his knowledge of this region with anyone who wants to do the mail run with him. "Mate, people talk about Kakadu and Uluru and all that stuff, but I reckon there's more fascinating history in this region than all those others combined."
WHERE // Departs Coober Pedy 9am Monday and Thursday. All you need is a camera, sunscreen and a bloody big hat. Cost $185 per person, (08) 8672 5226 or www.desertdiversity.com for more info.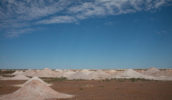 DID YOU KNOW? // It was Stuart's conquest of our arid interior in 1862 that finally allowed Australia to be connected to the rest of the world via the telegraph. Within ten years of Stuart's return from his final expedition, a line had been strung from Darwin to Port Augusta, effectively connecting Australia's eastern seaboard with the rest of the world.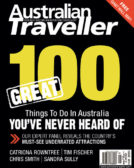 Enjoy this article?
You can find it in Issue 14 along with
loads of other great stories and tips.