The Flinders Rangers in South Australia is the closest outback experience for travellers to any capital city in Australia, and the fabulous Northern Flinders are not for the faint-hearted – it can be a long way between lattes and comfort stops – but this powerful landscape will impress whether you choose the easy way to explore or wander off the beaten track. ALISON PLUMMER MARTIN slept out under the stars on this occasion, experiencing a mixed swag of emotions for the love of art.
We're only two days into the trip but we could've been away for weeks, it feels so different out here. Stopping in Broken Hill was wise – driving on these outback roads at dawn or dusk is marsupial madness – but now the occasional town is little more than a fuel stop, and the place we just passed was a derelict station dotted with rusty remains. As the sun goes down, the distant hills turn blue and the light transforms the stony landscape. The Flinders Ranges are visible from a great distance across this vast flat of the South Australian outback, their shadows and colours both intense and intriguing.
It's nearly dark when we finally find what I consider to be the perfect place for our campsite (think the difficulty of choosing the right cinema seat multiplied by about 100 billion) – a bend in the road, a creek bed hidden from view . . . but who'd see us anyway on this lonely outback road? With swags set up, the fire crackling and a green chicken curry simmering away, we open the wine and congratulate ourselves on our bush skills thus far. The swags, by the way, are embarrassingly upmarket, completely enclosed so nothing slithery can slip inside while you sleep. Agreed, the "Burke and Wills" nametags are kind of disturbing – but it's too late for second thoughts.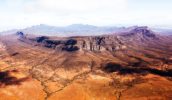 Wow, I'm alive. And dawn, the friend of all campers, is lighting up the distant ranges in a completely different way as – hoping like hell we can trust the map – we head out. We drive all morning but the ranges don't seem any nearer, which is worrying, as we're low on petrol and looking for a hidden gorge that sounded simple to find, so where's the sign? We must have passed it, so we play a quick game of "blame the navigator" while worrying that the light may fade before we've taken a single photograph.
Travelling with a photographer is a wonderful privilege but it isn't all a swag of roses – stop, start, back up, wait here (anything up to two hours), I think I've seen a shot. This trip, Ken's shooting for an exhibition to include Aboriginal artwork sanctioned by the Adnyamathanha people, who once showed us their land on a very special 4WD tour. On that occasion, the days slipped by in a trance as we immersed ourselves in their stories. But now we're alone, trying to retrace our steps through this dramatic landscape, and finding it a challenge.
We've been told this isn't a place to linger at night and I feel a sudden chill when I realise we're heading into the very gorge that a female Aboriginal friend – one who'd previously driven us all over the Flinders – won't come near.
The landscape seems too flat to hide a gorge but the sinking sun is creating long shadows, adding their brushstrokes to the land. The rocks are turning a golden red, the horizon fading to peach and purple by the time we find it. We miss several turnings throughout the afternoon, but that doesn't really surprise us – although we have permission from the Aboriginal people and the relevant station owner, as well as detailed directions, the entrance remains elusive. The Flinders can be like that when it comes to Aboriginal business: fascinating, confronting and confounding at the same time. Cameras have been known to stop working for no reason in some places – but that's something we won't think about right now.
Across the red earth the hills appear as dots before shifting into cones, the shadows adding texture to a landscape that earlier seemed so flat in the harsh midday sun. The entrance is so carefully disguised it's easy to see why this gorge – Red Gorge – is regarded with awe. Its secrets are kept safe from intruders.
We look around and find some of the rock carvings we're here to photograph, then hurry out again to spread the swags, light the fire and watch yellow-footed rock wallabies lightly hopping through outcroppings high on the cliff face. Darkness comes and I climb into my swag, only to lie there rigid with fright, wondering if I should go and sleep in the car. I think I hear singing – voices of many people coming to the gorge. I dream of a nun in a white habit singing "We Shall Overcome." I look down at her feet and see with a shock that she's wearing men's black leather shoes. It reminds me of a story I heard on our previous Flinders visit about an Anglican minister who once lived at the Aboriginal community of Nepabunna. After being told not to allow the people to practice their traditional ceremonies, he committed suicide.
Dawn, my new best friend, restores normality. As does a comforting cup of tea in bed (I didn't move to the car after all), and we return to the gorge and its amazing rock carvings and etchings. We both know we're here because we're hooked on this place, as fascinated and passionate about the special quality of the Flinders as any of the artists, photographers and other visitors who come here to gaze on the extraordinary land formations, marvel at the light, and witness the culture of a people expressed indelibly in ochre and ash.
Easy Does It
While ours is a self-imposed experience, it's possible to see the Flinders on many different levels, as we've discovered in the past. From Adelaide, Wilpena Pound is just a five-hour drive on the bitumen and it's possible to linger for food and wine tastings in the Barossa and Clare Valleys, while visiting heritage towns of the Southern Flinders like Melrose along the way. But go the extra distance and the rugged beauty of the Northern Flinders will bewitch you, whether you choose to venture off the beaten track or head for comfort zones such as the Prairie Hotel at Parachilna (see Flinders Benders).
Mind you, it can be a long way between lattes; don't expect little cafes around every corner. Seeing the most interesting things means driving, walking, climbing and not being too proud to ask for advice. Self-drive tours have been made easier by a series of storyboards at important landmarks, and many tell Aboriginal dreaming stories – but an Aboriginal guide is the best way to go if you're at all interested in looking at the landscape through indigenous eyes. Some places to see rock carvings on a self-drive tour include Yourambulla Caves just south of Hawker, the 5000-year-old site at Arkaroo Rock, Sacred Canyon near Wilpena Pound, and spectacular Chambers Gorge. Brachina Gorge is another remarkable geological trail, with handy signboards to describe the rock formations.
There's a helpful information centre at Wilpena Pound, where a scenic flight – a must-do for any visit to the Flinders – is a thrilling way to appreciate the way the ranges were formed, with the two legendary serpents (Akurras) snaking their way across the outback. Driving through to Chambers Gorge, preferably in a 4WD, and on to Arkaroola Wilderness Sanctuary is a chance to experience the expanse of the outback. Chambers really is an excellent place to see rock carvings and, if you're lucky, the bold faces of Sturt's Desert Peas in wildflower season.
The roads out here have sharp, flinty stones, making punctures common. The flat, almost white stony land stretches on forever. It's just you and the emus and the eagles before the climb up into the Gammon Ranges to Arkaroola, which features accommodation and a campsite. There are 4WD self-drive tracks here, but the private Ridgetop Track is the real thriller in Arkaroola's custom vehicle. Originally built for mineral surveying, the track winds through a landscape that looks as though a giant has been gardening, turning over the earth's crust and exposing great chunks of rock. Grasstrees and spinifex dot the landscape and the rock 'n' roll drive culminates abruptly at Sillers Lookout. Arkaroola even has its own observatory with a telescope for serious stargazing.
Drive, yes. But stop often, sit quietly for a time and you might see a scarlet robin or a red-backed kingfisher posing. Watch the light slowly change, listen for a while and the world will seem quite a different place. That's when you'll realise just how far you are from home. Moments before you'll realise that you don't particularly mind.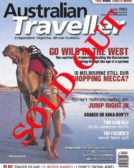 Enjoy this article?
You can find it in Issue 2 along with
loads of other great stories and tips.