Flinders Ranges' resort Wilpena Pound has announced that 15 new luxury en-suite safari tents will by ready for patrons by September.
Construction began on the new structures in mid June. They will be set in an "exclusive area" away from the existing main campground of the resort, situated 400km north of Adelaide.
The new area has a dedicated camp lodge for dining, located away from the resort's existing facilities. The tents come 'glamper' equipped with a gas-fire heater, en-suite bathrooms, power outlets – but no televisions.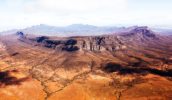 The resort's bar and restaurant, Poddy Dodger's, has also received a refurbishment.
Prices are $340 (per couple) in low season (November to March) and $390 in high season (April to October).
For more information wilpenapound.com.au