Stage 2 of the journey from the centre of Australia to the edge
Tracking the Oodnadatta
The Old Ghan is a dirt trail following a roughly defined path through the countryside. The Oodnadatta, on the other hand, is much more defined and well travelled; compared to the Old Ghan, the Oodnadatta is a highway.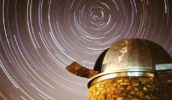 Just out of town, Hooties Waterhole provides us with our morning bath. Then we're on the road. We stop for lunch in the shade of some gums by an old rail bridge, then carry on to Algebuckina Bridge and Waterhole. Frolicking in the muddy water like a bunch of hippos, a mud fight ensues – which sees me picking the ammunition out of my hair for days afterwards.
It's a bit of a rough and bumpy drive out to North Peake Ruins, which lie just east of the track, south of Algebuckina, but it's well worth it. It's the site of an old telegraph station and there's an amazing collection of ancient buildings, all still standing. It must have been a desolate and isolated place to live. I can't imagine what it would have been like at the turn of the century; there would have been no communication and it would have taken weeks to get anywhere. Lucky for us with our trusty red truck, it's just a short drive to the next watering hole.
Pulling into William Creek in the early evening, the sun sinks lower in the sky. Apart from the pub there's not a lot to William Creek. We arrive gagging for a cold beer, which quickly becomes a few cold beers. By the time we leave, after watching a spectacular sunset, it's dark and time to set up camp. We settle on a rise just out of town and dinner becomes a rather messy affair as more beer and rum are poured and granules of red earth mix in with the pasta. The evening becomes a blur of dodgy '80s tunes and bad dancing on the roof of the truck.
First light the following morning, I find myself fully dressed on top of my swag with my head pounding. We're in for a slow start, nursed along by pancakes and coffee.
South of William Creek, the terrain seems flat and featureless, the springs we stop at are waterless mound springs and the ruins all seem the same; we're yearning for some water to refresh us. At Coward Springs we hope for the best and there in the middle of all this aridity are trees, reeds, wetlands and – best of all – water. The old train drivers constructed a bath that channels the water from the mound spring into a deep wooden tub. The water comes out with such force that its high-powered jets give a great massage.
Fresh and clean, we hit the road, excited about our next stop. The famous, salt-encrusted, perpetually dry Lake Eyre. We pull up at the Lake Eyre South lookout. Not satisfied with merely looking at the lake, we decide we want to get down onto it and see it up close. And that, my friends, is where our journey almost ends.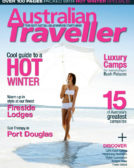 Enjoy this article?
You can find it in Issue 16 along with
loads of other great stories and tips.