A Reader Recommends column on the town of Quorn in South Australia Reader Recommends . . .


AT readers Pauline Schep and Suzanne Gourluck – mother and daughter, both primary school teachers – provided us with two very different perspectives on two very different Australian locations. Pauline reckons Quorn is the best place she's ever stayed, but Suzanne holds a place in her heart for a very special hotel . . .
Pauline Recommends . . .
The entire town of Quorn
Quorn, gateway to the Flinders Ranges 40km northeast of Port Augusta, SA
Countless cockatoos cause the gums to blossom white, their wild raucous cries strangely welcome to our city ears. No man-made high-rise here but history, timeless, silently eloquent. Sheep farms tried in early days but failed for lack of rain. Stone houses (whose walls hold whispered conversations) built in buoyant hope, stand crumbling, deserted. And back of this the great, grey bush. Older still the rocks, monoliths of nature. To climb is to test our city legs, breathe clean air, feel immense space. To walk here is to place one's feet in the imprints of an ancient race.
Then, ah! Rock paintings – graphic in simplicity, a gift from them to us. A message from the Dreamtime to the present, speaking continuity. We gaze, spellbound, "seeing" the unknown artist, straining to grasp his meaning, to understand his life.
One has the clear impression that for many dusky people long ago this was the best place they too had ever stayed, where the wind sighed and the cockatoos screeched continually.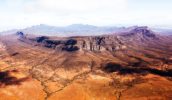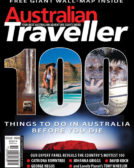 Enjoy this article?
You can find it in Issue 8 along with
loads of other great stories and tips.