A pictorial portfolio by Toni Dore on cycling across the southern stretch of the Nullarbor Plain
Photojournalist Toni Dore cycles into space – that barren stretch of Australia from Eucla to Nundroo across the WA and SA border. For an empty expanse of land, it turns out there's plenty to see . . .
An empty cigarette packet drops from a passing 18-wheeler with the following note from the truckie: "Honey, a flick of this tail could send that bike, swag and you direct express to Darwin. Stay off the bloody road."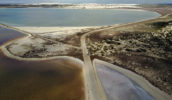 Five minutes before, I'd been pushing my bike in the middle of the Eyre Highway into the winds of the Great Australian Bight. Unable to hear the road train charging through from behind, let alone push my red Malvern Star, a close call resulted. It's one way to ensure that every truck on the highway knows you're out here.
The first time I'd crossed this area was from 30,000 feet above with my family. We'd just sold up our share of the farm in Queensland's far north. It was decided Perth was as far away as we could go and, somehow, that large chunk of limestone would give us the required space. Looking down, we scanned that brown land hemmed by a sheet of blue for signs of our unknown future. Flat and empty, it offered few answers in return except the occasional line leading into nowhere.
Many years of wondering what lay on the southern side of this supposedly empty stretch of land had brought the aforementioned honey, bike and swag to Eucla. I'd wanted time to stop, walk around and meet it a little more on its own terms as I peddled across the Nullarbor to Nundroo.
By day, lizards, galahs and brown snakes waking from their winter hibernation keep me in company. Retirees doing the obligatory 'round-Oz-with-a-caravan stop and offer up fruits. A flow of circus vehicles pass with thumbs up heading west. A couple in their 40-seater bus stop to offer venison and tell me about all the unsolved murders in the country's recent past. Kangaroos and dingoes escort me for part of the way before disappearing as gently as they found me. A 4WD from the Yalata community slows down to ask this sister where my friends are. Danes following the harvest trail in their station wagon stop to ask if I'm over it yet and offer to drive me to Adelaide.
As with all empty stretches of highway in Australia, it's the roadhouses that remain the meeting places of transience that tie all these travellers together in all this space. Around the Nullarbor Roadhouse, it is pure space. And a great place to sit awhile. A fax came through warning of another deviant about to burn his way across to escape the authorities back east. A couple had an argument and she took off with the car. Though all this space has given crossing the Nullarbor something of a miserable reputation, it's also a unique pilgrimage for many to see how big Australia actually is. It seems everyone comes here looking for space.
Fewer cars stop and the waving ratio drops dramatically as the desert slowly begins to claw back its teeth to the centre of the country, allowing the tamer lands on the edge of the Eyre Peninsula to take over. Isolation is sometimes a feature of more crowded places.
Two weeks pass before I reach Nundroo and join a truckie "crossing the paddock" back to Perth. He's been doing this stretch for 15 years. He hates cyclists too.
Now I regret not having bought the commemorative crossing tea towel. 
For more of Toni's work, email her at dore_toni@hotmail.com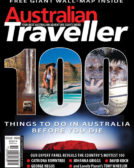 Enjoy this article?
You can find it in Issue 8 along with
loads of other great stories and tips.