The best Penola Accommodation, activities and tips for travellers
Arriving //
Penola is 384km from Adelaide (or a 5hr drive). Its 443km from Melbourne or a 5hr 40min drive.
Mount Gambier's airport is the closest, 30min or 40km south of Penola. Regional Express flies daily to Mount Gambier from Melbourne/Adelaide.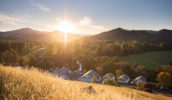 Accommodation Options //
Like most wine regions in Australia, the local cottages are the best options for self catering and affordable.
Georgie's Cottage //
A romantic cottage in the heart of Penola. From $185 per night for two.
Davidson Cottage on Petticoat Lane //
A cutsey cottage that sleeps two couples on historic Petticoat Lane, from $135 per night/double.
Merlot & Verdelho //
Modern town houses, in town, that sleep up to six from $245 per night.
The Cottage & The Villa //
5km out of town, both properties have two bedrooms and are set in the vines, with open fireplaces and a spa bath (ubiquitous in SA wine-region cottages). The Cottage from $180 per night is the more romantic retreat and The Villa is a cosy two-storey home from $190 per night.