Looking for things to eat, drink and do by the beach in Robe, South Australia? We've got you covered…
1. Go to The Whistling Fish Bookshop & Coffee House to sip local beer or coffee. 38 Smillie St.
2. Wilson's at Robe has an extraordinary collection of art for sale. 5 Victoria St,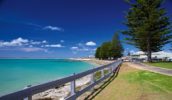 3. The Caledonian Inn has an English pub vibe with Coopers on tap. 1 Victoria St.
4. See how many of the 45 flavours you can get through at The Ice Cream Shop. 41 Victoria St; sweetgalleryrobe.com
5. At Robe Town Brewery, watch the process from the pouring to the capping. Main South Eastern Rd.
6. Sails restaurant has some of the best fancy fare in town, with a focus on fresh seafood. 21 Victoria Street; sailsatrobe.com.au
7. Grab a traditional, tongue-burning, chicken-salt-dusted fish-and-chip bounty at Robe Seafood & Takeaway for less than a tenner. 21 Victoria St.
8. Charlie's Surf School offers two-hour lessons for all ages. Third Ramp, Long Beach.
9. The iconic pyramid-like, red- and white-striped lookout known as the Cape Dombey Obelisk has been warning ships of Robe's rocky reefs since 1855. Some 30 vessels were wrecked in Guichen Bay alone in 1953. The town's 12-metre icon was originally white, but was painted in red bands after complaints it was too hard to see. The rocky limestone ledge it sits on has been dramatically eroded by wild seas and is expected to one day crumble into the ocean. Robe locals are rather divided over what to do about it – there's even a Save the Obelisk Society. Two walking trails around the Obelisk grant lovely views of the limestone ridges and frothing Indian Ocean below.
10. Some 16,500 Chinese sailed to Robe between 1857 and 1863, walking more than 400 kilometres from there to the Victorian Goldfields. The arduous journey was motivated by a desire to avoid the Victorian government-imposed restrictions on Chinese immigrant numbers. At the time, Robe had only 200 residents, so the new arrivals easily dwarfed the coastal community. There are several remnants through the town (though no Chinese restaurant!), from the Custom's Office atop Royal Circus roundabout, which was built to process the fortune hunters, to the Chinese Monument, marking the spot where they arrived on the Robe foreshore.
More:
Intriguing reasons to beach break in Robe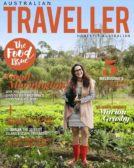 Enjoy this article?
You can find it in Issue 64 along with
loads of other great stories and tips.