Summer destination Robe on the South Australian border is a gem in Winter as well. By Richard Lindstrom
The Beaufort Scale comes in handy when measuring the wind's immediate power to knock down buildings and overturn large ships. Devised in 1806 by Admiral Francis Beaufort of the Royal Navy, the scale enjoyed a star turn in Sebastian Junger's 1997 bestseller, The Perfect Storm, later turned into a Hollywood movie starring George Clooney. As a means of measuring sheer persistence, however, the Admiral's twelve notches just won't do. What you need is an exemplar – a permanent cultural synonym for endless, cheek-by-jowl isobars. What you need is a visit to Robe in winter.
The tiny coastal resort of Robe is located 340 kilometres south-east of Adelaide. If it's weather you want, this is the place. Just stand on the serrated limestone cliffs of Cape Dombey in a howling south-westerly and let the gale tear at your hairline. After you've wrung the Southern Ocean spume from your eyebrows, ponder Australia's unique continental position as an oversized hot-plate in the path of a polar sea. Better still, lie awake in the rattling little cottage you've rented near the local lighthouse and listen to the endless waves detonate like drumfire on the jagged headland. Sleep if you can. Tremble if you must.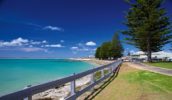 For most people, Robe and the Limestone Coast are summer destinations. Pushed by the inland heat and pulled by the sensuous promises of South Australia's prettiest seaside town, itinerants inflate the population from 1500 to 15,000 between December and March. The place is still rocking at Easter, but after the long-weekend Robe heaves-to and hands over to the cable-knitted sweater mob and anyone else in need of a cold, meteorological thrill. If you're seeking some seaside solitude, perhaps with The Shipping News or a Patrick O'Brian doorstopper as a companion, Robe's the go.
In some respects, you might find the winter lay-off a bit deflating – especially if you're keen on rock lobster. Robe's signature palate-pleasers don't "crawl" much between May and October; they just hole up and "shell" in the limestone reefs that lie anywhere up to 40 kms off the coast. Environmentally-minded government quotas limit the cray season, too. In the SA lobster industry's southern region, 180 boats drop 11,000 pots from Cape Jaffa in the north to Port MacDonnell near the Victorian border. Each one of those wire baskets is limited to 159 kilos of scarlet crustacean. When the limit's reached, that's stumps for another season. Some crews are done by December. Others hang on until late May, fishing when the prices are high (up to $42 a kilo) and sleeping when they're not. Of course, you can still get lobster in the low-season. A strategic reserve of the critters fills up holding tanks at the back of town but they're expensive items – up to $60 per kg. One chef says he refuses to put them on his menu for fear diners won't bite.
Just as effective at restricting the SA cray fleet is the foul weather. Because a lot of the southern coast lacks decent down-time anchorages, many boats lie beached in sandy, cyclone-wire yards like the one at nearby Beachport. The 30 vessels that call Robe home enjoy the unique services of Lake Butler, a snug, semi-artificial harbour that looks like the original fair haven. One of several large, brackish lakes tucked in behind Robe's coastal swale, Butler was opened to the sea in 1969 when locals got sick of dragging their boats across the dunes to the slipway for a refit.
For Robe initiates, first viewing of the friendly little harbour usually prompts a contented sigh. Even in the middle of a gale, it radiates a restful vibe of the kind that gives John West commercials their romantic appeal. But Lake Butler's no spineless movie set. For seven weeks straight last winter, all vessels slept soundly through the Force Ten storms that pounded the rest of the coast. Securely anchored to the muddy bottom or loosely roped to the greying jarrah jetties that skirt its edges, these boats barely tensioned their mooring lines.
A reconnaissance of the harbour fringes shows just how fragile human conceits about taming nature really are. On the edge of the car park stands a memorial wall to "Those who lost their lives at sea". Even though the tall ships have disappeared, working sailors are still dying, "tangled in nets" or "never found" after storms. Etched in steel, the simple epitaphs extend until the late twentieth century, a grim reminder that this remains the shipwreck coast.
There's plenty more to low-season Robe than just truant lobsters and a picturesque, Hebridean harbour. You can 4WD in the dunes or hoof it along the relatively sheltered twelve kilometres of Long Beach. But the little town's chief attraction in the middling months is its preserved history. And in the absence of summer's maddening crowd, there's nothing to stop you getting involved with it.
To begin with, there's an archive of 19th century photographs on formal display in the Visitor Centre in Mundy Terrace. Stark in their black and white tones, they help information-age viewers empathise with bygone northern hemisphere hopefuls who imagined a better life in convict-free SA. Like the frozen portrait of 60 children and their two teachers, a middle-aged man and a young woman, lined up in front of Robe Primary School circa 1880. The girls, with their dresses masked in white aprons, and the boys, with fustian jackets topped with limp, white collars, look a pretty dour lot. Pinched by the weather and likely scared witless by their elders' religious fire, they appear resigned to a life of hard work as their only road to redemption.
The little old school still stands in Union Street, only a short walk from the Visitor Centre, and is still the centre of learning for local children. You can run your hands over the locally-quarried limestone blocks which have passed their own tests of time and weather. This is where Robe takes the prize as a history experience. Paper's one thing – it can, with a tweak, un-mute the past – but preserved bricks and mortar are unequivocal. And they're everywhere you look.
Founded in the 1840s, Port Robe, as it was then known, declined as a commercial centre about 30 years later when the new railway line at nearby Kingston was terminated. The town started to recover in the 1930s with the rise of the rock lobster industry and coastal pleasure-seeking. In the 1960s, the good burghers of Robe, alert to the value of maintaining its historical integrity, acted to preserve what remained of their heritage, namely 84 buildings and sites around the town.
The result was an architectural freeze-frame that fossilised original buildings like the Robe Hotel (built in 1846), Robe House (1847), and Granny Banks' Cottage, a tiny dwelling of similar vintage on the corner of Sturt and Morphett Streets. The cottage is still a happy home and shows clearly that less well-nourished generations were surely a few sizes smaller than us.
The heritage headliner is the old Customs House, built in 1867. It can be regarded as a local version of New York's Ellis Island. Most notoriously, it processed 17,000 Chinese gold-seekers who landed in SA and walked to the Ballarat diggings rather than give in to the discriminatory five-pound landing tax imposed by a Victorian government fearful the celestials were invading their colony. Large numbers died en route and a memorial commemorates their ordeal. Now a well-tended museum, the Customs House is a tribute to colonial officialdom and stands alone near the boat harbour on its own grass verge, vulnerable to rising salt damp but the recipient of much loving attention. In low season it is open on Tuesdays and Saturdays from 2-4pm.
Bridging the gap between past and present is the Caledonian Inn at Number One Victoria Street, Robe's main drag. Built in 1859 partly of timbers salvaged from two Guichen Bay shipwrecks, the hotel is one of those low-ceilinged, atmospheric English pubs into which you expect the press-gang to burst at any moment searching for prospective Jack Tars. Wary cray-fishing salts in the public bar and the glowing remnant of a hardwood log in the grate help confirm the nautical ambience.
There is a generous dinner menu at the Caledonian. The brazed lamb shanks in a red wine glaze on mashed potato come recommended, as does the creamy chicken and corn pie on sour-dough bread. The deep-sea boar fish sounded pugnacious, while the medium-rare grilled kangaroo seemed too much of a challenge. Wine labels were local: Cape Jaffa, Mount Benson, "Governor Robe" and the slightly more remote Coonawarra.
It's true that much of Robe's history has been diluted by modern Aussie beach culture. Building-wise, this means four caravan parks, six motels, scores of improvised shacks and a scattering of premium, self-contained accommodation with views to match. All are open for business in winter, even though their profits are made in summer.
Still, it's the wind you'll remember from a winter stay. It arrives straight from the Antarctic, strong and arresting enough to clear the mental decks of all their clutter. And it helps to know there's always the inviting prospect of a warm dwelling and a Drambuie close at hand. If only the early inhabitants of Robe were so spoiled for choices.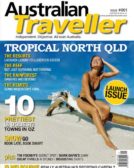 Enjoy this article?
You can find it in Issue 1 along with
loads of other great stories and tips.