Australian legends Ken Duncan and Peter Garrett graced our office with their presence, ready for a chat about helping South Australia's iconic Burra Homestead. They joined AT editor Georgia Rickard to discuss the cause… Oh, and memoirs, mosh pits and a potential Midnight Oil reunion.
Ken Duncan and Peter Garrett might not, on paper, look like friends. Ken, a devout Christian, is a famous landscape photographer with a penchant for fantastically bright Hawaiian shirts; Peter is an outspoken politician and rock star who's most at home on stage… but when they meet in the Australian Traveller office, there is hugs, laughter and plenty to catch up on.
It was 1987 when these two first met; Ken was photographing Australia and Peter was fronting Midnight Oil when the Oils selected Ken's iconic Burra Homestead photograph to cover their groundbreaking 1987 album Diesel and Dust. More than 20 years later, their catch up reveals they have more in common than their love for the now-endangered building in South Australia.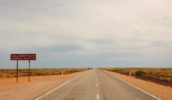 Georgia: Before we begin, let me just say – thank you for stopping by. It's an honour! Exactly how long has it been since you two have seen each other?
Ken: It'd be a couple of years.
Peter: Yeah, years.
Ken: I went to say hello over in his political office. Because it's a hard gig, I think, being a politician. I could never do the job!
Georgia: Neither could I. Let's talk about why you're here – the Burra Homestead. Ken, can you give an overview as to why it's such an important icon?
Ken: Well, I think mainly because it's been identified with Midnight Oil, and their [Diesel and Dust] album cover – I think it's still one of the 'Top 100 Rolling Stone Album Covers'. The way it happened [that my photograph ended up as the album cover]… I'd gone off bush, disappeared – because I'd sold up everything and just took off – and when I came back the Oils found out that I'd done this trip and their manager, Gary Morris, asked me to come in and show some photos. And they saw this photo; they were the ones who chose it. So it was their fault!
Georgia: How did you stumble onto the homestead in the first place?
Ken: I was just travelling through the countryside and saw the cottage there, with all the plough marks – which they don't do anymore, they drill the soil. It just looked so surreal and stark and I thought, 'There's a person's dreams. There's a person who's built that house and now their dreams have sort of been ploughed around'. And to photograph it just seemed like… to immortalise that dream. It's funny; years later when we went back there, I went out to the property to do some more shots and the farmer came up and saw me. I said, "Look, I hope you don't mind me taking a photo." He said, "Oh no, ever since that Ken Duncan bloke and Midnight Oil, every man and his dog comes here," and I said, "well, actually…" and we had a bit of a laugh.
Georgia: Why did Midnight Oil choose that shot for the cover, Peter?
Peter: The Diesel album kind of was a bush album in some ways. It was strongly influenced by a ground-breaking trip we took to the Western Desert and Arnhem Land, to play to Aboriginal communities, and it was really strongly infused with landscape as a consequence. A lot of the electric sounds of Midnight Oil were replaced by acoustic sounds because we were sitting around the campfires at night, writing songs and working things out in that setting. But it's also an album partly about the way in which cultures live together and interact on the land that they're on, and this particular homestead, and what it's been through, sums that up pretty well.
Georgia: Did you ever expect, more than 20 years later, you'd be sitting here talking about that album, that homestead? That it was going to have such an impact on Australia?
Peter: Absolutely no way. You've got no idea what's going to happen when you do these things. The incredible thing is, I've just had the first real 'holiday' in my life in New Zealand and we went into this little café in a small town, and up on the wall they had album covers, Iggy Pop, David Bowie, The Stones, The Beatles… I started immediately hunting, and there it [the cover] was and I thought 'this is just amazing', you know? I'm standing in a café, of course no-one knows you, and I'm kind of quietly proud.
Georgia: As you would be. Ken, you have a new book out called Life's A Journey and you actually feature the Burra Homestead in it. Congratulations. It's beautiful.
Ken: Thank you.
Georgia: Can you tell us, what's the actual issue with the homestead?
Ken: Originally one of the side walls came down and the roof was threatening to come off. Once a roof comes off a building like that, the whole building starts to implode. The South Australian government was approached to try and protect it but they said 'no, it's on someone's private land'. [By the time I heard about it] The Oils had already made a donation, so some of the locals decided to create a fund and I thought, 'how can I make some money?' So we've made available a new print [of the homestead], and the funds from that are going to help build and restore the building. We've got some money [now] and there are people down there as we speak. Thanks to the Oils and other people chipping in we were able to secure the roof so that it would get through the last winter – and now we've got stonemasons down there building up the stonewall and repairing it. But we want to keep the work going, and make sure it's finished.
Georgia: What sort of money do we need?
Ken: Like $10,000, $20,000. So far we've raised about $6000 or $7000.
Georgia: How can people donate?
Ken: Every time we sell one of those prints, that puts a couple a hundred dollars straight into the fund. To buy it, you just have to contact us through my website. [Alternatively, donations can be made to the Midnight Oil Preservation Fund – Bank SA BSB: 105-017 and Account: 037142840.]
Georgia: Can you tell us the story of how you two met?
Peter: We met at the stage when we realised that Ken had been shooting a lot of these landscape shots and a lot of shots of Australia. As a band, we liked his photos and then we said, "Why don't you come and shoot us as well?" which was slightly different… but it was good.
Ken: The funniest thing was when they wanted me to do a panorama of them live in Kalgoorlie – this is in the day before high-ISO cameras [when shooting in low light was more difficult] – and if you've ever seen a Midnight Oil concert… well, if you haven't, you've missed out on something. They are, like, pulsating and the volume is just like, happening. My wife came with me, she was sitting near the speakers, and I'm out in a chair in the middle of Midnight Oil going off, and this crowd just going off, and I'm up there with this camera thinking, 'what am I doing?!' I was trying to get her to throw me film, and if you missed the film it was into the crowd and goodbye, so it was quite funny – a landscape photographer, thrown into a Midnight Oil concert, balancing on a chair right in the mosh pit… But we got a shot. And my wife couldn't hear for two days.
Georgia: [To Peter] Do you have plans for other albums, a reunion tour?
Ken: I think we need to get them back. That's my selfish desire of course…
Georgia: [To Peter] Well you've got a bit of time now…
Peter: Oh, I've got a few other things I need to do as well… Yeah. Look, anything's possible. It's never over until, and I've said to the boys, if the right circumstances come around [and] we're in the right place at the right time, there's no other band I'm going to sing with.
Ken: You've got so much more material now.
Georgia: You could be singing about your time in office! You mentioned you have a few other things to do. What else is on the agenda?
Peter: I think that there are lots of important things happening in Aboriginal, Torres Strait Islander affairs. The work that Ken and others are doing in communities [Ken devotes a large part of his time towards community work in outback indigenous Australia] is incredibly important; so is the work for things like constitutional recognition for indigenous people. I've got connections, as Ken does, with communities in the remote areas and I'll start to do some work with them. I've got a book that I've got to get happening, to try and distil the last however-many-years of activities into a memoir which I'm really looking forward to doing… and then there'll be bits of creative work and political action – maybe some music.
Georgia: …maybe?
Peter: Yes. Just got to find some time.
Georgia: What are your favourite parts of Australia?
Peter: Sometimes there are favourite places that you don't want to tell people about, so I'm going to keep one of my favourite places a secret. But one of my favourite places is the Finke River at [camping site] Two Mile, just looking across the start of the Western Macks after the river's been flowing, either very early in the morning or late in the evening.
Georgia: What about you, Ken?
Ken: I agree with Peter. What is it, the Eagles song, 'call someplace paradise and kiss it goodbye'? But I actually like that area too, that's where I'm mainly working with indigenous kids out there. Every time I go there, what amazes me is they'll take me to a new spot and I'll think 'but why didn't you take me here before?' And so really, I do think connection comes out of relationship to the people and the land. That's the unfortunate thing these days, it's all about shooting postcards and that's not really experiencing a place. People will come and they'll be 'click, click' and 'I've been there'. No, you haven't been there. You've just glanced past it. If you spend time with people in a place, that's usually your favourite place. I love all of Australia but I love it out in the red centre. Something's happening out there, I believe.
Georgia: What would you like to see for the indigenous communities of Australia?
Peter: There are a couple of things that I think can happen, and should happen. One is that [indigenous] people have access to livelihood; that they're able to work on country and derive a living from doing that. The second would be for those of us who live in the big cities, and who are really interested and want to know what our future as a nation is, is to develop a relationship with someone [indigenous], with a community. There's something really important about a nation that has to get on top of issues like poverty and disadvantage, and everybody's got their role to play.
Ken: I think one of the biggest problems with the white society or the European society, is we don't understand the concept 'walk a while'. If you're going to walk with indigenous people you need to be prepared to walk a while with them. We want a quick fix. We want to go and say 'hello', but that's not going to do it. You need to build relationships with these people, long-term relationships because that's how change comes about. Often indigenous people know what you're thinking, and they'll act the way you expect them to, just to get rid of you, because they think "you're not prepared to walk a while, why should I really reveal who I am?" I think they have a great thing to teach us. We need to build those relationships more.
Beeline for Burra
Want to make the pilgrimage yourself? Here's how…
Getting there
Though the historical town of Burra is 160 kilometres north of Adelaide, on the Barrier Highway, the homestead itself is another six kilometres out – head north and you'll see it 100 metres off the road, to your right. However it is on private property, so to get a good look you'll need to contact the landowner for permission.
What else can I see?
Burra's main claim to fame – 'the Merino Capital of the World' – isn't exactly alluring (that's our opinion, anyway), but don't let that turn you off – it's also classified as a State Heritage Town, thanks to its line-up of picturesque, historic buildings. Spend the morning wandering pretty nooks and crannies, coffee in hand, then check out the homestead and skip off to your next possie – Burra's in heart of Clare Valley's wine country, so you won't be short of things to do. Alternatively, purchase the 'Burra Heritage Passport' – a self-guided tour that gives you entry to 49 different sites including Burra Mine, the police lockup and stables, brewery cellars, and the local museums for $25 per adult, and wait till afternoon to see the homestead – it actually faces west, so waiting to visit in the late afternoon will give you the best light. Winner.
Need to know
Visit between September and October and you may just catch the distinctive canola crop in bloom, though crops are rotated.
For more info:
See Visit Burra or call the Burra Tourist Information Centre, 08 88922777.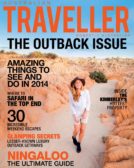 Enjoy this article?
You can find it in Issue 55 along with
loads of other great stories and tips.