Ross, a convict-built town in central eastern Tasmania.
Temptation, salvation, damnation, recreation. These are the words that greet travellers at the main intersection of Ross, a convict-built town in central eastern Tasmania. Temptation comes in the form of the local pub. For those who drank a little too much last night, salvation is found in the church opposite. Damnation is embodied by the old town gaol, now a private residence. And the town hall represents recreation.
These four corners of Ross are just a small portion of the many 19th Century buildings scattered around town. There's the circa 1836 Royal Army Corps headquarters, the female convict factory site, as well as plenty of other sandstone colonial buildings along the old elm tree-lined streets.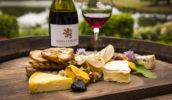 The Ross Bakery has been operating for more than a century and offers visitors a taste of that wonderful Tasmanian speciality: the scallop pie. The most famous attraction is said to be the Ross Bridge, built by convicts in 1836. It's the third oldest in Australia and the arches spanning the Macquarie River are covered in intricate carvings. In fact, when the bridge was finished the carvings were deemed of such high quality that they won the convicts who carved them their freedom.

Where? // 117km (1hr 40mins) north of Hobart, 78km (1hr) south of Launceston.
Did you know? // The Ross Bakery formed the inspiration for Studio Ghibli's cult anime film Kiki's Delivery Service, and every year Japanese fans make the pilgrimage to Tasmania to have their photo taken in front of it.
Return to: the 100 Best Towns in Australia