Tasmania's affordable beach accommodation – holiday rental
 Where is it?
Bridport, Tas North-East Coast. On the eastern side of Tasmania's northern coastline, Bridport is surrounded by native bushland, as well as many local vineyards and wineries. The apartments are situated 250 metres from the town's coastline, less than 500 metres from the largest, Old Pier Beach.
What's it like?
The property contains six self-contained two-bedroom apartments located in a row, three of which are holiday rentals. Built in the 1970s, the apartments were revamped five years ago, which involved relandscaping the surrounds and repainting the exterior walls in a coastal-inspired blue-and-cream colour theme. Each apartment is equipped with a king-sized bed in the main bedroom, quality linen and towels, plus private courtyard and barbecue with outdoor setting.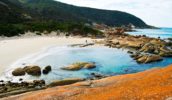 How much does it cost?
From $125 per couple per night, two-night minimum stay.
The details
53 Westwood St, Bridport, Tas. 0400 352 369; oldpierapartments.com.au