Where is it?  Cradle Mountain-Mt Field NP, 90km south of Devonport
How to see it for yourself?
From Dove Lake car park, it's a two-and-a-halfhour return walk up to Marions Lookout for good views of Cradle Mountain.

Why I love it
"It was a beautiful winter's day. After getting some shots at the base of Cradle Mountain, I headed back, but after walking for half an hour I decided it wasn't the right way. I backtracked and looked up to see a full moon rising. I quickly set up my tripod to capture this amazing sight."I was thinking how fortunate I was that I had taken the wrong track… and then the guide markers disappeared under snow and I became hopelessly lost. I'd started the walk to Marions Lookout at 1pm; it was now 9pm and I was buggered. I sank to my knees and yelled, 'Help!' "To my amazement, a male voice replied, 'Are you right, mate?' He told me to walk towards his torch. "He introduced himself as Wes Moule and he was going moonlight skiing. He insisted he guide me back over the next 200m as it was very icy. He said he carried 45kg packs to the walkers doing the Overland Track in summer. "I googled Wes later (www.wesmoule.com) and found he was in remission from cancer, and had vowed that for every kilometre walked carrying the packs he would donate $1 to the W. P. Holman Clinic in Launceston. Wes walked 1220km in 2010-11, and 1170km in 2011-12. "I finally made it back to the car park at 10.30pm. The car was frozen over and the road was iced up but I made it home. Then came the hard part: explaining why I was late to my wife!" – Jeff Crow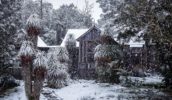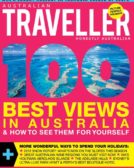 Enjoy this article?
You can find it in Issue 44 along with
loads of other great stories and tips.