AT Reader Melody Tan from Wahroonga in NSW takes a trip up the beanstalk to visit one of Tasmania's most fantastical regions: the Walls of Jerusalem near Cradle Mountain.

All images by Melody Tan



I was exhausted, sore and in desperate needed of a shower. But I also felt alive and strangely refreshed.
I'd never done anything like this before. Throwing on a big backpack and hiking in nature. Being completely self-sufficient, relying only on what I could physically carry. Pitching a tent virtually anywhere I wanted and setting up camp for the night.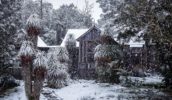 I'd just undertaken a three-day hike into the Walls of Jerusalem National Park in central Tasmania, about an hour by car from Launceston airport.
There were moments when I felt just like Jack with his famous Beanstalk, trespassing and exploring the giant's magnificent garden.

For a girl who grew up in the city and worked in an office, heading into the great Australian outdoors was an experience I would never forget. I was afraid I would get gnawed on by a Tasmanian Devil – or worse, be the one to discover that the Tasmanian Tiger isn't extinct . . . by being eaten by one.
I consoled myself that at least I was on the hike with a friend who lived and breathed outdoor adventure, and who would most likely wrestle any rogue thylacines away from me if that were to happen.
Despite my enthusiasm, my introduction to the hike was unfortunately far from pleasant. In fact, the first morning was pure agony. The two kilometres of gradual uphill nearly killed me. After all, my only form of training for the hike had been sporadic visits to the gym. But everything changed when we emerged from the dense forests into a clearing.
The sudden beauty of my surroundings hushed my voice – but fully awakened my senses. The bright green of the grass, the brilliant blue of the sky, the many clear trickling streams and the fresh mountain air caused me to wonder if I had stumbled into an artist's painting.
There were moments when I felt just like Jack with his famous Beanstalk, trespassing and exploring the giant's magnificent garden.
All around me were trees and scrubs, some that I'd never seen before. There was a sort of random order about the place. The cobalt blue lakes sparkled to my left, the rocky peaks of the Walls towered over me on my right, and the scattering of pine and gum trees all around me made me feel as though, like Jack, I had entered a place I really shouldn't, but it continued to draw me on because of its promise of yet more beauty . . .
We spent three full days and two nights in the National Park, hiking, strolling, laughing, panting and simply soaking up the awesome beauty of a place relatively untouched by man. Three days I will not forget in a hurry.
This is the second time that I've visited Tasmania, but I don't think it will be the last. The beauty of the island continues to call out to me. The friendliness of the people will never fail to make me feel welcome. The amazingly sweet supply of fresh cherries, raspberries, nectarines and apricots available for purchase right by the road during summer will always be a drawcard.
And, of course, there are also plenty of other hikes to conquer. Waiting for departure at Launceston Airport, I knew I would be back.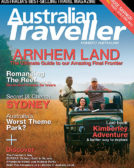 Enjoy this article?
You can find it in Issue 31 along with
loads of other great stories and tips.