Deep in a little corner of the Derwent Valley surrounded by fertile and bucolic Tasmanian countryside lies the ultimate Australian gourmet experience. Revered restaurant critic Leo Schofield describes it as "one of the most seductive and sophisticated cooking schools in the country."
Founded by ex-Gourmet Traveller Magazine food editor Rodney Dunn, The Agrarian Kitchen is a "closed loop", self-sustaining cooking school. It's housed in a charming 1887 schoolhouse with the kitchen overlooking the vegetable patch.
"Rodney Dunn is doing great things in Tassie." – Michael Ryan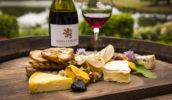 This immersive and hands-on cooking school of the future draws its inspiration from the distant past, the eponymous Agrarian Age of pre-1700 AD, when sustainable farming was not just a fad but a way of life. "I was always on that quest to find or create the next great meal," says Dunn of his motivation. "But then I reached that point when I realised it was only ever as good as the food I could buy."
Now living the dream and sharing it with lucky travellers who venture to his corner of rural paradise, Dunn is reaping what he has sown, literally.
Most classes are half-gardening, half-cooking. Pupils don gumboots to forage in the extraordinary kitchen garden for the ultimate seasonal harvest. The potatoes are dug up and become a gratin. The snowpeas, beans and zucchinis are mixed with local quail eggs to form a salad. Heritage apples from the orchard and rhubarb from the garden are dessert. Guests learn pastry 101 from ex-Gordon Ramsey protégé Alistair Wise.
The most popular sessions are Dunn's Whole Hog classes, two-day extravaganzas so sought-after that the waiting list for the eight positions hovers at around 80. Lucky guests enter the school and are met with the entire carcass of a Wessex saddleback pig that over the next two days will be made into 16 different dishes. The first half of the class is butchering the beast into its parts before everything from nose to tail is reconstructed into dishes ranging from sausages to rolled loin roast and even lard to take home.
For Dunn it's all about the connection between the land that produces the food and how it makes it to the plate. "The biggest surprises from the kitchen garden were the simple and everyday things like celery and carrots," Dunn admits. "The integrity of flavour when they're fresh out of the ground is just so remarkable."
Not everything in the garden is everyday. Dunn has sought, found, cultivated and revitalised rare and heirloom fruit and vegetable varieties and animals. He revels in the fact that this is as much a journey of discovering the lost produce for himself as it is for others. "It's a cliché but I do love the tomatoes," he says. "They are so much better when organically grown and we have 60 varieties, each a subtly different colour, flavour and acidity."
Dunn hopes The Agrarian Kitchen changes the way you think, cook and eat. "I want people to leave here and think about where their food is coming from. I want them to realise that this is how good it can be."
Where: 650 Lachlan Rd, Lachlan Tas. (03) 6261 1099, www.theagrariankitchen.com
Did you know: The critically endangered Wessex saddleback pig is considered a fine eating pig and a great "baconer". In 2008 there were only 100 registered breeding sows left in the world, all in Australia and NZ as it is extinct in its native England.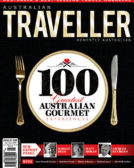 Enjoy this article?
You can find it in Issue 32 along with
loads of other great stories and tips.