3. Bury Me Standing
Entrepreneurial baker Alesha Peckels serves up delicious traditional breads, including varieties from Minnesota and a secret bagel recipe from her husband Cohen. You'll find her bakery-cum-cafe down an unassuming side street (104 Bathurst Street). We suggest grabbing a seat in the sun with a coffee and a lemon cake with lemon syrup, Alesha's grandmother's recipe.
4. Island Espresso
While Island Espresso (171 Elizabeth Street) serves great coffee, cakes and breakfast, you're really here to feel a bit of Hobart history. The old brick wall out the back constitutes what is thought to be one of the oldest structures in the city: the remains of a cottage dating back to 1814, before convict labour had even paved the ROAD.
5. The Stagg
"The area has changed dramatically, with a vibrancy that just did not exist a few years ago," says Sue Stagg of her family-run coffee stop (138 Elizabeth Street) that intercepts NoHo office folk on their way to work. Order from the hatch or take a seat and try the cold brew.
6. The Hayloft
Tucked away in an old stables building that looks like it's been transplanted straight from England's Kent countryside, all exposed brick and original timber beams, is this stunning loft apartment. Originally a hay store to service the stables below at the Hobart Hotel (circa 1835), it's now a romantic, self-catered affair, with a high ceiling and a huge roll-top stone bath. It's a little secret hidden away up some wooden steps, past wrought-iron gates, and through a brick archway at 100 Elizabeth Street that leads to the back of Ettie's restaurant.
7. Templo
With only 20 seats at Templo (98 Patrick Street), you'll need to book early for this Hobart favourite, open Thursday to Monday from 12pm to 3pm and 6pm until late. Owners Chris Chapple and Matt Breen serve delicious handmade pasta and gnocchi, which you'll enjoy with some perfectly matched wines. Pull up a stool at the bar and soon you'll be chatting away with the talented duo as you watch them at work.
8. Lily & Dot
You won't be able to resist this appealing little store if you're a new parent or parent-to-be, or you want to pick up a gift for a niece or nephew. Owner of Lily & Dot, Katinka Challen, specialises in 'Tassie-made, handmade crafts and natural products with a modern twist', which translates as snug crocheted blankets, cuddly toy native animals such as Tassie devils and platypuses made from recycled materials, classic children's books and gorgeous prints that are perfect for a nursery.
9. Shambles brewery
About four craft breweries have cropped up in this part of town recently, but the best has to be Shambles. It has pulled off the marriage of a sleek, industrial-chic bar (lots of timber and steel), with
tasty, refreshingly crisp ales. Head to 222 Elizabeth Street in the late afternoon to join office workers enjoying a post-work pint. Shambles understands that a fine craft beer can be a great session beer, too. We suggest the Afternoon Delight: "Perfect after a hard day on the job," its tagline goes. "Also good for when you've done f@#k-all and just want a beer."
EXPLORE MORE HIP HOODS
NSW   | Palm Beach | Coogee |
VIC  | St Kilda |
QLD | West End | Fortitude Valley | Paddington | Newstead
NT | Darwin
WA | Perth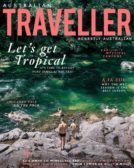 Enjoy this article?
You can find it in Issue 75 along with
loads of other great stories and tips.