What to see, places to eat and hotels in Hobart.
Nestled between imposing Mount Wellington and the placid waters of the Derwent River, Hobart offers a spectacular place to enjoy quality food and drink, as well as arts and a dose of history. By Jason Staines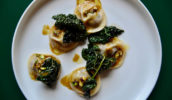 STAY HERE
The Islington Hotel Hobart //
offers a fine mix of colonial heritage and modern design. While it isn't exactly in the centre of the action, the sweeping views of Mt Wellington, the outdoor pavilion with its open fire and the impressive wine cellar make it a place to linger. The corridors – filled with art and antiques – are enough to occupy a day. From $300 per double with breakfast, evening drink and canapés and parking. www.islingtonhotel.com
Battery Point Guest House //
sits just behind Salamanca Place and offers rooms in a heritage-listed property and is a good base for exploring the waterfront and Battery Point. From $180 per double with full, cooked breakfast. www.batterypointguesthouse.com.au
Central City Backpackers //
is one of a number of backpacker options in the city but has the advantage of being close to the action. They can also organise activities in the area. From $22 a night. www.centralbackpackers.com.au
PLAY HERE
Salamanca Place //
is the centre of tourist action, with an enormous Saturday market and a number of cafés, restaurants, pubs and bars.
The Quarry //
is a new kid on the Salamanca block, acting as café, lunch spot and a place for late night drinks. If the weather is icy outside try to grab a seat by the fire or opt for an intimate booth. And gents: no, the punters outside can't see into the men's toilets.
Battery Point //
With the stunning backdrop of Mt Wellington and overlooking the Derwent River, Battery Point is a rabbit warren of streets and colonial houses including Arthur Circus, an early Australian version of a genteel English residential area.
Constitution Dock //
is where it all happens when the yachts arrive after leaving Sydney on Boxing Day. Overlooking the fishing fleet is the Mures complex, which offers great seafood options. For wonderfully fresh sushi and sashimi head for Orizuru and for Indian there's Saffron just up from the Henry Jones Art Hotel (one of Hobart's best hotels – click here for that review).
DON'T MISS
Live History //
is a very different way of seeing Hobart – through the eyes of strolling actors as they recount tales of struggle and survival from convict-era Tasmania. A combination of song, performance and storytelling, this is tour-guiding, but not as you know it. Bring history to life at www.livehistory.com.au, or call (03) 6229 8959.
Art Mob and IXL Design //
Those interested in art and design should visit Art Mob and IXL Design. Next door to each other on Hunter St, Art Mob holds a huge range of Indigenous art while IXL Design showcases contemporary Australian furniture design. www.artmob.com.au and www.ixldesign.com
Mt Wellington //
towers over Hobart and provides a dramatic backdrop for the city. The drive up can be closed in icy weather and the summit often clouds over, but if the skies are clear it offers a fantastic view of the river, city and surrounds.
Heading out of town //
along Sandy Bay Road takes you past Wrest Point Casino, which seems fantastically tasteful and restrained next to its mainland cousins. Keep going and the winding coastal road offers fantastic views and a chance to climb the Shot Tower, with more high-level views of the Derwent.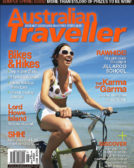 Enjoy this article?
You can find it in Issue 17 along with
loads of other great stories and tips.