It didn't quite make it into our 100 Best Towns in Australia, but AT Reader Paula Heelan from Clermont in Queensland has a favourite in central Tasmania that she'd love to share.
One of Australia's oldest shepherdesses, Lois Smith, is walking a few of her sheep through the middle of Oatlands. A farmer from the far north has brought her some hay to help get her through the current drought the district is enduring. After a quick photo shoot to mark the kind deed, she heads down the road to the bakery for a coffee and a cake.
With an extraordinary sense of history, Oatlands is a trip to the past. Halfway between Hobart and Launceston in Tasmania, the historical village has more than 138 of the finest Georgian sandstone buildings – more than any other Australian town.
A decade ago, before mainland investors recognised the significance of the old buildings, which were mostly built by convict labour, sandstone cottages and shopfronts were crumbling away and boarded up. Today, newcomers have painstakingly restored many of the buildings with colourful gardens, cafes and gift shops, returning Oatlands to its former beauty.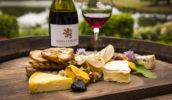 Apart from just walking down the main street, other impressive buildings to see include the stunning Callington Mill (currently being restored to working order to produce 250 tonnes a year of whole-grain flour to sell onsite and to produce bakery treats), Australia's oldest rural supreme court, the old gaol and Holyrood House.
Dubbed Oatlands in 1821 by Governor Macquarie, the name referred to a rich grain-growing area of his native Scotland. Despite the current dry times, the district is generally known as a prosperous, rural area.
Even in drought, the town and its surrounding hills glint majestically in the morning dew. Some of the surrounding hills are blanketed with snow. With the earthy, vibrant colours running through the landscape and town, the crisp, unspoiled air and the journey back in time, Oatlands is my absolute favourite town in all of Australia.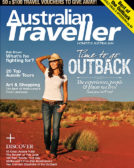 Enjoy this article?
You can find it in Issue 27 along with
loads of other great stories and tips.