Aquick chat with an island minder.
Quick Chat with…An Island Minder 



Esther Nunn recently did a five-month solo camel trek south from Alice Springs right across Australia. But before that, she was the Island Minder of Tasmania's tiny Maatsuyker Island.

Where's Maatsuyker Island and why did it need minding?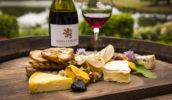 It's a tiny rock, 3km by 1km, which sits 20km off the south coast of Tasmania. It's managed by Tasmanian Parks and Wildlife and, because of its cultural, historic and environmental values, caretaker programs have been set up to "baby-sit".
How does it work?
Well, they throw you on a boat, or in a helicopter, just you and your mate, with everything you'll need for three months and they dump you out there on a windswept little rock in the ocean and say, "See ya! Have fun!"
What qualifications do you need?
Experience living in remote situations, preferably with the person you've chosen to go with so they can see you won't kill each other. Practical skills, so you can fix things when they break and make do with limited resources (there are no shops out there, and if you need a replacement part it can take up to a month to get it helicoptered or boated in), knowledge of the island's environmental and cultural values, and a sense of adventure.
Do they give you training?
Plenty. Part of the job is to record the weather for the Bureau of Meteorology, and you need to be able to observe it accurately.
Why and how did you get into it?
Why? Because it's such a fantastic experience to be able to get away from all the manmade madness of modern-day living, and have a whole island just to yourselves! There's stunt kites to fly, paper planes to throw off the lighthouse, incredible scenery in every direction, and no-one around to see you running around naked and crazy! I got into it by hearing it on the "adventurous people's grapevine" and it was just a matter of applying for the job.
What were the best and worst things you brought with you?
Kites were the best, because it's always so windy. Maatsuyker had the windiest spring on record for the three months I was there, with an average wind speed of 60 knots, which is classified as gale force! I also built a kite-powered billycart for the airstrip on nearby Deal Island, which was great fun.
What's the best thing about island minding?
Isolation, freedom, finest quality nature, kite flying, exploring, hanging out in the lighthouse, beachcombing, swimming, snorkelling and fishing – although swimming is only done on Deal Island where there are beaches. Maatsuyker doesn't actually have beaches (it's all cliffs) and let's be clear: there is absolutely no swimming there. Tasmanian Parks and Wildlife are pretty touchy about that one!
What's the worst thing?
Cabin fever when the storms just keep rolling in day after day.
Do you get a break?
No.
Did you start talking to yourself?
Yes, but I always did.
Scariest moment?
When I was trying to do a weather report and I had to get down on my hands and knees to crawl because it was around 100 knots. The anemometer (to record the wind speed) blew off when it hit 91 knots, as did the rain gauge, which is bolted into cement! The wave rider was recording 22m swells, which slam against the cliffs below the lighthouse so hard, it reverberates up into your boots! The weather down there can make you feel rather insignificant and vulnerable.
What did you learn about yourself?
That I love my own company and plenty of time to play.
Who would you not recommend it to?
People who love their own company and who love to play.
Do you still feel like it's YOUR island?
Well, you do fall in love with it, and I wish it WAS mine!
What advice would you give someone about to follow suit OR have their very own Robinson Crusoe experience?
Take lots of treats, chocolate especially. It's amazing how much it can help a difficult situation.
Knowing what you now know, what would you do differently?
I'd never leave.
So how did you go from island to camels and the desert?
Well, after three months of gale force winds and rain that comes in sideways like millions of tiny chisels, I found a book called Tracks, by Robyn Davidson. It had a picture on the cover of a sun-kissed young woman perched on a camel in front of Uluru, and I just thought, YES! Take me to the desert! 2007 was the 30-year anniversary of her trek and I thought there might be some sponsorship in it to do a "celebratory re-enactment", and Australian Geographic said yes.
Best moment? Worst moment? Scariest moment?
Living under the stars for six months and having so much freedom to daydream, sing wacky songs at the top of my lungs, not having to wear clothes, hanging out with camels. Worst moment, probably about halfway when it was 45 degrees everyday (taken in the shade, remember) and a zillion flies, aching body, and still over 1500km to go. But, after a little cry, it's obvious there's only one option: keep going, one foot at a time. Scariest moment? Having to shoot wild bull camels that were coming to attack us.
Did you get used to camel stench?
Camels don't smell, or spit, and it's not water in their hump either! (It's a fat reserve.) There are so many myths and camels have a terrible reputation which is totally unfair and unjust. They're such gallant, gorgeous spunky and funny travelling buddies. They only roar, bite and smell if they aren't looked after by humans – and let's face it, who wants to be yanked around by a piece of string attached to your nostril with fat tourists yahooing on your back all day? Sorry, but you've touched a nerve there. I love camels. And when they've been eating certain bush foods, their breath smells gorgeous. Truly.
If you compare your journey to Robyn Davidson's original trek, what do you think has changed?
Well, GPS, EPIRB and satellite phones are just a brilliant navigational blessing, and a luxury that Robyn didn't have.
How do you compare it with your island minding experiences?
Both are brilliant because they get you out there living your dreams. Both test your physical and mental endurance in ways that stimulate personal growth. Both enable you to live among the highest quality nature in the world and not be distracted by other humans and all the crap that comes with complicated human lives. Both allow you to live just as you choose, and not be accountable to many. And both aren't for the faint hearted!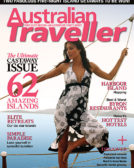 Enjoy this article?
You can find it in Issue 19 along with
loads of other great stories and tips.