When Tom Corra took a road trip with his mates he had a blast – literally, from a brutal Tassie wind. But he also stumbled across some of the most beautiful spots in Australia  Going to Tasmania in May might not be the wisest choice I have ever made. The idea had been up in the air for a while, but nobody had actually jumped at it until one Saturday night when I was out with friends. It was brought up and agreed upon, and boat tickets where purchased the next day, for a departure in one month's time.
Being part of the young nomad brigade, we decided to rough it. We would camp the whole way round the island. Seemed like a good idea at the time.
Everybody got to work on their vehicles, and with three days to go we were ready. One vehicle towed a camper trailer, another crew opted for sleeping in swags, and my vehicle was equipped with a roof-top tent, which was on its maiden voyage and would not quite live up to its 100% waterproof guarantee.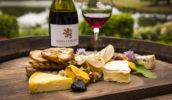 We made the trek to Melbourne and boarded the boat that evening. Our youthful bravado had got the better of us, so we didn't book a cabin, but with three-metre swells and several seasick travellers, the results were what you'd expect.
We arrived at Devonport with great expectations that we would circumnavigate the whole island and see everything in 14 days. Boy, were we wrong. But the adventure had begun, and the weather was surprisingly good. Really good, if compared to what was coming.
We hit the east coast first, with the Bay of Fires our first stop. It was amazingly pretty so we ended up spending two nights there. I couldn't name a tidier, more well-presented town than St Helens.
It felt a shame to leave, but we packed up camp and hit the road to Freycinet National Park. I had read a lot about Wineglass Bay and it was on my wish list of places to see while in Tassie. It lived up to every expectation. The walk was breathtaking – both the view and the hike itself.
Port Arthur was up next. We got in late that afternoon and decided to have a quick look around what was once a booming penal settlement. We were so captivated with the place, we ended up spending the whole afternoon there; that evening we did a ghost tour, then returned early the next morning for another four hours.
Hobart was next on the map. With just two days scheduled here, it soon became apparent we would be rushing.
And then it happened. A wind that could almost cut you in half. I was born in Canberra so the cold normally doesn't faze me, but this wind and drizzle was something different.
We put the weather behind us and got on with our sightseeing. We visited the Cadbury Chocolate Factory and came out bloated, then visited the Cascade Beer Factory and came out happy. Then we proceeded to the top of Mount Wellington, where it was snowing. So a snow fight seemed like the right thing to do.
As quickly as it came, our time in Hobart was up. We flipped a coin and the result was to head over to Bruny Island for the night. A very wise decision: we stayed at an amazing spot, Cloudy Bay Corner Beach Campground, which entailed a 3km beach drive. Being so far away from home and so far away from the real world was what made this place so special. And the weather even put a show – the wind stopped blowing a gale and the drizzling let up. I went to sleep that night with a sense of fulfilment, happy that I had pleaded with the boss to let me take three weeks off work, happy that I had spent endless hours preparing the ute, and happy just to be in Tasmania.
I rose early that morning to the familiar sound of rain on the canvas tent roof. Little did I know this rain would continue for the remaining week of the trip.
We packed up camp and jumped in the utes, heaters blazing. Bruny was amazing and we were all pleased we had decided to pay it a visit.
Next up, we headed for the west coast. It was damp, wet and miserable – and did I mention wet? It rained and rained and rained. Oh, and it snowed three times, too, just for the record. We saw what we could from the safety of the cars, and all huddled around gas cookers placed under the cover of a tarp each night.
But we did circumnavigate the whole island, travelling 3500km. And we did see everything we wanted to. But camping in Tasmania in May may not have been the brightest decision!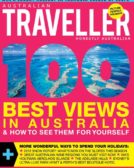 Enjoy this article?
You can find it in Issue 44 along with
loads of other great stories and tips.