Elspeth Callender steps back in time on a walking tour of an iconic Tassie property One summer holiday, my parents paid a small entry fee to a marine museum on the NSW Central Coast. Except it wasn't a museum; more a bunch of shells stolen from the local beach, sorted rather anally into trays and displayed in the carport. We learnt nothing, left in tears and never forgot the Don't Touch Lady in the Don't Touch Shop.
The historic property of Shene in Tasmania is no such museum, and custodian Anne Kernke is no such lady. "We want people to come in and look at it, and touch the walls," says Anne, as she shows us around with the high-energy enthusiasm of a terrier. As she walks, we're encouraged to fondle everything: hair found in the old plaster, a clay pipe, a dislodged roof shingle. People have left their mark on Shene over the years; scratching initials into walls, pressing personal prints into handmade bricks, etching signatures into glass panels. Now, says Anne, "we tell people we're leaving our own mark".
The walking tour explores the beautiful Georgian farmhouse, the charmingly dilapidated servants' quarters, the huge barn (high enough inside for a 26-rung ladder) and the magnificent-bordering-
on-ostentatious, convict-built stables. The stable turret was never finished and legend has it that the top of its incomplete stone staircase housed a bell, which would be rung to warn of approaching bushrangers.
There's less threat of that now in this cultivated valley because, as Huon Highway graffiti says, "bushrangers need bush". Still, it's easy to feel as though you're stepping back in time around here. The many historic stone buildings that now make up Shene were originally erected from 1822 onwards, on land granted by Governor Lachlan Macquarie in 1819. Listed on the old Register of the National Estate, this land in the Bagdad Valley (no kidding, Bagdad) was originally given to failed London merchant Edmund Paine; he subsequently drowned in 1822 near Tinderbox Bay when his boat capsized.
The second owner was Gamaliel Butler, whose connections to Paine are as fuzzy as the details of how he came into ownership – perhaps that's fish I can smell. Butler rented the land to Peter Harrison of nearby Jericho and the property eventually grew to become one of Tasmania's largest rural holdings.
Today, custodians Anne and David Kernke plan to hold private functions at Shene. With its picturesque setting, the place has already been used as a filming location for an Irish television series. (Anne was an extra: "I got to be a matron, and whipped those convict lassies into shape.")
In the meantime, there are plenty of other things to keep them busy – like the appetites we've worked up during our walk. Back at the main farmhouse, which also happens to be the Kernkes' residence, we're presented with a lavish, homemade high tea, prepared and served by Anne's mother.
Although the tour isn't cheap, I'm touched by personal elements like these, and impressed by the whole experience. Besides, the high tea – included in the price – is an entire meal in itself! Just don't leave the queen-sized glass of trifle until last or you won't fit it in.
The Details
Where // Shene, 76 Shene Rd, Pontville, Tas, only 15 minutes' drive from MONA.
Notes // Tours operate at 2pm Friday-Monday. Bookings essential at no less than 24 hours' notice. $50 for adults; $25 for children aged 6-14; free for children under six. A small amount of walking is involved.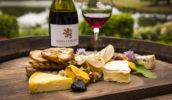 THE AT Verdict

Elspeth Callender, who paid her own way and visited anonymously, says: "I think many of us continue to be fascinated by Australia's colonial beginnings, if only to reflect on how far we've come. Shene can transport you there if you let it."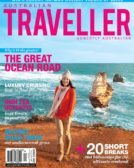 Enjoy this article?
You can find it in Issue 45 along with
loads of other great stories and tips.