The stunning Bay of Fires in north-east Tasmania is a truly remarkable piece of Australian coast. When an opportunity arose to take a trip there, Nigel Herbert was on a plane before you could say "Australian Traveller Magazine". The Problem:
Anyone's inner photographer would become excited seeing the striking, vibrant red rocks prevalent along the coastline at the Bay of Fires. You can't help but suspect that even without the right equipment you could create a stunning panoramic shot here. But if you're like me, you lug around the lot no matter where you go. You take everything. And I mean everything.
I packed my camera. Then a spare camera. Then batteries for the spare camera. Then some lenses. And some spare batteries. And a back-up battery charger. It became ridiculous. When I laid it all out to pack it looked as if the local Harvey Norman had exploded in my lounge room. But it's the Bay Of Fires, right? A once-in-a-lifetime opportunity. I wasn't going to leave anything to chance. Luckily Lowepro make a bag perfect for just such an occasion – the Lowepro Pro Trekker 400. This bag is a beast. It swallowed all my equipment and didn't even burp afterwards.
The Mistake:
Fully laden, this bag was heavy. This was confirmed at check-in, when Virgin Blue allowed me to travel with the bag (which had by now been christened The Beast) as long as I paid an extra $100 for overweight baggage. But I didn't care. I wasn't leaving anything behind.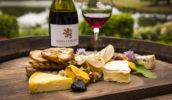 But maybe I should have. My quest to take everything with me meant that once I was on the ground at Bay of Fires – a natural, sandy, boulder-strewn, exposed location – the situation was almost unworkable. I was simply trying to carry too much stuff. While everyone else in my photographic tour group was off making photos, I was swapping lenses, setting up tripods, adding filters, clipping on my cable release. Then just when I was ready to get shooting … It was time to move on. By days end, I had used about 10% of what was in the bag. And I was exhausted.
The Solution:
Clearly a change of strategy was required. On the second day I ditched the unnecessary gear. It was time to lose kilos. But I did not want to sacrifice any creative opportunities that arose through a lack of gear. In the end this was all I took with me:
• Canon EOS40D with
Tamron 18-270mm VC PZD
• Joby SLR Gorrilapod
• Set Of Cokin Filters
• Cable release
• All kept in a Lowepro Photo Sports bag

And yet there was no photo I couldn't create if I wanted to. Using the Joby Gorillapod meant I could get down low, once I'd found a stable platform to put the Gorillapod on. Strangely, it was never as much of a compromise as I feared it might be. The articulated legs of the Gorillapod can be wrapped around a tree, a signpost or anything sturdy nearby. So I was able to create some long-exposure photos that were dead sharp. HDR photos? No problem. Time lapse? No problem. With a cable release and the Gorillapod, I was sorted.
The Tamron 18-270mm VC PZD was also a great fit. The lens is small, lightweight and offers a staggering zoom range. From 18mm for those wide landscape shots through to the 270mm for capturing intricate detail or taking close-ups. For a walk-around travel lens it was just about perfect.
Not having to think about changing lenses meant that I could focus entirely on creating the photo. The only extra equipment I needed to take along was a set of Cokin graduated ND filters which allowed me to cut out some of the harshness caused by the overhead sun, and allowed the scene not to get washed out and overexposed. And of course, a cable release allowed me to trigger the camera without touching it.
In summary: I learned my lesson. Just because you can take it with you doesn't mean you should take it with you. By packing the right gear for the situation you can retain complete creative control. The
best photos are the moments you are actually ready to capture.
Don't miss shots setting up and changing lenses.
Nigel was a guest of Bay Of Fires Lodge for a photographic workshop led by pro-shooter Grenville Turner. www.bayoffires.com.au
Note:
If you want more photo tips email us at phototips@australiantraveller.com. For more product details check out www.tamron.com.au. To see what others are doing with their lenses, visit Tamron Australia's Facebook page.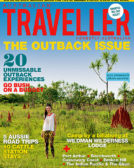 Enjoy this article?
You can find it in Issue 43 along with
loads of other great stories and tips.