The top five short drives from Hobart, Launceston and Devonport in Tasmania
1. Hobart to Coles Bay
Tiny Coles Bay is perched on the northern edge of the Freycinet NP overlooking the crystal clear waters of Great Oyster Bay. About 200km (2.5hr) northeast of Hobart, it's here that Tasmania's famous red granite cliffs, the Hazards, tumble into the ocean, while red-necked wallabies, pademelons and white-breasted sea eagles abound. With kayaking, bush walking, snorkelling, boating and fishing all on the agenda, you'll likely need a holiday after your holiday.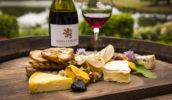 Along the way // Just under halfway to Coles Bay lies tiny Orford on the Prosser River, its chilly waters providing surfers with sweet swells, and anglers with opportunities galore. On a clear day from the Thumbs Lookout, you'll very nearly see the Tasman Sea in its entirety. Further north at Triabunna you can board a ferry to Maria Island, a former penal colony with no electricity that offers the perfect chance to get back to basics on a bush walk or in its pristine waters. Kate's Berry Farm is at nearby Swansea, which sits high above the coastline looking out across Great Oyster Bay (named for its molluscoid shape). Kate has ice cream, jam and Devonshire Teas on the menu, and from November to April you can buy freshly picked berries. If lethargic ball sports are your pleasure, try the scenic Swansea Golf Course or the cute bowls club right next door. And for quality shut-eye, AT recommends Freycinet Lodge, right after a bracing walk along the award-winning beaches of Wineglass Bay.
Did you know? // The 1996 Census found that Swansea has the largest percentage of over 65-year-olds in Tasmania, with 25.1 percent of the 495 residents over 65. So remember to turn down that awful rap music as you drive through.
2. Hobart to Strahan
Strahan, perched on Macquarie Harbour, is an ideal base for west coast exploration. It lies 290km northwest of Hobart and is the last outpost of civilisation on the west coast of Tassie. Here you can escape the rat race and feel as though you've stepped back in time by jumping aboard the West Coast Wilderness Railway that crosses 40 bridges and climbs 200m. You can also learn about the darker side of the region by taking a cruise on Macquarie Harbour before touring Tasmania's first penal island, Sarah Island. There's never a shortage of accommodation, walking tracks and places to relax.
Along the way // Capital of the captivating Derwent Valley, New Norfolk is just 30min west of Hobart. Here you can take in river, mountain and valley views or even jetboat the Derwent River rapids. Make sure you swing by Woodbridge on the Derwent, one of Tasmania's best boutique luxury hotels, before travelling another hour northwest to reach Tarraleah – which is just 20km from the geographical dead centre of Tasmania. Choose between trout fishing, lake kayaking, golf or a relaxing massage, and be sure to visit the superb Tarraleah Lodge. On the final stretch to Strahan, the Lyell Highway will escort you through the Franklin-Gordon Wild Rivers National Park, which you can also take a scenic flight over.
Did you know? // Near New Norfolk lies the town of Plenty, which is home to the famous Salmon Ponds, an attractively manicured farm for trout and salmon that's been operating since 1864.

3. Devonport to Stanley
Beautiful Stanley is an historic town bursting with natural attractions. Around two hours (127km) northwest of Devonport, its most notable landmark is a striking volcanic plug called The Nut. You won't regret the climb (or chairlift ride, if you're not up for the walk), or the magnificent views of Bass Strait. There are also plenty of great opportunities to see seals frolicking in the wild during an 80min cruise to Bull Rock, where more than 500 of the curious creatures reside. There's never a shortage of activities in Stanley, with great fishing, swimming and a golf course too.
Along the way // The delightfully named town of Penguin is just 31km west of Devonport, and between November and March you can catch a glimpse of fairy penguins in rookeries dotting the coast. A further 17km northwest of Penguin is Burnie, where you can have a picnic in the sweeping Emu Valley Rhododendron Gardens or at Burnie Park. Another 20min south, at Ridgley, you'll find the spectacular Guide Falls, and for views of the area you should head to the Fern Glade and Roundhill Lookouts. The patchwork Table Cape should be next on your agenda, west of Burnie. Try and travel in October in order to catch the stripes of glowing colour in the fields when the annual Bloomin' Tulips festival heralds the start of tulip harvest. Table Cape is also famous for its light station, built in 1888.
Did you know? // Tasmania's west has its fair share of homegrown, well-known faces. Joseph Lyons, Australia's tenth Prime Minister, was born in Circular Head and raised in Stanley, and former AFL player Alastair Lynch (Brisbane Lions) is from Burnie.

4. Launceston to Cradle Mountain
The rustic town of Cradle Mountain depends heavily on its overwhelming natural beauty. The bustle of the city will seem worlds away when you're exploring the plateaus and varied terrain of Cradle Mountain-St Clair National Park, about 250km from Launceston (3.5hr drive). The number of walking tracks you take on is limited only by your stamina and enthusiasm, with walks ranging from 20min to eight hours. A three-hour walk to Marion's Lookout offers memorable views of Cradle Mountain and Dove Lake. Whether it's tackling the summit or taking a short walk through the mountainside, the only way to appreciate the majestic nature of the national park is by being right in there amongst it.
Along the way // When passing through Mole Creek, swing by Trowunna Wildlife Park where you can interact with wombats and native Tasmanian Devils. Just around the corner is King Solomon's Cave, where you can take a 40min tour of this well-lit show cave and see the stunning calcite crystals known as King Solomon's Diamonds. Heading north, stay overnight at Sheffield and check out the murals and the Kentish Museum. A further 15 minutes along the scenic route from Sheffield to Cradle Mountain you'll find the perfect place to get lost (literally) – at Tasmazia, at the base of Mt Roland, which has eight fiendish mazes. Once you've soaked up the spectacular scenery (and found your way out), check out some of Mt Roland's murals, art studios and galleries and have a bite to eat at one of their many cafes.
Did you know? // The Great Maze in Tasmazia, aside from being reputedly the world's largest botanical maze, is also set alongside the Village of Lower Crackpot – a one-fifth scale model town.

5. Launceston to St Helens
St Helens, about 170km east of Launceston (2.5hr drive) and only ten minutes from the spectacular Bay of Fires, prides itself on its warm hospitality and climate. First-class restaurants line its streets, offering English and Mediterranean cuisine. Nearby Georges Bay is ideal for swimming, surfing and fishing. The historic Blue Tier mining area, bicycle tracks, walking paths and stunning waterfalls (including Halls Falls) are all nearby. Accommodation ranges from B&Bs to luxurious retreats; perfect for your next short break.
Along the way // On your way to secretive Bridport, with its picturesque fishing vessels and decrepit jetties, you'll pass through the eastern corner of the famously vineyard-dotted Tamar Valley. Stop off at Bridport for a swim or fish in the beautiful and safe waters of Anderson Bay or play a round at the world-class Barnbougle Dunes – a serious track for serious golfers. Continue 22km southeast along the tight, winding roads to Scottsdale where there are plenty of walking tracks through the nearby Springfield Forest Reserve, Cuckoo Falls, Mt Stronach and Mt Scott. Northeast of Scottsdale and ten minutes north of St Helens is the extremely beautiful Bay of Fires, spanning from Binalong Bay to Eddystone Point in the north. Walks along the beaches (self-guided or with tour groups) will provide you with unparalleled views and lasting memories. Scattered along the bay is a range of accommodation, or you can choose to retire at your final destination in St Helens.
Did you know? // St Helens is the largest town on Tasmania's east coast, and its population increases tenfold during summer, due to its close vicinity to Georges Bay and the lovely Bay of Fires.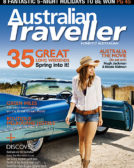 Enjoy this article?
You can find it in Issue 23 along with
loads of other great stories and tips.