Tasmania is a hotbed of unique pieces and incredible finds – and nowhere more so than its thriving market scene. Here, some of the best spots to go treasure hunting. Words by Elspeth Callender.
If there was ever a little island that could, Tasmania would be it. What other area, a good 240 kilometres out to sea, could produce all five food groups (that's cheese, salmon, wine, stone fruit and cheese) to such artisan levels, to the loud and repeated appreciation of the rest of the country, with such little fanfare?
But there's a lot more going on here than remarkably good feasting. Step out on any given weekend and you'll see the evidence yourself.
Hobart's perimeters now host well over ten different markets, each with its own offering, where artists, designers, photographers, painters, bakers, florists, apiarists, horticulturalists and farmers sell antique clocks, lush fat strawberries, striped wallpaper and everything in between.
It's almost too easy to get chatting to a local by asking about the garlic they've grown, the jewellery they're selling, or the silk dress they've sewn but inevitably, you'll find, the conversation will turn to how much you both love Tasmania.
1. Salamanca Market
The first Salamanca Market was held near the silos in 1972 with 12 stalls. Now, up to 25,000 people can descend on Salamanca in one day.
Organic fruit and vegie vendors sell fresh produce across from the second-hand bookstall; buskers play folk music just along from the tea stall; nearby is a great cheese place and just across from them is someone selling felt hats.
In other words, Salamanca Market gives you everything you need, once a week… A little like the perfect lover.
Our find: a handmade Huon pine cheese board.
Every Saturday 8:30am–3pm, Salamanca Place, Hobart
2. Tasmania Farm Gate Market
Hobartians now wonder aloud what they used to do on Sundays before Tasmania Farm Gate Market (or as it's more commonly known, Melville St Market) started in town a couple of years ago.
The fact that everything on sale can be chewed, sipped or planted is what sets it apart.
There are coffee sellers who roast their beans locally, organic butchers whose pigs eat better than they do, and ruddy families offering bundles of freshly harvested rhubarb wrapped in cake recipes printed on brown paper.
Sunday brunchers will be torn between Geeveston sushi and a haloumi burger.
Our find: a bag of organic walnuts from 100-year-old trees.
Every Sunday 9am–1pm, on Bathurst Street between Elizabeth and Murray Street, Hobart.
3. Cygnet Market
The town of Cygnet, with its eclectic population and quaint rural setting, is unique.
Hippies, greenies, farmers, tradespeople, writers, artists and activists share the area with a growing number of mainlanders, who've discovered the grass is actually greener and cleaner here, and have settled in for good.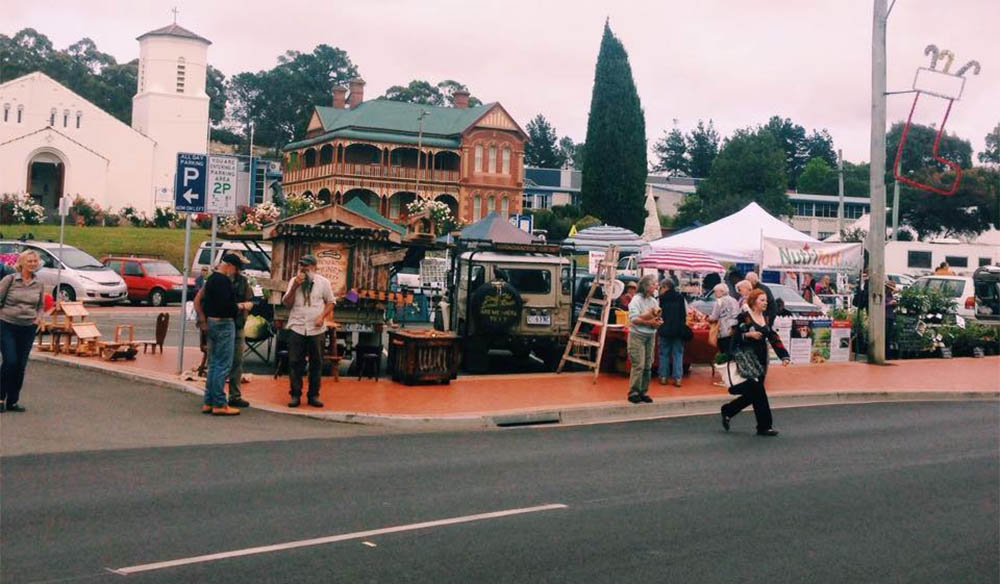 Due to this diversity, the Cygnet Market is the most dynamic of those on the outskirts of Hobart.
It is a place where buskers aspiring to play at the annual Cygnet Folk Festival pluck and sing outside, and inside more live music, massage, tarot readings and plenty of good quality local products and produce can be found – amongst the usual market stuff.
Our find: a 1920s-style handmade hat.
First and third Sunday of each month 10am–2pm, Cygnet Town Hall, Mary St, Cygnet
4. Brighton Market
When a market is held in the town's municipal memorial hall and advertised with such unselfconscious terms as 'browse', 'bargains' and 'bric-a-brac' you know you're in for a good old-fashioned treat.
This simple market is as charming as its offerings of Devonshire tea, which are there to be enjoyed after first perusing the homemade goods, handmade craft and local produce.
The market is also a stone's throw from the early garrison town of Pontville, just over the Jordan River, where every second building you see was constructed in the early 1800s.
Our find: a cling-wrapped slab of homemade coconut ice.
First Sunday of each month 9am–2pm, Brighton Municipal Memorial Hall, Midlands Hwy, Brighton
5. The Grand Poobah Bazaar
Just around the corner from the Melville St Market is an upstairs indoor market set up at The Grand Poobah on what, only hours before, would have been a pulsing dance floor full of moustachioed hipsters.
Its enterprising owner utilises the space for a market every now and then, allowing garage-less locals to flog off clothes they never wear, books they've read (and re-read), records they never listen to and crockery their housemates threaten to smash if they don't get rid of it.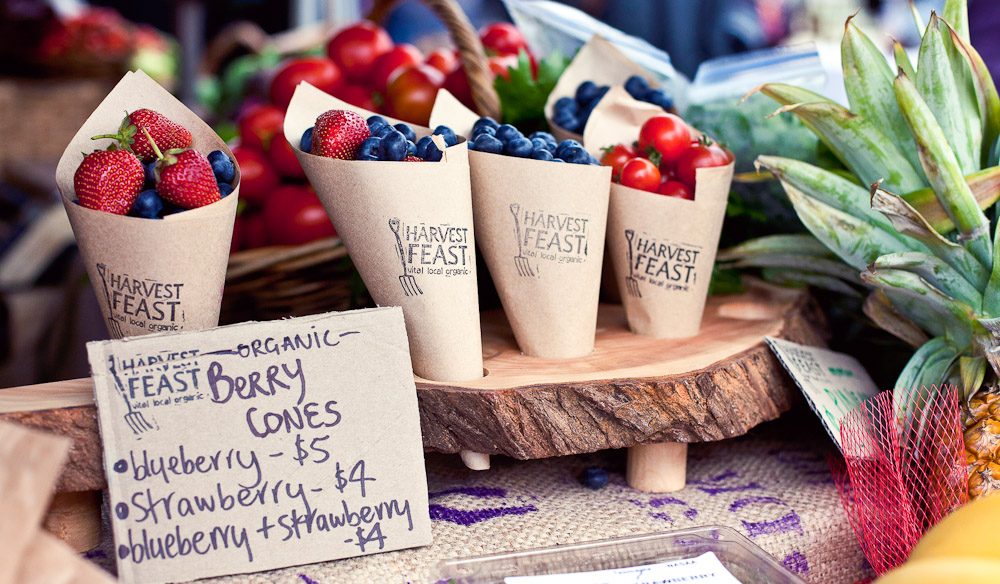 This is the real trash-to-treasure deal.
Our find: a red leather 1960s rockabilly purse.
First Sunday of every month, noon–5pm, 142 Liverpool St, Hobart
6. The Market
For seven days of the year you don't need to know the special handshake to be invited into Hobart's Masonic Temple.
'The Market', held here six times a year, advertises itself as 'a boutique showcase of independent Tasmanian art and design', which, in the bold light of Sunday, means kick-ass craft sans crocheted coat hanger covers. Established and run by two local designers, The Market has been around since April 2009 and remains clear and steadfast in its approach: high quality, high integrity exposure for up-and-coming Tasmanian designers and artists.
Our find: a delicate silver ring, fashioned like a miniature belt.
Every second month and twice in Dec 10am–3pm, 3 Sandy Bay Rd, Hobart.
7. MoMa
Tassie's much-loved Museum of Old and New Art thrives on controversy and its weekend markets are no different.
Launched late 2011, the market featured the sale of conversation-stirring 'lady cakes' and an unadvertised performance by American musical duo, the Dresden Dolls.
Since then, live music, foodie 'how to' workshops and a Minnie Mouse snake monster tent by New York artist Daphane Park have all made their presence felt; stallholders are required to undergo a fairly rigorous assessment process before their creations can be sold.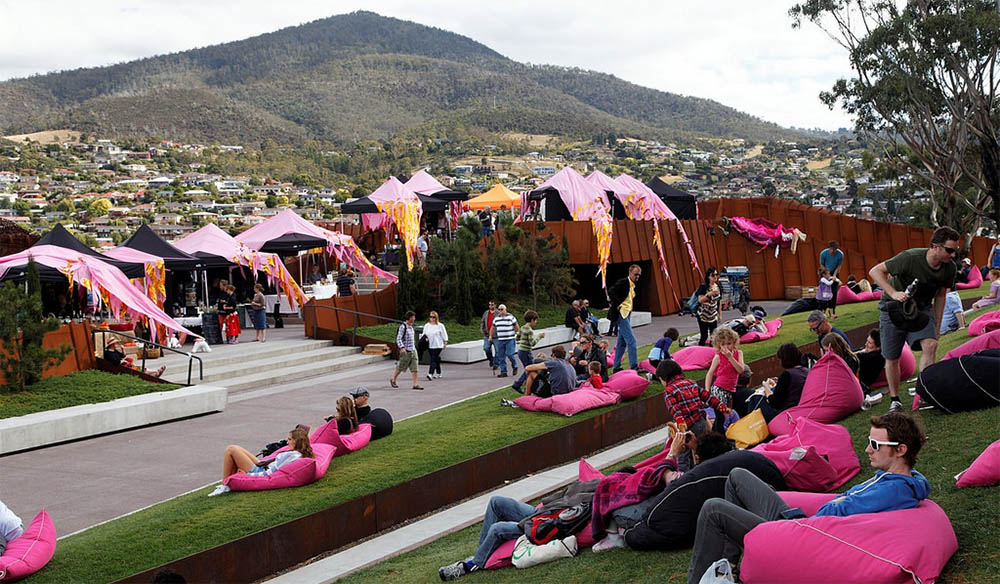 As Mona itself says, "Junky souvenirs are banned". They also say "Mona – only slightly shitter than Salamanca Market", but really, we're not so sure about that.
Our find: a kilo of jamming raspberries for $10.
Open every Saturday from December to April 11am–5pm, on the roof of Mona, Berridale
8. Margate Train
Originally known as the Tasman Limited, the Margate Train – the last passenger train of the Apple Isle – felt its final rush of steel beneath its many wheels way back in 1978. Now stationary beside the Channel Highway, it has found a new lease on life as a market space.
Stall owners are privy to leases that last two years, so right now there's a second hand bookshop/exchange, a lolly shop, edible goods from Europe and South Africa, as well as handmade and vintage-inspired treasures – but that may change.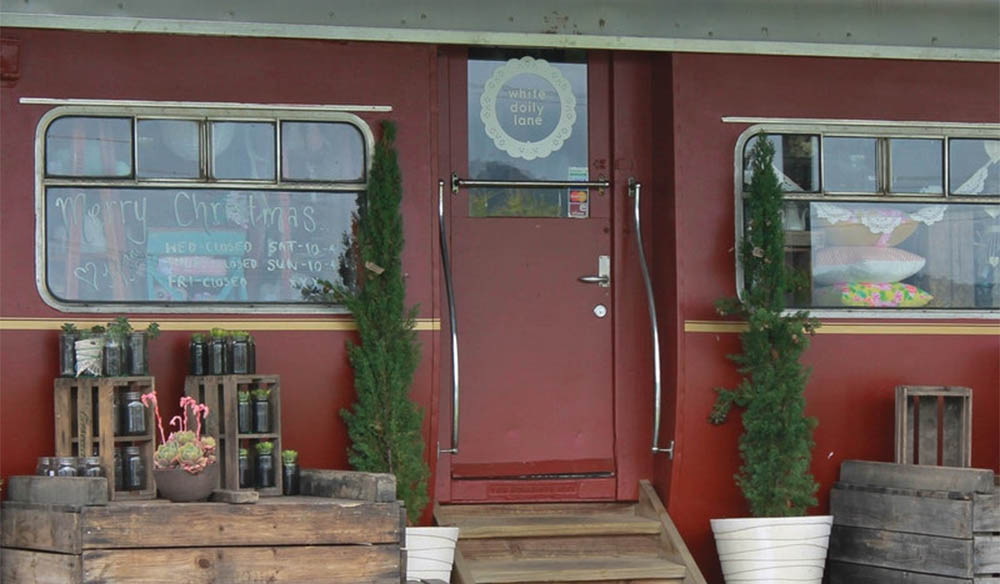 When you've run out of steam, the Pancake Train Café awaits.
Our find: a quirky cloud-shaped brooch made from Tasmanian blackwood.
Most shops open daily 10am–5pm (hours vary between shops and seasons), 1567 Channel Hwy, Margate
9. Kempton Blue Place Market
In a blue, Baltic-pine-lined, deconsecrated Presbyterian Church, a small group of 'ladies' have been selling their wares for ten years without any advertising, aside from one sign on the highway and one outside the building ('MARKET TODAY', it says).
Untainted by the modern world, there's nothing trendy (or pricey) about this market. It's all buttery banana cakes, bundles of Barbara Cartland books, chintzy sherry glasses and smelly soaps from Queensland. Which means you might just find a bargain-priced gem.
One stallholder told us she was in the process of moving house – she'd sold 12 rolls of unused Edwardian Stripe wallpaper to someone that morning.
Our find: a set of eight vintage silver-plated dessert spoons.
Third Sunday of each month 10am–2pm, the blue church building, Main St, Kempton
10. Oatlands Market
The southern midlands town of Oatlands is 87km from Hobart and the drive takes over an hour, but it's worth it just to see the old blades of Callington Mill turning, and to pop into the traditional farmers' market.
Locally grown vegies, preserves, homemade cakes and just-baked breads join a selection of handmade arts and crafts at this monthly gathering – you'll get a real sense of community life here, against a picturesque background.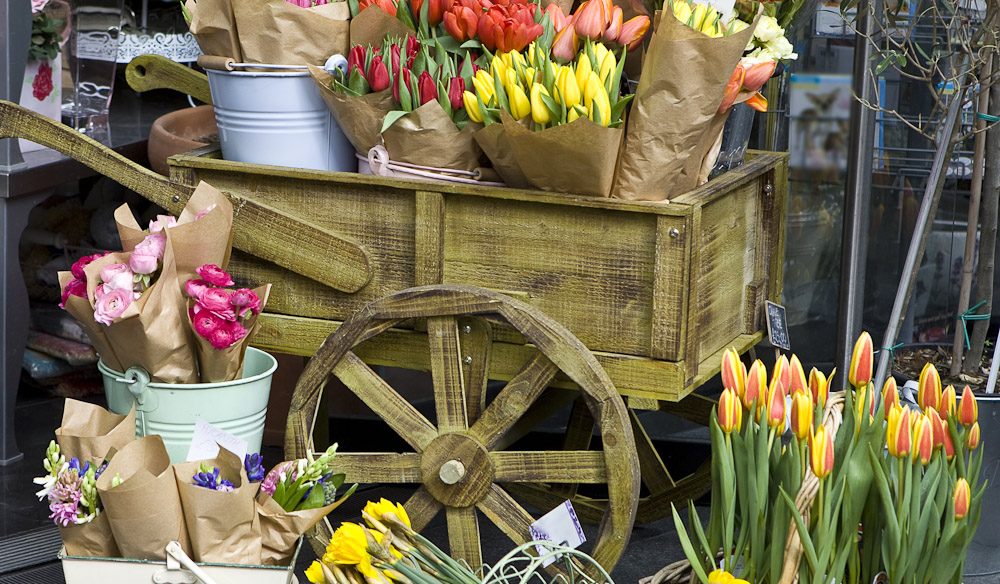 Our find: a jar of cold-extracted organic leatherwood honey.
First Sunday of each month, 10am–2pm, Masonic Hall, Gay St, Oatlands