Justin Wastnage puts his eternal soul at risk with a weekend stay in Hobart's quirkiest hotel, Pendragon Hall – a deconsecrated church with beds for pews, pillows for pulpits, and perhaps the world's only ensuite confessional-cum-water closet . . .
Heaven on Earth



Waking up with visions of Jesus and his disciples is something either to be cherished or psychoanalysed, depending on your faith. Waking up with a Technicolor Jesus projected from behind your head onto a wall some 50m away with the entire room bathed in celestial blue is something quite different indeed.
If that's not weird enough, try gazing up at the ribbing of what appears to be the inside of a whale. Had I been swallowed whole like Jonah, but somehow ended up in heaven? If so, heaven is very comfy, with a firm bed warmed by an electric blanket – stark contrast to the icy, mid-winter Tasmanian air I now found myself waking up to.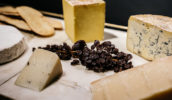 I've stirred to life in Pendragon Hall, a deconsecrated Anglican church in West Hobart – which offers the rare treat of sleeping in church without being eyeballed by the minister or having become the victim of some form of natural disaster.
Owners Rob and Ailsa Nicholls bought the 1852 building at the end of 2007 after moving down from the Whitsundays "to escape the heat." Luckily for them the previous owners had already removed the heritage-listed church organ and sold it. The resulting space made way for a decent bathroom, the lack of which had been a source of sour complaint from previous guests – guests who would no longer have to ponder braving the winter weather to use the outside dunny, nor eternal damnation by considering the font.
The main bed is mounted on a dais in what used to be the pulpit. Lying in the nave, where fire and brimstone sermons once rang out, your headrest is a frieze of da Vinci's rendering of the Last Supper. The pulpit is actually an addition, built onto the church to celebrate its first 50 years. It's the relatively new wooden ribbing inside the roof that provides the bleached whalebone look.
But what Pendragon Hall is all about is space. Its soaring ceiling and colonnade of interior arches lend a feeling of light and air. In addition to the master bed pulpit, two four-poster beds reside in the main church where you'd expect to find pews, while another is in the vestibule along with a single.
The hall is self-catering, a bargain when you fit six people inside. Ailsa tells me that, prior to my visit with my wife, a team of Federal scientists had stayed. A family group or close friends, I would hazard, would be better suited than colleagues, as aside from a movable screen and the curtains on the four-posters, there's little privacy between beds in the open-plan main hall.
For couples, however, it's an unrivalled experience. In winter the church is virtually impossible to heat, so you'll be huddling around the raging fire with a warming red wine while you watch the (usually impressive) plasma TV that's dwarfed by its surroundings. Ditto the stereo system, which is rendered tinny by acoustics better suited to choirs and roof-raising hymns.
At any time of year, the sunlight streaming in through stained glass windows is a hard image to shake. It also distracts from the slightly mismatched lounge furniture; the only interior faux pas committed by the otherwise tasteful establishment.
But you can have cutting-edge cool in any number of places, not least in Hobart. What Pendragon Hall is all about (apart from space) is quirk. If the quirk factor isn't enough, Rob and Ailsa will, literally, serenade you upon arrival. Professional performers from the cruise ship circuit, the couple can hold a tune better than many of today's Australian Idol contenders. With Ailsa as flautist backing Rob on guitar, the acoustics make the notes drift skyward. When the pair sings "Sounds of Silence" in harmony, the result is truly heavenly.
Between Simon & Garfunkel ringing in my ears and the spitting of the final embers of the fire I'd left burning overnight, waking up in the former St John the Baptist Church was like a dream. The confetti-like colours jangling over my head as I stirred only helped to quell the feelings of having woken up with Jesus.
* Like all AT reviewers, Justin visited Pendragon Hall anonymously and paid his own way. He also advises against pinching the hotel towels, saying that the penalties (an eternity in purgatory) are "just not worth it".
PENDRAGON HALL
Where // 120 Goulburn St, West Hobart. ROOMS // One main hall housing three double beds. One vestibule housing a double and a single. Cost // $250 a night for first two guests, $50 a guest thereafter, up to six. Under 16s $30 a night. Min two-night stay. Contacts // (03) 6234 4773, www.pendragonhall.net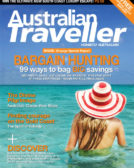 Enjoy this article?
You can find it in Issue 25 along with
loads of other great stories and tips.