Elspeth Callender gets a taste of some of Hobart's bright local talent.
The once Gibson's City Flour Mills has been many things, and although now it's predominantly offices, the ground-level street front has been a restaurant space for years. Today it's The Mill on Morrison, with five co-owners all under the age of 30.
To enter, you walk beneath a hulking great weathered wooden chute. The interior of the window-lined restaurant has retained the industrially elegant bare floorboards, exposed beams and painted metal support columns. Furnishings are predominantly black and white and the kitchen is open to the room.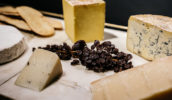 The Mill is as much a wine bar as it is a restaurant. There are eight beers and one cider on tap and the drinks menu, opening with cocktails old and new, is head-spinningly extensive. There's a plethora of Tasmanian wines, as well as mainland and international, available by the 75ml taster or 150ml glass.
A one-page food menu offers oysters, tapas, risotto and a juicy list of char-grill choices along with sides, relishes and pickles. Many ingredients are locally sourced. All but four dishes can be made gluten free and there are loads of vegetarian and pescatarian options. The lunch menu is the same as dinner, but you're welcome just to come in for a drink, a cheese platter, a spot of tapas or dessert.
Plates are served in the order they're cooked, which means they tend to arrive pretty much at the same time. It's a nice reminder me that ordering tapas requires you to think about what goes well with what, rather than what goes well in a certain order. I love that it makes you think a bit like a chef.
There's an exquisite sliminess in the texture of the pig's head terrine ($10) and a heavenly sweetness, hence the mustard. The satisfyingly chewy charred chicken hearts ($5) contrast with the terrine in just about every way and my anti-offal days are officially over.
Braised rabbit with olives and chickpeas ($15) comes in its own little French farmhouse-style cast iron dish and the meat is flavoursome and fall-apart. The cold beetroot and feta ($10) is a refreshing accompaniment to the meat dishes and the smoked trevally chowder ($5) is downright ballsy. Only the more subtly flavoured mussels in ale ($10) are overwhelmed by our other, far richer, choices.
The staff are relaxed, informed and sensitively attentive, and completely get it when I won't let anyone clear the serving dishes until I've mopped them clean with a late order of mash.
Dessert options are sundaes or daily cheeses. I'm a sucker for sweet things and have a strawberry and vanilla sundae ($12). It's a good one but finishing up with ice cream does a disservice to the rest of the meal – or so I realise as my tastebuds snap-freeze.
Outside the main room of the restaurant, but still The Mill, is an internal courtyard open all the way to the roof with a three-storey high recycled wood wall. There are couches and more tables for coffee or cocktails or tapas. The café, which is part of that space, is open super early during the week for coffee and muffins.
The AT Verdict
Elspeth Callender, who paid her own way and visited anonymously, says:
"The attitude of the place is accommodating, flexible and fun. Eating yummy food served casually in a comfortable environment is as good for the soul as it is for digestion."
The Details
Where? The Mill on Morrison, 11 Morrison St, Hobart, Tas.
Notes: The licensed restaurant is open Monday to Friday for lunch (midday-2pm) and Monday to Saturday for dinner (5:30pm until late). Bookings recommended. The café is open weekdays only (7am-4pm).
The Menu
Garlic popcorn. $5
Charred chicken hearts, witlof, mitzuna. $5
House smoked trevally chowder, sour cream. $5
Pig's head terrine, mustard dressing. $10
Layered beetroots filled with Persian fetta. $10
Mussels cooked in White Rabbit Dark Ale. $10
Braised rabbit, olives, chickpeas, thyme crumbs. $15
Creamy mash potato. $5
Strawberry and vanilla sundae with vanilla and chocolate meringues, fresh strawberries and coulis. $12
TOTAL (shared between two people) = $77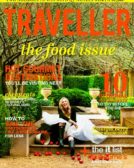 Enjoy this article?
You can find it in Issue 46 along with
loads of other great stories and tips.