The gem in the underrated northwestern coast of Tasmania, Stanley is a simple fishing village where the local staple is crayfish washed down with crab.
Settled in 1826 by employees of the Van Diemen's Land Company, the simple town is chock full of heritage buildings and cutesy cottages that have doors built for midgets or those fortunate to have lived here in the 19th Century. Almost every building is a B&B. In summer the Stanley Harbour becomes overwhelmed (with a permanent population of 458, that's not hard to do) by smart Melbourne yachties who cross the straight to enjoy the simple life of crayfish, crab and sunshine for as long as the board of directors will allow them.
"Like a hamlet on the Cornwall coast: quaint, quirky and inviting." – Ken Boundy
All guidebooks will tell you the major attraction of Stanley is the Nut. Rubbish. While the 13 million-year-old volcanic plug on the headland is a sight to behold and the view from the top spectacular, Stanley is worthy of a lot more. The real major attraction is the beauty and simplicity of the town. No bustling tourism attractions, restaurants or pubs. Life is alarmingly beautiful in a Bronte novel kind of way – uncomplicated, with very little to disturb you as you eat through tons of great seafood.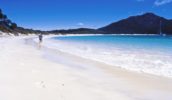 Where? // 223km (3hrs) northwest of Launceston.
Did you know? // Stanley's most famous son is Australia's 10th Prime Minister, Joseph Lyons. Serving from 1932 to 1939, he remains the only native Tasmanian to hold the top office and was the first of three to die while in office (John Curtin and Harold Holt followed suit).
Return to: the 100 Best Towns in Australia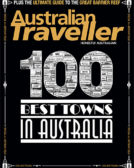 Enjoy this article?
You can find it in Issue 26 along with
loads of other great stories and tips.