Tasmania's affordable beach accommodation – caravan park
Where is it?
Stanley, Tas Far North-West Coast. Sitting on the tip of a peninsula, the historic township of Stanley is nestled under an ancient rocky outcrop named 'the Nut', which is a haven for wildlife including parrots, fairy penguins and seals. The local tourist park is located at the southern end of the town, between the Nut State Reserve and Sawyer Bay, right on Tatlows Beach.
What's it like?
Across six acres of beachside landscape and manicured gardens, Stanley Cabin and Tourist Park provides a range of accommodation from camping and cabins to a backpacker hostel. The park is also equipped with a children's playground, modern campers' kitchen, new gas barbecues, disabled facilities, golf clubs for hire for the neighbouring golf course and an on-site laundromat with ironing facilities.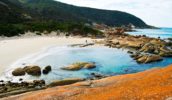 How much does it cost?
Unpowered sites from $25 per couple per night, powered campsites from $27 per couple per night, motel-style rooms from $90 per couple per night, self-contained cabins from $110 per couple per night, or double hostel rooms from $52 per night.
The details
1 Wharf Rd, Stanley, Tas. 1800 444 818; stanleycabinpark.com.au