Elspeth Callender makes a break for it, on an island off the coast of an island where you can do everything, or nothing; Tasmania's Three Hummock Island. 
Every place in Australia has its own way of greeting new arrivals to their neighbourhood.
In Coonabarabran it's an oven-warm cinnamon teacake brought to your front door, in Northcote a jar of homemade plumcot might be passed over the side fence, and in Fannie Bay you're sure to have a cold beer thrust into your hand.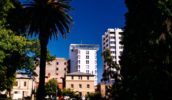 If you're new on Three Hummock Island – and they like you – a welcoming gift will be left for you on your mat. Just remember to smile when you find it there though, because they will all be watching.
Three Hummock Island, off northwest Tasmania, is almost void of human life these days, yet the fauna is so abundant that you'll never feel alone. For starters there's Arthur and Martha, Sandra and Graham, and Ross and Wendy, and that's just outside the cottage door.
Monogamous geese
Cape Barren geese are so heterosexually lifelong-partners-bondingly-monogamous that they make the Brady Bunch, with their double second marriage shenanigans, seem positively debauched.
Forester (or Eastern Grey) kangaroos also live and graze on the vast lush marsupial lawns surrounding the island's accommodation, but they're shy.
And the Purple Swamphens, with a reputation of being into cooperative breeding groups (if you know what I mean), are far too edgy to conform to social niceties. So it is the geese that are the welcoming party, and they make their delivery while you're sleeping so as not to disturb.
People have inhabited or visited Three Hummock Island over the years but, unlike the wildlife, only for seasonal periods, or for a section of their lives. Or, like me, just for a few days.
Pre-European culture class
Petroglyphs and other evidence of early Aboriginal activity have been found here. Before European settlement, Aboriginal people from nearby areas would swim from mainland Tasmania to Hunter Island, then a final five kilometres to Three Hummock to hunt in summer.
Tasmanian Aboriginal people continue to take part in the annual tradition of 'muttonbirding' (hunting for mutton birds) on the nearby Trefoil Island, a practice that strengthens their connections to the land and their Indigenous community.
As early as 1798 Bass and Flinders turned up, claiming this scrub-covered island for Britain and giving it a not-altogether-graceful new name, after its vertically prominent features. Three Bulge and Three Lump were probably also considered in the labelling process.
The 7400 hectare island is, at its highest point of South Hummock, 237 metres in altitude. High enough, on this relatively flat island, to allow a fabulous view. North Hummock and Middle Hummock are the other two protrusions.
The island of ambition
Since the mid-1800s a 40-acre pastoral lease has existed on the snout of what looks, on the satellite image, like a west-facing pig's head. In true frontier fashion, all sorts of wildly ambitious ventures have been pursued on this porky-shaped piece of land over the years, regardless of environmental suitability.
A man who history remembers only as Mr James tried, and failed, to develop a racehorse breeding industry here; Granite Hill, a slightly lesser lump, is grazed by friendly but feral sheep whose ancestors failed to sufficiently flourish.
Birds and animals, however, were the only witness to a visit by exiled Italian nationalist revolutionary Giuseppe Garibaldi, in December 1852. He was, at the time, voyaging the Pacific on the Carmen and, upon arrival, discovered a flourishing vegetable garden on the island (as there still is today) and a furnished stone cottage… but no occupants.
In fact, there had been a mini-colony of three, but following the death of one: "the husband and wife unable to bear the loneliness of the desert island, left it, and returned to Van Diemen", so read the inscription on the fresh grave. It was probably around this time that Cape Barren geese were brought in as social reinforcements.
Garibaldi's fond memories of Three Hummock, recorded with great nostalgia in his autobiography (published posthumously in 1889), included observing centuries-old 'lofty trees' and the moment he startled some partridges.
He was so taken by Three Hummock that, on return to Italy, he purchased the island of Caprera off the coast of Sardinia for a retreat.
Cosy cottage
The stone cottage has since disappeared but the horsy Mr James was responsible for having the workers' cottage, in which I choose to stay, brought to the island in 1910 as a prefab.
It is the quainter and smaller of the two accommodation options and, like the nearby Homestead (also circa 1910), the Cottage is all wooden floorboards and panelled walls – yet far more basic with a kitchen and bathroom that are endearingly daggy.
Most people stay in the Homestead with its recently refurbished kitchen, indoor toilet, deck, large dining table, BBQ, television, DVD player and proximity to the ocean (though nobody misses out on ocean views). Yet I suspect the geese are impressed by my rustic sensibilities.
From 1933 to 2006, two significant families – the Nichols and the Allistons – owned the lease in succession. Amelia ('Ma') and Bill Nichols grazed sheep and cattle, fished, muttonbirded, sailed, owned cargo ships and had quite a community of workers living on the island.
In 1951 the Allistons took over, emigrating directly from England to Three Hummock with the deliberate intention of bringing their children up in, what they felt, was a better environment than post-war Britain.
Their youngest, Venetia, was conceived on the island. The children all eventually left to meet other humans and marry, but the family only sold the lease in 2006.
History by names
Many of the island's features reflect its history over the last couple of centuries. Peg's Paddock was named after Peggy Puckett from Stanley who lived and worked with the Nichols family for six years. One of the Allistons' daughters, Ingrid, lost her teddy on a nearby island, now called Bear Island.
Eleanor's Bay, a secluded beach beside a muttonbird rookery, was where the unabashed Mrs Alliston apparently swam naked most days.
Burgess Point was named after the Burgess family who lived on the island from 1890 and built ships at Chimney Corner. In a bizarre historically-inverted coincidence, nowadays Burgess Point is where sea salt is collected for Hobart's
Garagistes, whose restauranteur is Luke Burgess. And, inside the homestead, the Allistons' games and book collection remain.
The current managers, Beverley and John O'Brien, accepted the caretaking job in early 2009 and travelled directly here from their last place of employment on the Nullarbor.
They currently have no plans to leave, because "this island gobbles you up," Beverley explains. Instead of moving into the homestead, the O'Briens decided to live up the hill in the newest residence on the island, built in 1940.
Just you and the wildlife
This means that the accommodation is entirely separate and, but for a few hundred head of wildlife, private. Despite the fact that the land beyond the 40-acre lease is state reserve, the O'Briens treat it as a natural extension of their responsibilities by keeping walking tracks cleared and driving guests wherever they want to go.
They are very accommodating people. You can be dropped at the top of South Hummock, for instance, then walk back. Or be driven to Eleanor's Bay to look at the muttonbird rookery and have a swim or snorkel (gear available on the island), and a picnic lunch, and be picked up a few hours later.
There is a coastline of gorgeous beaches and walks all over the island, including many that are close to the accommodation, though not all clearly signposted.
One afternoon I walk the three-kilometre return to Granite Hill before a very sociable (note to introverts) BBQ dinner at Spiers Bay with the O'Briens. Afterwards, I take a bath in the same pristine spring water Garibaldi records that he drank from, and put my feet up to read one of Eleanor Alliston's novels.
She describes collecting whole nautilus shells from the beach, and I notice there is one, intact, on the mantelpiece in all its delicate white glory. Outside, the wildlife makes the occasional wild noise and then it's back to absolute silence.
You can come to Three Hummock Island and do everything… or do nothing.
The next morning, I open the back door to go to the outside toilet. Just as I'm about to step forward I realise that every head on the marsupial lawn is turned towards me. I look down. A large, warm, goosy welcome has been left for me on the mat.
Getting there
Managers Beverley and John O'Brien are experts on their island home and are happy to offer advice on getting to and from the island, including a rough price guide and contact details for specific transport providers (at no obligation) – see their details at the bottom of this box. However, the easiest way to access Three Hummock Island is from the top north-west corner of the Tassie mainland – the closest major airport is Launceston.
For a large group or an excess of gear, boats can be chartered from Smithton. Otherwise, chartering a light plane from Burnie Airport (in the nearby town of Wynyard) is the most economical transport option. Helicopters can also be chartered from Stanley, and planes from Melbourne. Or if you have your own yacht… Whichever way you arrive on Three Hummock, you'll be personally met and driven to your accommodation.
Staying there
The Homestead sleeps up to 12 people in five bedrooms and is $90 per night or $600 per night for the whole place. The Cottage sleeps up to four with a double and a twin room (with bunks) and is also $90 per night or $350 per night for the whole place.
Need to know
Meals need to be self-catered and, as there are no shops on the island, everything must be brought with you (there are supermarkets in Launceston, Burnie, Wynyard and Smithton). When making plans for your Three Hummock Island adventure, remember to check weight restrictions on air transport. For more information 03 6452 1405; threehummockisland.com.au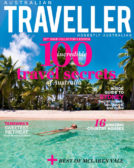 Enjoy this article?
You can find it in Issue 50 along with
loads of other great stories and tips.