With vast stretches of pristine, ancient forests, unspoilt coastline and snow-capped mountains, lush, tranquil Tasmania is the ultimate destination for nature lovers – (and, of course, one of Australia's 16 Ultimate Escapes)
Tasmania is proof positive that good things do come in small packages. Framed by white-sand beaches and wildly beautiful headlands, and rising into some of Australia's most spectacular mountain landscapes, the island offers a travel experience like no other.
More than 40 per cent of the state is protected by reserves, and almost 20 per cent is World Heritage-listed wilderness – all of it teeming with rare flora and fauna. Accessible mountains offer jaw-dropping vistas, while postcard-perfect, gloriously secluded beaches are everywhere.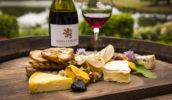 The world's second-largest temperate rainforest grows in the island, as do the tallest flowering trees on the planet. In autumn, forested mountain slopes are ablaze with native plants blushing red and gold.
Encounters with iconic Australian wildlife are guaranteed on any trip to Tasmania. Wallabies, quolls, devils, wombats, echidnas, fur seals, sea eagles and platypus are among the amazing creatures you're likely to get acquainted with, whether in the wild or in a conservation sanctuary.
Tasmania is a place that breathes in the freshest air and exhales the freshest produce. Throw in one-of-a-kind cultural experiences like MONA and world-famous historic sites such as Port Arthur, and you're truly spoilt for choice. In the space of just a few hours you can travel from the mountains to the coast, passing cellar doors, fine restaurants and rural producers along your journey. And all the while, the lush wilderness is never far away.
Adventure: high-octane canyoning
You can hike around Dove Lake or climb Cradle Mountain, but for a unique perspective of one of Tasmania's most familiar natural sights, how about a spot of canyoning? This heart-thumping adventure explores Cradle Mountain's hidden canyons in ways that will earn you serious bragging rights – climbing, swimming, jumping, sliding and abseiling. Cradle Mountain Canyons' trips, led by professional guides, range from a relaxed experience in the Lost World Canyon to a full-day rope epic through six waterfalls on Machinery Creek. Phone: 1300 032 384.
Explore: raft the Franklin River
Carve your way through Tasmania's south-west wilderness on the river that stopped the nation in the 1980s during an epic conservation battle that was, fortunately, won. One of Australia's ultimate wilderness adventures, this rafting journey heads deep into areas of wild solitude. Surrounded by thick rainforest that spills down to the banks of the tea-coloured water, the journey traverses a river unspoiled by development. Drift through the silence of the deep Irenabyss gorge, and enter the foaming cauldron of the Great Ravine, where the river roars through gut-dropping rapids. Rafting trips run for five, seven or 10 days – the memories will last a lifetime. See: Franklin River Tasmania; 1800 111 142.
Family: cruise Wineglass Bay
Few experiences can match cruising Wineglass Bay, with freshly shucked oysters on hand. Cruises depart daily (September to May) from Coles Bay, rounding the southern tip of Freycinet Peninsula and pausing for lunch in the protected waters of Wineglass Bay. Along the way you will see a host of marine life like whales, seals and dolphins. You'll know there are dolphins about when Rastas, the famous dolphin-spotting dog (and your children's new best friend) starts sprinting up and down the boat. See: Wineglass Bay Cruises; 03 6257 0355.
Walk: Maria Island adventure
Breathtaking landscapes, unique wildlife, rich history, fine food and wine – it's all there on this tiny island. The Maria Island Walk is one of Australia's most rewarding guided adventures. Over four days you'll walk the length of the island, tracing its shores, spotting rare animals and birds, and enjoying the finest local produce and wine over candlelit dinners each night in the walk's camps. Clamber to the island's highest point – the 711-metre Mt Maria – or simply explore the remarkable natural features of the aptly-named Painted Cliffs and remnants of the Darlington convict station. See: Maria Island Walk; 03 6234 2999.
Luxury accommodation: Saffire Freycinet – a gem of a lodge
Tasmania's byword for luxury is Saffire Freycinet. Set in bushland at the edge of Coles Bay and looking across the sea to the musk-coloured peaks of the Hazards, the design of this magnificent lodge was inspired by the shapes and colours of the Freycinet Peninsula. Fitted with bespoke king beds, private courtyards and Tasmanian timber, the suites offer consummate comfort and luxury, while the range of tailored and personalised guest experiences is vast – from a private visit to an oyster farm to a gourmet picnic on the white sands of a beach in Freycinet National Park. Local flavours get the five-star treatment at the Palate restaurant, which also boasts panoramic views. Phone: 03 6256 7888.
Food: seafood seduction cruise
Tasmania is famous for its seafood, and it doesn't come any fresher than on this day-long boat trip. Departing from Hobart's docks and chugging south into the D'Entrecasteaux Channel to the waters surrounding Bruny Island, you can try your hand at hauling in a bounty of fresh oysters, mussels, salmon, abalone and crayfish – caught and cooked up for guests in what is a world-first tourism experience. The boat anchors in a protected bay, and after your delicious seafood feast (which you can even help to prepare), washed down with crisp Tasmanian beer or wine, there's time for a stroll on a beautiful Bruny Island beach before heading back to Hobart. See: Pennicott Journeys; 03 6234 4270.
Wildlife: a devil's playground
Take a private evening tour through the Bonorong Wildlife Sanctuary, north of Hobart, for a face-to-face encounter with wildlife now extinct everywhere but Tasmania. Meet a host of unique animals like bettongs, pademelons, tawny frogmouth owls, eastern quolls and golden possums. Wander among a massive mob of Forester kangaroos before meeting (and possibly feeding) the stars of the show – Bonorong's 39 Tasmanian devils. The sanctuary has been breeding devils for more 20 years, and is playing a key role in efforts to save these highly endangered animals from extinction, including building a "retirement home" for devils involved in breeding programs. bonorong.com.au; 03 6268 1184.
Getting there: Tasmania has air and sea links to the mainland. There are frequent direct flights to Hobart and Launceston from most capital cities. The Spirit of Tasmania ferry carries passengers and vehicles between Melbourne and Devonport, with day and night sails available.
Eating there: Tasmania's fresh produce is legendary, and across the state there are ample opportunities to indulge in the island's finest fare – dine at the many quality restaurants, plough your way between farm gates, indulge at a berry farm, or follow a gourmet trail.
Staying there: In recent years, there's been a surge in quality tourist accommodation across the state, from edgy boutique hotels to historic, convict-built B&Bs. Or get in touch with nature via secluded campsites and farm stays. Tourism Tasmania has a detailed directory of options covering all budgets at discovertasmania.com.au
MORE:
The full list of Australia's 16 Ultimate Escapes
Download the FREE APP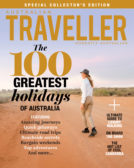 Enjoy this article?
You can find it in Issue 56 along with
loads of other great stories and tips.