Cameron Blair dives into a living history lesson to explore the life and misdeeds of one of Australia's most notorious – and mysterious – outlaw legends.
Just who was Captain Moonlite? That's a good question. I asked the same thing when I was assigned to write up this old outlaw. While flipping through the history books, I was sure this was going to lead to yet another boring foray into "the olden days" – but when I found out that this rugged stick-up man was actually a seasoned traveller (just like you and me), I stopped yawning.
I'm sure many of you have heard of him, but for those of you (like myself) who haven't, then let's have a little look, shall we?
His father tried to get him join the priesthood, but instead he turned to a life of crime and ended up at the gallows in 1879 (I make no judgements here; I'm just saying). By the looks of it he was a natural entrepreneur in search of gold, which actually resulted in him fighting in three wars – including the American Civil War. But, honestly, I get the impression he was just a thrill-seeking bloke, trying to escape what he perceived to be the suppression of the church at the time.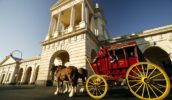 His first robbery wasn't traditional by any standards. He did it with confidence, and befriended a bank agent. Dressed all in black, he forced the banker to open the safe and made off with all the loot. He left a note with the banker to ensure his so-called friend wouldn't be implicated in the robbery, saying: "I hereby certify that LW Bruun has done everything within his power to withstand this intrusion and the taking of money which was done with firearms, Captain Moonlite, Sworn." So he was clearly a considerate fiend.
Peter Freund, marketing manager for the City of Ballarat, where a Captain Moonlite exhibition is about to get underway, says that Moonlite kept the crowd entertained even at his own execution. "He was something of a daredevil," says Freund. "Someone who lived life to the full. He was prepared to take risks to get the most out of life."
Interestingly, Moonlite wanted to team up with Ned Kelly, but was told by the Kelly gang that if they ever saw him or the Moonlite gang they would "fill 'em with holes."
So if you'd like to find out more about Captain Moonlite (I know I did when I first heard the name) the Art Gallery in Ballarat is showcasing the Great Collections exhibition starting July 25, 2009. Admission is free and they have things like his death mask, a pistol, his jail photograph and some other relics proving his existence.
For more information call (03) 5320 5858 or visit www.balgal.com
HAVE YOUR SAY: Have you come across an interesting story about Captain Moonlite, or indeed any of Australia's notorious outlaws? If so, sign up for free to the AT Website below and tell us your tale!