From INCREDIBLE ART to dining and sipping a golden brew, LEANNE CLANCEY discovers a town that's so MUCH MORE than just a piece of history.
When Ballarat hosted Australia's favourite art prize last year, its streets came alive.
Over six weeks, the former gold-rush city welcomed art fanciers of every kind, from the diehard to the mildly curious.
And the good news? It's getting set to do it all over again this spring.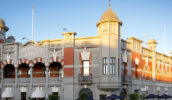 First awarded in 1921, the Archibald Prize is one of Australia's most prestigious art awards and undoubtedly its most popular.
The annual prize is awarded to the best portrait of a distinguished or notable Australian – be they from the world of politics, science or the arts.
Perhaps more importantly, the Archibald is democratic. It's art for the people.
The exhibition gives audiences (many of whom are not traditional gallery-goers) the chance to get up close to some of Australia's most fascinating faces – from musicians and politicians, to sporting heroes and TV stars.
For the second year running, the Art Gallery of Ballarat is the exclusive Victorian venue for the Archibald, on loan from the Art Gallery of New South Wales.
Like so much of historic Ballarat, the gallery's sweeping Victorian grandeur hints not so subtly at the prosperity of the gold rush era, making a fine home for what is a remarkably comprehensive collection of Australian art.
According to the gallery's marketing and public programs officer Peter Freund, 'the Archies' has been a huge coup for the region – bringing in more than 56,000 visitors in 2015 and aiming for similar numbers this year.
"The gallery was established in 1884 and is now the oldest and largest regional gallery in Australia," Peter explains.
"The Archibald has such broad appeal, so it's been a chance for us to show off what we do to a much larger audience and raise awareness of what a great gallery we have."
Indeed, the gallery's impressive major collections include works by such big names as Sidney Nolan, Russell Drysdale, Charles Blackman and Howard Arkley.
"We have great representations from every period of Australian art – from the early colonial period right through to contemporary art and sculpture," Peter says, adding with a smile, "people are always amazed when we get them upstairs".
Elsewhere in town you can explore modern and historical stories of democracy at the Museum of Australian Democracy at Eureka (MADE), where you'll learn stories of the ordinary folks who have fought for democracy and freedom over the years.
Built on the site of the infamous Eureka Stockade – the birthplace of Australian democracy – the award-winning museum uses innovative digital immersion to engage visitors and explore 'diversity, creativity and the hidden stories of the past and present'.
Meanwhile, the work of emerging and established local artists can be found at The Lost Ones, a contemporary art gallery and creative space in Ballarat's arts and heritage precinct.
Set in an 1870s Masonic temple, the gallery focuses on artists from regional Victoria and across Australia, and hosts an engaging range of exhibitions, workshops and other activities.
Finding gold – where to eat, stay and play.
Incredible art is one thing, but for the best kind of short stay you deserve the full package – which means great food and wine, unique retail and cut-above lodgings.
Thankfully, you'll find countless ways to sate your appetite here, as well as some great little boutiques and thoughtfully restored accommodation options.
For buzzy atmosphere, solid coffee and on-trend brunches, Yellow Espresso is worthy of its rank as a local favourite.
You'll find crowd-pleasers such as avocado smash, big breakfasts and acai berry bowls, as well as delicious cookie sandwiches, raw treats and matcha lattes.
It's super popular, so come early on weekends or prepare to line up. The breezy interiors and artistic plating will have you reaching for your smartphone, too.
Once you've done the rounds of the Archies, sashay your way down the Art Gallery of Ballarat's huge Victorian staircase to the charming resident cafe, Kittelty's for a well-earned recharge.
Decked out with charming vintage bric-a-brac, it makes a lovely spot for some quiet time with the morning papers or a good book.
The food is hearty and full of love – think wholesome lunches, lots of local produce, granny-style cakes and proper pots of tea.
On first glance, the idea of high-end Thai might seem incongruous in an Aussie country town.
But before you overthink it too much, bear in mind the man on the pans at Catfish Thai learnt his ways at Sydney's Darley Street Thai and the Michelin-starred Nahm in London.
Chef Damien Jones grew up in Ballarat, went away to cook with the best and now makes people very happy (and wins awards) with his wonderfully aromatic, modern take on Thai.
The service is tops, too.
At some point you'll probably want a drink, in which case relax – the good folk of Ballarat are totally across it.
Casual and cosy, the beer-tastic Hop Temple is a friendly mecca for all things ale.
Wander down the whimsical cobblestoned laneway and into this eclectic retreat, filled with curious ephemera from the days of yore.
Beer is the hero, and with 100 options on offer – including excellent local craft brews – you'll definitely find a fave.
If the stylish, low-lit wine bar vibe is more your thing, pay a visit to Mitchell Harris Wine Bar and put yourself in the hands of their switched-on staff.
They offer arguably the town's best wine selection, along with tasty snacks to share (they do great, wine-friendly small plates).
For a true taste of Ballarat, order the regional produce board with local cheeses, charcuterie and sourdough, hit up the staff for some wine tips and take a leisurely journey through excellent local wines.
For a post-prandial stroll, Ballarat's character-filled old streets make for a fine promenade.
You'll see countless remnants of the town's gold-rush past and statues aplenty, but if you're in the mood for retail therapy you can find some gems here too.
For whimsical, Australian-made craft, homewares and gifts, check out quirky local boutiques Lark Store and Antipodean Love.
Sweet Fern is home to a luxurious range of body and bath products and unique home fragrances.
For a proper ramble, head to the nature precinct at Lake Wendouree and the nearby Ballarat Botanical Gardens.
Popular with local outdoors types, the lake was a 1956 Olympics venue, and the six-kilometre track is just the place for a daily jog or power strut.
The Archibald Prize collection will be in Ballarat from 14 October to 27 November;
For more information visit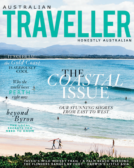 Enjoy this article?
You can find it in Issue 70 along with
loads of other great stories and tips.