A Hotel Review of the newly refurbished Craig's Royal Hotel in Ballarat, Victoria, home of the Eureka Stockade, By Peter Robinson. 
Ballarat's bloody rebellion on the Eureka Lead 152 years ago was a defining moment in Australia's political history – yet for more than 100 years the tattered symbol of the moment lay hidden in a dusty museum cupboard. That symbol is the flag under which the gold miners of 1854 swore an oath that, many say, initiated the final movement to democracy in Australia.
Also buried by time and circumstance is Bakery Hill, meeting-place for many thousands of disgruntled Gold Rush miners. In this case, traffic and the iniquitous golden arches of that American burger joint have swamped the location of a "fair go" for all Australians; even the exact location of the Eureka Stockade isn't secured by history or GPS.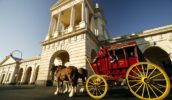 The first licensed pub in Ballarat was a little wooden building in Lydiard Street, in the heart of present-day Ballarat. Like all other structures (as far as I can tell) that pre-date the uprising, the pub has disappeared. But in this case, it's been reborn with regal style: Craig's Royal Hotel.
In 1853 the site was owned by Thomas Bath, who erected the first timber building (Bath's Hotel). It was sold to Walter Craig in 1857. There's some confusion over the name of the pub before this time – the Board of Inquiry into Conditions on the Goldfields was set up at Craig's Hotel, although Craig himself didn't own it at the time. Nevertheless, Craig's Hotel was the location of official meetings and inquiries before and after Eureka.
In 1862 the grand new hotel was opened and dubbed "the pride of Ballaarat" by Mark Twain..
In 1862 the grand new hotel was opened and dubbed "the pride of Ballaarat" by Mark Twain. (Note: when first founded, the town was known as Ballaarat, from the Aboriginal words balla and arat – "resting place"). Renowned poet Adam Lindsay Gordon ran the hotel's livery stables for a year in 1867, and subsequent decades included Prince Albert, Duke of Edinburgh, the Duke and Duchess of York, and opera singer Dame Nellie Melba in the visitor's book.
Craig's was one of the first buildings to be lit by gas made from gum leaves and oil, and a large gas lamp can still be seen at the front of the hotel. Two years ago, new owner John Finning set about restoring the majestic old hotel to something better than its former glory. It's been a lengthy and expensive process; I met Finning in 2004 and have returned twice since to check on progress. To date, the guest bedroom and suites have been refurbished, along with the grand dining room upstairs, reading room and conference room.
The guest rooms are sensational. Finning says the rooms on the first floor were for the wealthy – fewer stairs to climb in the old days – and he's made sure the lofty ceilings and grand Victorian style have been accentuated. Colour schemes have been carefully researched and replicated; rich colours for carpets and drapes, an array of genuine antique furniture installed and gleaming charcoal-grey stone and white-tile ensuites bathrooms installed. The last is a departure from the Victorian era, as is mini-bar, air-conditioning, spa baths, tea and coffee making, TV, stereo, and the marvel of electricity to run it all. There are four-poster beds in some rooms, suites with separate lounge, rooms with kitchen, veranda rooms, tower rooms, rooms with a view and on the top floor, smaller rooms for solo travellers.
Ballarat enjoyed a lengthy period of prosperity thanks to deep lead mining, and in the years following Eureka most of the city's magnificent buildings, such as the Town Hall, Craig's Royal Hotel, Mining Exchange and dozens of other edifices, were constructed. I've reviewed hundreds of lodgings over more than a decade, but I've never seen such attention to detail in the refurbishment of an historic hotel. And because it's in the heart of Ballarat, walking is an option for visiting many of the local sights (and sites) that make this, arguably, Victoria's premier Gold Rush city.

Seeking Eureka?
This short list will guide you:
1. The Eureka Centre on Eureka St. Beneath a startlingly vast sail depicting the Eureka flag, and located on the approximate site of the stockade: has a series of galleries that bring Eureka to the casual tourist.
2. Eureka Memorial and Stockade Gardens cnr Eureka and Stawell Sts. Stone memorial with four cannons erected by a group of Ballarat citizens in 1884, though some disagreed with the location.
3. Ballarat Fine Art Gallery on Lydiard St. Australia's oldest regional art gallery, the original, tattered, Eureka flag is on display here, in a darkened room to prevent further deterioration of the delicate fabric.
4. Peter Lalor's statue on Sturt St, west of the Town Hall. The bronze statue seems a little lonely, but is surrounded by flowers, trees and grass.
5. Ballaarat General Cemeteries, Macarthur St. The Eureka flag flutters over the diggers' memorial on the edge of the main drive, 50m west of the police and troopers' memorial.
DETAILS: Craig's Royal Hotel
Where: 10 Lydiard St South, Ballarat, 90mins drive along Ballarat Rd northwest of Melbourne.
phone: (03) 5331 1377
website: www.craigsroyal.com
cost: From around $200 per night, depending on style.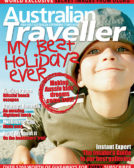 Enjoy this article?
You can find it in Issue 11 along with
loads of other great stories and tips.