On the edge of virgin national parklands, about as far east in Victoria as you can go without hitting the ocean, lies the fishing, birdwatching and bushwalking haven, Mallacoota. It's long been one of Peter Robinson's favourite secret spots. It's good of him to finally share.
If I'm not fishing, have no fishing gear, and a fish jumps into my boat, can a fisheries officer fine me for not having a licence? The jury is still out. But jumping, crawling and slithering things are part of everyday life here in Croajingolong National Park in Victoria's far southeast.
Imagine drifting on calm Genoa River waters, basking under glorious autumn sunlight. Then the shock as something thumps on the bottom of the boat. How often does a kilo-size tailor jump into a boat? My daughter and I know the truth . . . and the truth is out there, swimming freely – after being captured on video.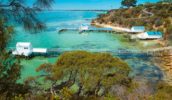 Bordering Croajingolong is Gipsy Point, hidden about as far east as you can go in the state, quite near the blink-and-miss-it township of Genoa. Down the road a bit further lies Mallacoota. The region is located within a UNESCO Biosphere Reserve, which sounds like that spot NASA has earmarked on the moon for eventual human habitation. In terrestrial terms, it's a protected area managed to preserve natural ecological processes. Gipsy Point is actually very low-tech – forget going to the moon: not even a mobile phone works here. And since the only retail premises (the pub) burned down many moons ago, you can't get a pie or a beer. So postpone your massage and aromatherapy, your food towers and themed villas, and pick up a book on indigenous flora and fauna.
Lodge owners Ian and Libby Mitchell have been at the helm of their 1960s fishing retreat for many years now, seriously overhauling the rooms over time. It's probably more guesthouse than luxury B&B but the modern rooms have ensuites, comfy beds and air-con, and it's all sparklingly clean – more so than many upmarket digs.
Ian and Libby have injected their own style of hosting, ensuring a friendly atmosphere where guests often socialise. You're greeted, shown around, given plenty of local info for seeing stuff, where to park your boat or canoe if you brought one, what's on for dinner, a cuppa, the pre-dinner nibbles, or where the water dragons are today. You can find out where to go beachcombing (tryBetkaBeach), how to get toGaboIslandand climb the lighthouse, see the WWII bunker at the airfield, and how to hand-feed the parrots and rosellas.
These days I take my 11-year-old daughter along. She's learned to love the place the way I do, and appreciates wildlife more as a result. For example: dragons no longer breathe fire; frogs sometimes live in toilets; and kingfishers can either laugh or be bright blue – but not at the same time.
The recently rebuilt rooms are the pick. They have a view of the mirror-calm river beyond tall gums, just past the grazing roos. There's also the choice of slightly smaller rooms, or the popular self-contained cottages. We always take the offer of full breakfast, hamper lunch and daily three-course dinners; these are set-menu, three-course affairs, cooked by chef John Buckley.
Some guests arrive with the idea that there's nothing much to see or do. Others know there are more than 100 bird species to be spotted, and get serious about it. Then there's the fishing; they get serious about that, too, with their expensive gear, boats and five o'clock mornings. Highly recommended is hiring one of the lodge motorboats. It's cheap, safe, and the vistas of forests, mountains and glassy waters make for idyllic sightseeing. We've often motored downriver towards Mallacoota, as far as theTopLake, and taken the lodge picnic lunch with us – tying up to one of several public jetties along the way.
Upstream from the lodge jetty,GenoaRiverbecomes shallow in parts but the variety of bird, fish and animal life is amazing. We've spotted dusky flathead, mullet, kingfishers, darters, sea eagles, eastern water dragons and dingoes along here. Lodge chef John recently purchased the Gypsy Princess boat and now conducts wildlife-spotting tours upriver. Worthwhile, too; he has an arrangement with a pair of sea eagles that do the catching-fish-in-the-water trick.
We've also been to Gabo Island, bushwalked to Genoa Peak, spotted surfing dolphins, toured north Green Cape lighthouse and the old whaling station near Eden. To make the most of the region, you need a few days at least.
Where //  McDonald St, Gipsy Point, Vic. 11km south of Genoa off the Mallacoota Rd.
Notes // $320 per night per couple, including three-course dinner and full breakfast.
Contact // (03) 5158 8205, gipsypointlodge.com.au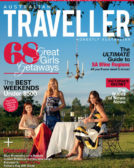 Enjoy this article?
You can find it in Issue 34 along with
loads of other great stories and tips.