Peter Robinson takes a cycling holiday through Victoria's High Country.
 Legends of the High Country
Craig's Hut has been a much-loved place for fans of the two Man from Snowy River movies, which hit the silver screen in 1982 and 1988.
In the movies, the Man himself – Jim Craig – lived in this tiny slab-timber hut in the Clear Hills, out the back of Mount Stirling. Built in the true-blue style of the High Country cattlemen's huts that dot the mountains, its weather-beaten slab timber walls and rusty iron roof gave it the appearance of the genuine article.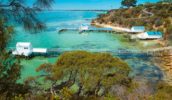 Yet it was only a film prop.
Whoever on the crew picked the hut's location did a great job. With a vast panorama of dramatic blue-tinged mountains as backdrop, it wasn't long before nosy 4WDs made their way up here.
The road to Mt Stirling takes Melburnians northeast through Mansfield to Mirimbah, less than three hours drive, and up the winding gravel of Stirling road to Telephone Box Junction, the main car park for cross-country skiers over winter.
Trails fan out through the nearby mountains from here (you can even get to neighbouring Mt Buller) but when I decided to attack the track to Craig's Hut on a mountain bike, this was a logical base camp.
Back pockets bulged with emergency supplies when my mate and I headed out onto the Circuit Road, keeping left.
As the name suggests, this track completely circumnavigates Mt Stirling, The Monument and the Clear Hills. Having driven these tracks many times, I guessed a bike ride across the top would be a physical challenge for those, including me, who don't train often enough.
Add to that the thinner air at 1700m.
We headed out on the potholed, stony track that was rutted with erosion from winter's copious snow and rain.
The Circuit Road winds around Stirling through a never-ending forest of tall timber, although in reality it's only about 18km to the signposted climb to Craig's Hut. On weekends the road has an occasional 4WD or trail bike rider, but the rest of the week you might have the mountain to yourselves.
After 90 minutes riding the Craig's Hut signpost shows a walking track and separate 4WD track. Take the latter in your lowest gear; it's really steep for about 300m.
Beware the savage ruts (my mate was fine, I slid in and ended up walking). The hut was about 2km further along.
Sorry, did I mention the hut burned down in the Christmas 2006 bushfires?
Never fear. Local tourism powers-that-be have decreed Craig's Hut an icon, and that it'll be rebuilt as good as old by January 2008. Ironically, when we rode here workmen were busy grading nice new paths, digging extra drainage channels and repairing erosion damage.
In spite of devastating bushfires the panorama has barely altered, proving it's hard to burn down mountains. Though we hoped to change that on the long downhill stretches.
Taking a break at the hut site, we checked the map: follow the Clear Hills Track towards The Monument, southwest of current location. The going would get tougher, the weather was warm. We'd need those extra water bottles.
The forested track headed along a mountain saddle and had a few climbs to get the legs pumping, plus the occasional rocky, eroded stretch to thread carefully. Vegetation at this altitude changes from alpine ash to patches of snow gums and at around 1700m, treeless snow plains.
After about 6km the track became graded, signifying the ill-defined summit of Mount Stirling. It wasn't over yet. From here it was nearly all downhill on a rapidly deteriorating main track which turned almost due south (check compass) and we descended at a sometimes painfully slow pace on the steep, rutted, stony trail that led into hairpin corners, testing tired rider's skills.
The excitement was over in about five tortuous klicks, when the track rejoined Circuit Road and only 8km pedalling back to base camp – where our non-riding buddies had the BBQ sizzling and the beverages cold. We wished.
TAKING STOCK FOR CRAIG'S HUT
You need to be well prepared with good bike fitness and handling skills.
Don't ride alone, a small group is best; let others know of your journey and estimated return. Leave by early morning to allow time for friends to come get you after your allotted time – you'll need to make a weekend of it. We took six hours for the journey.
My ride computer stopped working when I fell near Craig's Hut, but it's about 70km round trip.
You should include extra water (not available en route), lightweight energy-rich foods, well-padded mobile phone, riding sleeves and leggings, rain slicker, basic bike/tyre/chain repair tools. Small compass, map copy should be taken. A very small daypack is worth considering.
The weather changes dramatically and instantly up here – it even snows in summer.
Snowman's Land The Cathedral Ranges
While you'd plan for a ride to Craig's Hut only over summer months, you could normally head for the Cathedral Ranges any time of year.
This is a terrific mountain bike ride because it's only 100min drive from the city and boasts excellent tracks through mountains of tall forests.
It seems a world away but you can do the ride in an easy day's outing.
Last time I rode through here it was pretty cold but it's only 50km on dirt tracks close to main roads and townships.
This year there was heaps of snow in the "big" hills, and even nearby at Lake Mountain where cross-country skiers have had an exceptional season.
The Cathedral Ranges are near Taggerty, which is near Marysville, which is near . . . oh, forget it. You should know Healesville.
Head along Maroondah Hwy over the Black Spur and keep going for another 30min to Cathedral Lane.
These ranges rise sharply from surrounding farmlands, with Cathedral Peak soaring to an elevation of 840m.
It's a popular place to go camping, abseiling or bushwalking to ridge tops with great views. Lyrebirds are commonly seen as well as a host of other native birds and animals, especially eastern rosellas, king parrots, koalas and wallabies
This ride starts at the northern end of the ranges and I parked the car at Cook's Mill camping area. The Cerberus Road is a misnomer – it's more a graded dirt track that traverses the inner part of the ranges through forests that get denser the further south you travel.
As I headed up the first few gentle climbs, I realised the broken cloud of early morning now threatened rain, and it was getting very cold. Lycra gear isn't meant to retain body heat, so I pedalled a bit harder to generate warmth, knowing it's only a 50km ride.
Just past Keppel Creek camping area there's a left turn and the track wound snake-like around mountainsides to gradually climb past 1000m.
The eucalypt forests are taller and the air much fresher up here. It started snowing and the road ahead was a scene reminiscent of the skier's car park on Mt Buller – tall trees dusted with snow, eerily quiet, foggy, freezing and dripping wet.
But at the same time, it was beautiful – the stuff of postcards – as I pedalled silently along a picturesque, graded albeit muddy track fringed by snow-topped ferns and giant mountain ash.
Less than an hour later I slipped and slid on icy mud to the junction with Lady Talbot Drive, turned right and headed the last 10km-odd towards Marysville.
Deeper snowdrifts and boggy sections grabbed at my knobbly tires, my knobbly knees started freezing and the last couple of falls in greasy claypans completed my full-body mudpack.
But the winding route gently descends hills of lacy tree ferns and fragrant eucalypts, past pretty Keppels Falls, before continuing along the valley of the fast-flowing Taggerty River.
Passing the thick trunks of towering trees, it's amazing to think the region was logged out by early settlers who supplied the needs of rapidly growing Melbourne in the 1800s.
There's a good bakery on Marysville's main street, with excellent pies and cakes for energy replacement therapy. It's a flat 20km ride back via Buxton to the distant car at Cook's Mill, turning off at Cathedral Lane once more. An easy four hours' ride with rests, and an hour back to the car park.
TAKING STOCK FOR THE CATHEDRAL
As I found out, the area experiences surprise snowfalls in winter months.
This ride passes though an altitude of over 1000m, with sudden weather changes in summer, so plan ahead. Include energy foods, padded mobile phone, map, rain slicker, water bottle (mountain streams offer some replenishment).
Great for semi-fit riders, may suit older kids if they're capable of riding at moderate intensity for four hours (get someone to pick you up in Marysville).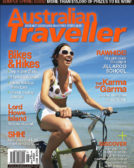 Enjoy this article?
You can find it in Issue 17 along with
loads of other great stories and tips.