One hour south of Melbourne, past Geelong and onto the squat Bellarine Peninsula to face off across the treacherous Bass Strait Rip towards Portsea, Sorrento and Point Nepean, lies delicate, elegant Queenscliff.
With grand Victorian-era buildings lining its main street and century-old jetties prickling its main harbour, the town is a fading snapshot of the past. Historic Fort Queenscliff guards the coast, originally built during the 19th Century gold rush to protect laden ships from privateers. From inside the Fort, one of only three black lighthouses in the world watches ships crossing Port Phillip Bay. The Fort shot its last gun in WWII and now houses an outstanding war memorabilia collection.
Surrounded by water on three sides, Queenscliff has stunning coastline views and plenty of delicious restaurants serving the daily catch. A well maintained rail line sees locomotives (including the famous Blues Train) puffing cheery smoke between Geelong and Queenscliff, and on the last weekend in November a Festival train makes it's way through Swan Bay with music acts in every carriage for the Queenscliff Music Festival. Fans flock to the popular fishing town for three days to hear international and local acts play with the backdrop of classic architecture and striking scenery.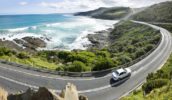 Where? // On the Bellarine Peninsula 106km (1hr) southwest of Melbourne.
Did you know? // The first shot to be fired by Allied Forces in WWI came from Fort Nepean (at fleeing German freighter, the Pfalz), with the order originating from Fort Queenscliff. Less than 30 years later, the same gun was used to fire Australia's first shots in WWII (at the freighter Woniora, for failing to identify herself).
Return to: the 100 Best Towns in Australia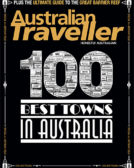 Enjoy this article?
You can find it in Issue 26 along with
loads of other great stories and tips.