As chairman of Tourism Australia and a former Deputy Prime Minister, he's travelled to all corners of this country. With Walhalla, on your behalf, he reckons he's struck gold.
The search for gold has formed a large part of Australia's history, and shaped much of its present. In 1863, nearly a decade after riots tore across the goldfields of Ballarat and the Eureka Stockade was stormed, the goldrush came to the mountains 180 kms east of Melbourne, where former convict Ned Stringer first found alluvial signs of the rare element. The town that sprung up was named Springer's Creek in his honour. But not for long.
The story runs that a Scandinavian mine boss in Springer's Creek called his dig Walhalla, after the famous valley of the gods of Norse mythology. That mine grew to be one of the most successful in the settlement and the name was eventually adopted to describe the entire town. It may have been named for some glorious afterlife, but the fledgling mining outpost was no paradise in its early years: extreme cold, floods, fires, desperate hunger, . . . on a mountainside set in deep, steep timberlands, life was extraordinarily difficult.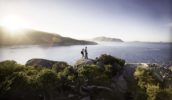 Now there are around 20 permanent residents of the maintained and restored township, but more than 3000 people once built their lives among the mountain mines of Walhalla, serviced by a cluster of at least 20 or more shops – including a bakery built in 1865 which, today, is the town's oldest existing building. It also boasted several hotels and breweries, a bank and post office, a handful of churches, a hospital and a fire station that was added following devastating fires to the region in 1901. It was a true gold mining town in the Welsh sense, nestled deep in a valley in the Victorian Alps, with large portions perched precariously on narrow and extremely steep slopes.
The level of accuracy and attention to detail in the superb restoration and maintenance of Walhalla was made possible through happy chance; during the height of the town's prosperity, a photography studio was established and there exists today a huge array of 100-year-old images from the period, detailing all aspects of the settlement in its heyday.
Once you've tired of inspecting the carefully restored buildings and surrounds of the mining settlement (and it is tiring – a wonderful example being the 30-minute climb up to the town's cricket oval; laid across the clipped-off top of a steep hill, it's the only piece of flat ground for miles in any direction) and perhaps taken a tour of the depths of the Long Tunnel mine, it's time to tackle the region's expansive walking tracks.
Perfect for the idle bushwalker and the serious trekker alike, the southern starting point of the Australian Alps Walking Track is at Walhalla, terminating some 650km later in Tharwa, about 30km southwest of Canberra. That route, through some of the most spectacular landscape Australia has to offer, takes something in the order of 60 to 70 days to complete, so you may wish to settle for the various one-, two- and three-hour walks in and around the beautiful Walhalla region.
I visited Walhalla some years ago in my role as Deputy Prime Minister to give the town a million dollars towards the restoration and reopening of the Walhalla Goldfields Railway. That was finally completed in March of 2002 – the same year, incidentally, that Victoria celebrated its 150th anniversary of first discovering gold – at which time I returned and helped drive a golden spike into the line to mark its completion. It's now possible to catch diesel trains all the way to Walhalla, with the added treat of a special steam-train run on the first weekend of the month. Across trestle bridges, rivers and gorges, through narrow cuttings and alongside cliff faces, a small, robust Henschel locomotive called the Spirit of Baw Baw makes the journey directly from Thomson Station on the Moe-Walhalla line – something it hasn't done since the line closed in 1944, 30 years after the gold ran out and the town began its decline.
A plan I'd very much like to see implemented in the region is one that takes better advantage of that first weekend of each month on which the steam train runs but goes one step further, declaring Walhalla a car-free zone of sorts, with visitors catching the train in from a new Station at Erica East to be called Monash Parkway station, all the way on the Walhalla Goldfields Railway to pristine Walhalla. Imagine it: an entire town devoid of cars. Excepting, of course, for emergency vehicles and the like, the only forms of transport would be via traditional horse and carriage, or on foot – just as it was towards the end of the 1800s, when Walhalla's Long Tunnel mine was in full boom. During that period, and spilling for some years into the first part of the 1900s, there was no more successful and profitable mine in all of Victoria – I believe it eventually yielded close to 55 tonnes of gold in all – and the Walhalla township flourished accordingly.
It's one of my favourite secret spots. Having only had its electricity connected in 1998, Walhalla – perhaps more than any other place in Australia – seems suspended in time. What a tempting notion it would be to have it remain that way.
DETAILS: Walhalla
WHERE:
Walhalla is 180 kms east of Melbourne – about a two-and-a-half-hour drive – in the Gippsland district's Baw Baw Ranges.
CONTACT:
There are numerous expert sources on the areas in and around Walhalla, but a great start would be:
Tourism Victoria
Websites: www.visitvictoria.com, www.visitmelbourne.com, www.tourism.vic.gov.au
Gippsland Info
Phone: 1800 673 495
Email: bookings@gippslandinfo.com.au
Website: http://www.gippsland.com.au
Walhalla's Star Hotel
Great hotel, outstanding website on Walhalla's history and features.
Phone: (03) 5165 6262
Email: mailto:info@starhotel.com.au
Website: www.starhotel.com.au
Walhalla Goldfields Railway
Phone: (03) 5126 4201
Email: walhallarail@vic.australis.com.au
Website: www.walhallarail.com
Australian Alps Walking Track
Website: http://www.australianalps.deh.gov.au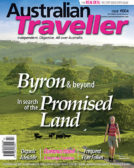 Enjoy this article?
You can find it in Issue 4 along with
loads of other great stories and tips.