Not just a goldmine of rich and colourful history, Central Victoria is also a goldmine in terms of, well, gold. And in these tough financial times, that shiny lure becomes even more powerful, as Sandy Guy discovered when she recently unearthed some buried treasure of her own.
More large gold nuggets have been found in Victoria's goldfields than anywhere else on Earth. Of the 47 nuggets weighing upwards of 18kg recorded worldwide, 40 were found in Australia – and 32 of these were unearthed in Victoria's central goldfields. The one you've heard of, the 64.5kg Welcome Stranger, is the world's largest recorded nugget, and was discovered near Moliagul in 1869. And gold hasn't disappeared from the landscape since then: the 27.2kg Hand of Faith was found near Kingower in 1980; two big nuggets that sold for $1.8m were recently found near Castlemaine; and discoveries in the $50,000 mark are far from unusual – we just don't hear about them. The majority of prospectors are understandably keen to keep their Eureka moments to themselves.
Prospectors in the know, like John Gladdis from Coiltek Gold Centre in Maryborough, southwest of Bendigo, say that more gold remains in the ground than was ever removed during the gold rush, and old goldfields such as Tarnagulla, Waanyarra, Bealiba, Goldborough, Rheola, Inkerman and Dunolly continue to give up rewards.
Discoveries in the $50,000 mark are far from unusual – we just don't hear about them. The majority of prospectors are understandably keen to keep their Eureka moments to themselves.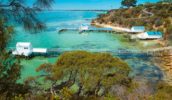 Which is why my partner, son and I decide to try our luck at Dunolly, 174km northwest of Melbourne. Along with the almost-forgotten gold rush towns of Moliagul and Tarnagulla – which make up the famous "Golden Triangle" – Dunolly is said to be home to the world's richest deposits of alluvial gold. And Victorian nuggets are typically rich in purity, with most being about 95 percent, or around 23 carats.
Dunolly was home to more than 45,000 people during its halcyon days in the 1850s and '60s, and is a living snapshot of Victoria's gold rush history. Now with closer to 1000 townsfolk, Dunolly features a parade of colonial buildings that remain from the years the town was hectic with theatres, bowling alleys, sly grog shanties, pubs, brothels, scores of shops and thousands of prospectors. It also features a gold shop, Gold Search Australia, where you can hire metal detectors and purchase maps. But the business doesn't run guided tours, so, being novices at the gold game, we head to nearby Maryborough to meet Gladdis at his shop on the outskirts of town.
A font of information on the region, Gladdis has been chasing gold for more than 30 years. "Although at Coiltek we only see about ten percent of the nuggets found in the region, we're very busy," he says. "In tough financial times, the lure of gold becomes even greater. Right now we can't get enough detectors to sell. One bloke found a nugget worth $30,000 on his first time out. Not a bad afternoon's work. Another unearthed a 1930 penny that sold for more than $17,000. When you're going for gold, you never know what you'll find."
Driving with Gladdis along a scenic web of rural back roads, we pass farmlands dotted with mullock heaps, the sites of old puddling machines, and several ghost towns like Havelock, once home to 6000 people and now a series of verdant paddocks without so much as a chimney still standing. No matter where you look, the landscape is scarred from mining. "The diggers were like ants going after gold," says Gladdis. "They needed to find four to five ounces a week just to survive. Prices were exorbitant at the height of the gold rush: a bucket of fresh water alone cost about $100 in today's money."
Before manning our detectors, we learn about the environmental features prospectors looked for across the landscape: old diggers called wild cherry trees "gold trees," because they often ran along mineralised zones. We look for flax lilies, which deep-root in clay (gold is found in clay too), as well as fractured pieces of quartz from decayed quartz reefs. We learn to prospect at Coiltek's test site, deep in the bush, picking up the sounds to listen for when the detector passes over metal. Detectors will respond to any type of conductive or magnetic material, including silver, gold, copper and aluminium, while mineral targets consist of ferrous metals, magnetic minerals and conductive ground minerals – steel, iron, magnetite, iron oxide ground minerals and wet salt. The audio signal produced usually varies according to the type of target. Gold tends towards short, sharp signals while ferrous objects produce broader sounds.
My son Dion gives a shout – he's picked up a strong resonance on his detector. Barely able to contain our excitement, we dig . . .
"It's like playing golf," says Gladdis. "The more you swing a detector, the better you get at it. Gold fossicking requires good equipment, patience – and plenty of luck. There's nothing better than walking through the great Australian bush. And if a piece of gold pops up, what a bonus."
And, a few hours later, pop up it does. My son Dion, 11, gives a shout – he's picked up a strong resonance on his detector. We brush away some leaves and swing the detector again. Sound still there. Barely able to contain our excitement, we dig – and, lo and behold, Dion unearths a small nugget of gold. It mightn't be the Welcome Stranger, but we're ecstatic at our own Eureka moment.
And is there another Welcome Stranger still waiting to be discovered in the Golden Triangle? "Without a doubt," says Gladdis. "It's just a swipe of the metal detector away."
We can't wait to get back to the Golden Triangle to look for it.
---
Time to go Prospecting!

1. Dunolly is all about locals yarning in the street, ladies from the CWA selling raffle tickets, kids riding bikes, the local footy team, and ultra-friendly shopkeepers like Peter Daly from Daly's General Merchants, a business in the same family and same shop since 1856 and, like much of Dunolly, little-changed since then.
2. When you're not prospecting, there's plenty to do in and around Dunolly. The Goldfields Historical Museum (77 Broadway, 03 5468 1025) features 35,000 gold rush relics and an excellent reference library.
3. Dunolly's old streets include buildings like the circa 1865 town hall, 1862 museum, 1857 school, 1862 court house, 1858 Masonic Hall, 1857 Cobb and Co coach office, and 1865 Footer's Mansion (now a B&B).
4. Victorian Miners Rights are $29.20 for two years from the Department of Primary Industries and Sustainability and Environment (www.dpi.vic.gov.au), and are also available from selected tourist info centres and prospecting equipment shops, including Coiltek.
5. Coiltek Gold Centre runs prospecting tours Wed, Fri, Sat for $120 per day for one detector and guided tour ($80 if you have your own detector). Three-day training seminars in gold fossicking, including detector hire, are $450 per person. (03) 5460 4700, www.coiltek.com.au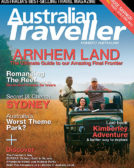 Enjoy this article?
You can find it in Issue 31 along with
loads of other great stories and tips.