Myrtleford to Bright
This scenic stretch of the Great Alpine Road takes in Australia's only tobacco fields, as well as hop vines, sloping nut groves and fruit orchards. This could be the slowest 30km you ever do, as there are plenty of roadside temptations. In Bright, Simone's is a beacon of provincial gastronomy. Patrizia Simone, a passionate advocate of local and seasonal produce, has featured on her Italian-influenced menu pigeon, Yackandandah rabbit, Buckland Valley goat and Ovens River trout.
Gapsted Wines
Cnr Great Alpine Road, Gapsted
(03) 5751 1383 or http://www.gapstedwines.com.au/
Back-track left along the Great Alpine Road for about 300m and you'll see Gapsted's blanket of vines on the right. The sunny deck, set above the vines, is a good place for a light lunch with a house vino. The wines start at $6 a bottle for the Snowy Creek range up to $25 for the Limited Release specials, like the 2002 Sapevari, a dark grape originating in Crimea and Georgia and grown only in two vineyards in the northeast; or the 2002 Touriga, a Portuguese-style red and a true one-off: the local vines were pulled out.
Beechworth
PreservesGreat Alpine Road, Myrtleford
(03) 5728 3227 or http://www.beechworthpreserves.com.au/
This thriving business, which Jayne Thatcher started from a home kitchen in the mid-'90s, is moving in December to grand new premises in the old butter factory at Myrtleford. The traditional Beechworth range, using all local ingredients, includes chunky fruit conserves and old-style lemon and brandy butter, as well as the more adventurous muscat, mango and passionfruit butters. All great value for $6.50.
Red Stag Restaurant/Deer & Emu Farm
Hughes Lane, Eurobin
(03) 5756 2365
Heading towards Bright, turn right into Wobonga Lane and follow the signposts. You can tour the deer and emu farm, and feed and touch the deer. Fawns are born in summer, and stags grow their new antlers in spring (aka velvet season). The farm sells oil, ointments and other emu products, as well as leather goods and gifts. You can enjoy lunch (venison pie, anyone?), morning or afternoon tea. The stunning mountain views are free.
Bright Berry Farms
Great Alpine Road, Eurobin
(03) 5756 2523
Fresh berries in summer – raspberries, blueberries, boysenberries, youngberries, gooseberries and more – and frozen the rest of the year. Also sweet fruit wines made from blueberries, blackberries, raspberries and blackcurrants, as well as berry vinegars, ice-creams and sorbets. But wait – there's more: red wines from the Mount Buffalo vineyard.
Boynton's Winery & Café
Great Alpine Road, Porepunkah
(03) 5756 2356
Another irresistible winery, on the left just before Bright. The Vineyard Cafe (open for lunch, outdoor tables) overlooks the sweep of vines and across to the "island in the sky", Mount Buffalo. The wine list is extensive – whites, reds, fortifieds, sparkling. Try the Boynton's Black, a sparkling ten-year-old burgundy. Boynton's also brew their own Ale and Pilsener beers – much appreciated by thirsty cyclists along the Rail Trail.
Beyond Bright
The charming and historic village of Wandiligong, only five kms from Bright, hosts the Wandiligong Nut Festival in May. Out of Bright, the Great Alpine Road takes you past more farm-gate treats in Smoko and Harrietville, before climbing up to Mount Hotham. We're taking the alternative route: through Tawonga Gap and winding down to the fertile and scenic Kiewa Valley.
Nightingale Bros
Morses Creek Road, Wandiligong
(03) 5755 1318
Pass through the pretty village and you'll come to the vast, meticulous Nightingale Bros orchards on the right. Their huge shed could house a 747. Varieties include Sundowner, Pink Lady, Bonza, Royal Gala, Fuji, Granny Smith and Red and Gold Delicious. You may never buy supermarket apples again.
Ceccanti Kiewa Valley Wines
Bay Creek Lane, Mongan's Bridge
(03) 5754 5236 or http://www.ceccanti.com.au/
This winery across the Kiewa River takes some finding but is worth the hunt. In a relaxed bushy setting, Ceccanti produces cool-climate wines – its vineyard is at 450m altitude – in the tradition of the Chianti region of Italy. The vino is matched with fresh, Tuscan-inspired fare, which you can enjoy indoors or alfresco surrounded by towering gums. Belissimo.
Kiewa Estate
Redbank Road, Coral Bank
(02) 4267 3722, 1800 800 366 or http://www.kiewavalleyestate.com.au/
Sveti Ignjatovic bought 12 hilly hectares above the Kiewa River in the early '70s, took 20 years to plant 2000 olive trees, and pressed the first Kiewa Estate olive oil in 1996. That is artisan pride. The high altitude (700m) and cool climate, with liberal dustings of snow, means a slow maturation and optimum flavour. The olives are hand-picked in winter, stone-milled in the traditional way within hours of picking, cold-pressed to extract the oil, then decanted and bottled on the estate. If you think all olive oil is the same, just sample the distinct delights of Manzanilla (nutty with a hint of pepper), Frantoio (green, silky and fruity), Verdale (soft, earthy) and Leccino (green, thick, spicy and voluptuous). Oils ain't oils.
Carty's Bavarian Kitchen
0427 415 680 or http://www.cartysbavariannuts.com.au/
If you've never been to the Christkindlmarkts of Nuremberg or Munich, Carty's caramelised nuts are the next best thing. The nuts are roasted in a large copper pot and smothered with cinnamon and vanilla. You can have the traditional almonds, or cashews, or a mix of both, with peanuts. So more-ish. Seek them out at fine food stores around Albury and Beechworth. Better still, look for the distinctive Bavarian-style roasting cart at food festivals and eat them hot out of paper cones.
Beechworth & Stanley
Beechworth's foodie delights need no spruiking. It is ringed by the ubiquitous vineyards, studded with fine eateries (The Bank Restaurant, Warden's, Gigi's, The Green Shed Bistro), and Tom O'Toole's famous Beechworth Bakery in the centre of town has inspired countless ridiculous detours. Nearby Stanley is a bucolic gem, renowned for its orchards, groves and welcoming pub. A new player is The Galloping Goat, with a French-inspired menu that has won a reputation in short-order time.
Murray Breweries (MB Cellars)
29 Last Sreet, Beechworth
(03) 5728 1304 or http://www.cordiallyyours.com.au/
Housed in a rambling old brewery dating from 1865, Murray Breweries specialises in "turn-of-the-century-recipe syrups" like brewed ginger beer, mint julep, sarsaparilla, spiced apple, lime juice, lemon ginger and bitters, lemon & lime. (Its cordials are all non-alcoholic, which may explain why it also goes by the name MB Cellars.) You can tour both the cellar museum, with its large bottle collection and brewing equipment, and the on-site Beechworth Carriage Museum.
Snowline Fruits
507 Stanley-Myrtleford Road, Stanley
(03) 5728 6584
This showpiece orchard, overlooking Mount Stanley on the scenic, winding gravel road between Myrtleford and Stanley, always has dew-fresh apples to chomp into. Apple juice comes cloudy or clear, and there are apricots in summer, nuts in autumn, and other seasonal picks.
High Grove Orchards
Mt Stanley Road, Stanley
(03) 5728 6526
Another lovingly tended property, spread along the lower reaches of Mt Stanley. You can easily spend a lazy summer afternoon here, with kids or without, walking and picking from the rows of blackberry, blueberry, raspberry, boysenberry, blackcurrants, redcurrants and cherries. There's no time limit, you're charged by the kilo, and there are helpful labels and pointers everywhere. Berries and cherries are in season from early December to late January.
Vienna Patisserie Chalet
Allans Flat Road, Allans Flat
(02) 6027 1671
For a Kaffe und Kuchen hour like no other, head to this hand-made Austrian-style log chalet, where Walter and Waltaud serve decadent Viennese tortes and strudels, with coffee that induces hallucinations of the Stephansdom. Closed Tuesdays.
DETAILS: Northeast Victoria Best months to go: With four distinct, glorious seasons, there's always something to do and eat. Peak times are summer for berry season and autumn for the grape and nut harvest. Most under-rated aspect: European heritage; the fare is Euro flair with Aussie freshness. Most over-rated aspect: The snowfields. So much more to the region. Be prepared for: A long wait at the awesome Beechworth Bakery. Watch out for: Different fare. Like venison, josterberries and persimmons in winter. Best value encountered: Pretty much everywhere, given that you're talking boutique operations and premium product that you won't find at the local supermarket.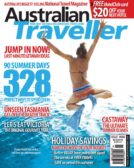 Enjoy this article?
You can find it in Issue 6 along with
loads of other great stories and tips.