Quentin Long puts his tastebuds to the test in the Macedon Ranges.

Of all the streets in Australia, Piper St in Kyneton, north-west Victoria, is an incomparable foodie haven. It's a seriously blessed bitumen boulevard where unpretentious but exquisite food is mixed with the coolest country pub in Australia and a quirky mix of seriously unique knick-knack shops.
But it was not always this way. Just five years ago there were 35 shops for lease on this historic stretch. With Daylesford rents the way they were, foodies drawn to the region pushed west to Kyneton. Now, with Kyneton booming over the last five years, new foodies are pushing further south to Woodend for greener pastures – the Village Larder is a great example. But back to the most blessed foodie street in Australia.
The journey has to start with the historic Royal George Hotel. From the street I expect just another country saloon with a rack of gaudy beer taps and a bank of TAB screens in a corner, and where the wooden floor boards are worn into deep divots by RM Williams boots.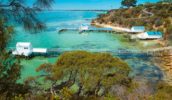 Entering the bar from the hallway I find myself in a seriously funky wine bar without a beer tap or TV screen in sight. The walls are clad with dark timber wainscoting with a mirrored frieze above. Gold heritage wallpaper and a black tiled bar are just the style Sydney could use in its bid to keep up with Melbourne's sophisticated bars.
I am greeted by a flamboyant, black skivvy-wearing moustached bar tender who hands me the wine list when I ask if they have wines by the glass. And they're not the usual suspects. I opt for an Austrian Gruner Vertliner. I mean seriously, here in the middle of Kyneton is an awesome wine bar with interesting wines by the glass.
The restaurant has a Hat so you sertling in for the evening is certainly worthwhile.
I opt to push myself, the 30 metres across Piper St to the recently opened Mr Carsisi. Owned by the team who earned the Royal George its first hat, Matt and Clare Fegan, the first question has to be: "Who is Mr Carsisi?"
"Well there is no Mr Carsisi but it comes from the spice bazaar in Istanbul, Mısır Çarşısı," says Clare, the front-of-house part of the duo. No prizes for guessing the food is very Middle Eastern. I wonder if this is going to be a hard sell for a regional restaurant – true middle eastern cuisine in the country?
The mezze selection is huge and when I let Clare choose – it's the smart way to go. The Meredith goats' fetta & dill fritters are light and delicately flavoured. The fired school prawns prove middle eastern cuisine can survive in a bucolic milleau. The Turkish Sweet Chilli salt is a nod to the S&P squid served everywhere, but with a more refined flavour. The crunchy prawns, soft flesh and subtle sweet chilli salt are a more-ish starter. The lamb shoulder as part of my main Iskender Kebab comes slightly dry but the tomato kisir (Turkish tabouleh) salad is a tangy, light accompaniment that sets the dish off. I seriously love the side of pumpkin with currants and pistachio honey dressing.
The wine list is comprised mostly of locals and the locals are an interesting bunch – some of the wines are made by local doctors and accountants. That's just how the Macedon region rolls: everyone has a sideline in tourism, food or wine. For example, the mezze is served with a Lanes End Chardonnay made by the local pharmacist.
But the desserts are what have the locals raving. The star is the homemade pistachio baklava with Turkish delight semifreddo sandwich, talumba and molten Turkish delight. Okaym I only had room in my satisfied belly to fit in the baklava. As a baklava fan, it rates for being lighter than the dense honey-soaked bricks served.
Mr Carisis will probably have his own Hat in about 12 months time. It will make Piper St Kyneton the richest source of exquisite food outside Melbourne and Sydney.
Stay a night and make a day of breakfast at any number of the cafes – the coffee at Mr Carisis is pretty darn good or Inner Biscuit for an organic eatery.
The shops range from the eclectic to the outright crazy. Try the cement and marble mixed bathtubs that drop at $9 grand for a bit of bath envy at Boyd Alternatives. Or for a trip back in time drop in on John Lloyd's gallery. Lloyd's works are worth a visit but he is one of the many colourful locals – and former drummer of Icehouse and Flowers.  And to completely spin you out with krazy knick knacks, drop in on local royalty Frank and Melissa Moylan's Kabinett. Stocked by their frequent trips to Bulgaria and Europe the store is like nothign I have ever or expect to see again. Who doesn't want a mammoth USSR map for their wall – in Russian?
Kyneton's Piper St is a great way to spend a relaxed country weekend with some seriously great food.
Where to Eat Kyneton
Where to Stay Kyneton
Circa 1860
Self contained two story with amazing wooden staircase one bedroom luxury apartment. In the heart of the Piper St Action almost above Annie Smithers.
Cnr Poweltt and Piper St
03 5422 1211
Mollisons
Self contained apartments five minutes walk from Piper St.
116-118 Mollison St
0419 001 518
St Agnes Homestead
An upmarket B&B style retreat that is on the fringe of town at the end of Piper St.
30 Burton Ave
03 5422 2639Apartment 61 A
As the name suggests it is a two-bedroom apartment above the Macedon Ranges Interios Shiop and in the thick of things.
61 Piper St
03 5422 1211