Australian Traveller visits the burgeoning gourmet region of Heathcote and hour north of Melbourne.
Heard it through the grapevine



Heathcote, the developing wine and gourmet region north of Melbourne, is fast coming into its own. Carol West samples just some of its delights.
The land around Heathcote has always welcomed migrants. The Koori came around 50,000 years ago to wrest subsistence from a harsh land. Less than 200 years ago, Europeans arrived. Gold prospectors dug and sluiced a fortune from it while pastoralists cleared it for grazing. Today, a new wave of urban migrants are beating a path to Heathcote, establishing vineyards and olive groves in their quest to ground their lives in earth-bound passions.
Like the original inhabitants, the vines struggle to survive in an ancient terrain – but the results are rich, dark fruit and complex, award-winning wines. Working to develop these new ventures, they're injecting vibrancy and a new lease of life into both the land and a small country town.
Heathcote is 110km north of Melbourne, about 40km south of Bendigo. A detour to Piper Street, Kyneton, doesn't disappoint, especially sampling Annie Smithers' food at her eponymous "bistrot" and stocking up at the provedore store for a jar of her grown-up hot chocolate "Breakfast in Paris". When we call in, Annie's experimenting with a Chardonnay jelly from grapes given to her by Peter Williams (from nearby Redesdale Estate's "rogue" Chardonnay row of vines). She relishes creating new dishes using local produce and even "failed" jellies end up glazing her seasonal dishes.
High Street Heathcote is also home to Cellar & Store, an enoteca with an unrivalled collection of current release Heathcote Shiraz to purchase by glass, bottle or case. With a lovely garden and top shelf coffee, Cellar & Store is an excellent repository for fine local, regional and slow food produce, as well as fabulous picnic baskets filled with delicious house-made food.
In Redesdale, Mim Ward has revved up the Tavern's menu with local gourmet goodies, which is packing them in Friday and Saturday nights. They're also creating special events; Stefano de Pieri was guest chef at a sell-out event, and each September teams of "iron chefs" meet for a highly competitive camp oven cook-off that turns a leg of lamb and three veg into slow food masterpieces. Fifty teams and 2000 enthusiastic spectators isn't unheard of, filling the Tavern's garden-turned-cooking-arena, once a Cobb & Co staging turnaround point.
Strolling down Heathcote's quiet main street on a golden autumn afternoon with its sprinkling of solid Victorian architecture, it's hard to imagine that the transient population rose to almost 20,000 during the Gold Rush. Although the Union Hotel, built in 1856 and in original condition, still bears some of the scars.
Stop for a latte or wine tasting at the Heathcote Winery in what was Craven's General Store (1860), then view their latest art exhibition and select local delicacies off the shelves. Before taking Devonshire tea in Mount Ida Lavender's peaceful gardens and uncorking some of the wines at Heathcote's stellar cellar doors, a 30min scenic walk through Pink Cliffs Reserve will transport you to a rocky pink moonscape created by early prospectors who discovered gold nuggets by resolutely sluicing the area with fire hoses.
An American in Heathcote, Leslye Thies and husband Fred are creating award-winning fare at Emeu Inn, and newly opened Shelmerdine Merindoc Vineyard's cellar door, café and garden on Lancefield Road in Tooborac also look promising. But it's the region's growing reputation for Shiraz and Cabernet that's attracting travellers. Still in its infancy, what it lacks in sophistication is more than compensated for with a collection of "by appointment" boutique wineries that are developing a new gold standard.
"We're located on ancient sedimentary rock and the impact of continuous sunshine and cool nights enables us to develop wonderfully complex flavours," says Redesdale Estates' owners Peter Williams and Suzanne Arnell-Williams, whose five-star 2002 Cabernet is currently tempting Qantas international business class passengers. On their property, a French Provincial-style cottage evocatively named Auberge de la Rose provides overnight lodgings. As the sun streams through the windows onto a white counterpane and freshly laundered pillows elegantly scattered on a French trundle bed, an afternoon nap beckons. Dry stone terraces using rock quarried from the property's riverbed contain gardens lavishly planted with white roses and framed by lavender, making it a popular part of Australia's Open Garden Scheme. Cockatoos flutter like snowflakes over a parched landscape as the netting is retrieved from 25ha of vines ready to yield its spicy dark fruit. With 550 olive trees producing a limited quantity of Redesdale Estate Cold Pressed Olive Oil the colour of chartreuse, it feels as though Tuscany has been transplanted onto the Australian landscape. Peter and Suzie are also in the process of adding further "eco retreat" villas, overlooking the Campaspe River nestled just below the vines on the property.
Or, for another option, a short 7km drive out of Heathcote will see you fetch up at the Hut On The Hill (above), a solitary, luxurious, open-plan retreat set on 70 rolling acres of sheep-dotted pastures. Just gorgeous.
Vigneron and wine philosopher Ron Laughton at nearby Jasper Hill Winery creates sought-after drops. "Only 30 years ago it was just a handful of wineries," he says. "Now there are more than 70." With increasingly urbanised lives, he believes that, as with great wines created in harmony and balance with nature, so are people looking for ways to connect with their roots. "A bottle of wine is of a season and of a particular place that in five years you can revisit when you open it. We try to bottle time and place with a bit of soul to create a personal connection."
What better reason could there be to visit?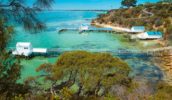 DETAILS // HEATHCOTE
Auberge de la Rose // (03) 5425 3236, www.redesdale.com
Redesdale Tavern // (03) 5425 3111, outbackevents@bigpond.com
Annie Smithers Bistrot // (03) 5422 2039, www.anniesmithers.com.au
Cellar & Store // (03) 5433 2204, www.cellarandstore.com.au
Heathcote Winery // (03) 5433 2595 www.heathcotewinery.com.au, winemaker@heathcotewinery.com.au
Hut on the Hill // (03) 5433 2329, www.hutonthehill.com.au
Mount Ida Lavender // (03) 54 334 063, www.mountidalavender.com.au, enquiries@mountidalavender.com.au
Emeu Inn // (03) 5433 4022, www.emeuinn.com.au, info@emeuinn.com.au
Shelmerdine Merindoc Vineyard // (03) 5433 5188, mailto:info@shelmerdine.com.au
Jasper Hill Winery // (03) 5433 2528, www.jasperhill.com, info@jasperhill.com.au
Heathcote Visitor Information Centre // (03) 5433 3121, heathcotevic@bendigo.vic.gov.au
Cellar door tastings // www.heathcote.org.au or www.heathcotewinegrowers.com.au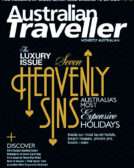 Enjoy this article?
You can find it in Issue 22 along with
loads of other great stories and tips.